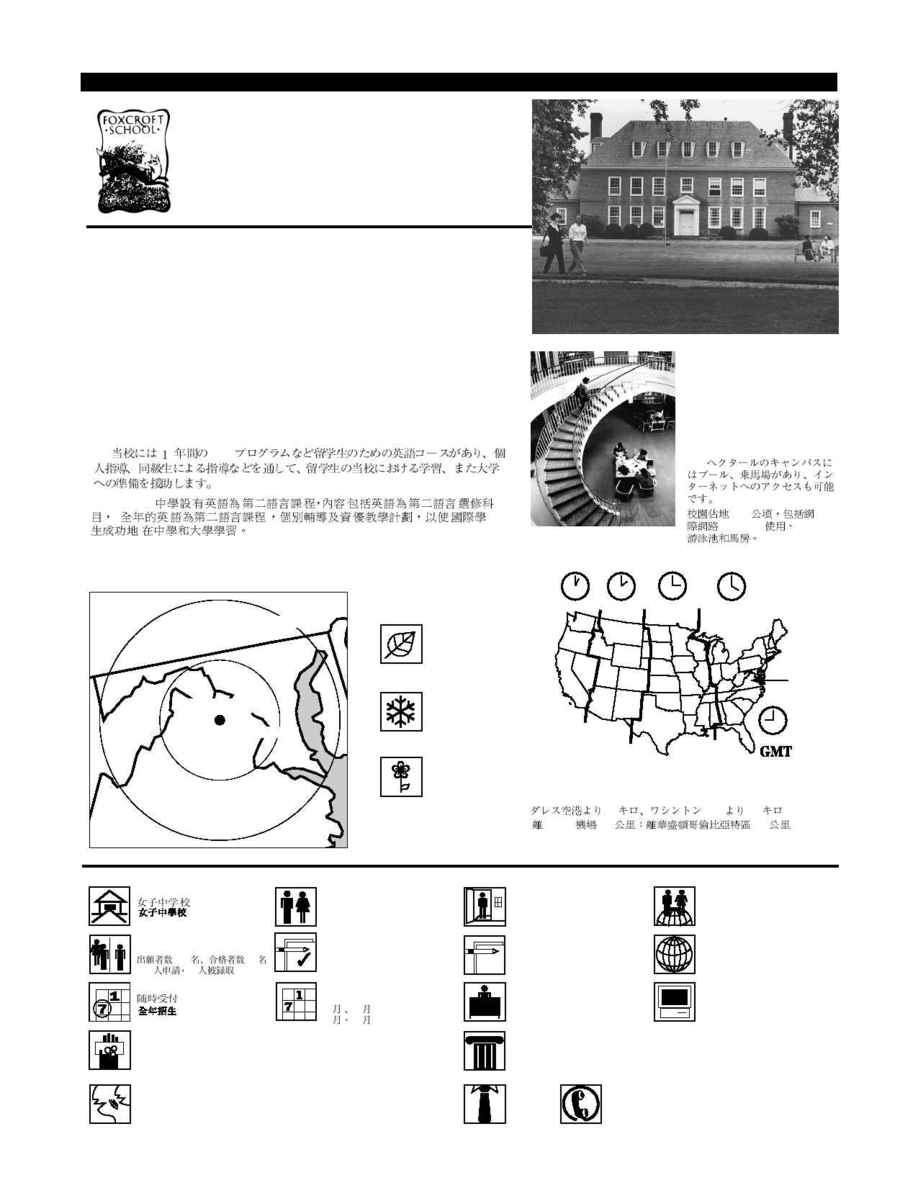 WEST
VIRGINIA
VIRGINIA
PENNSYLVANIA
80 km
160 km
Foxcroft School
NAIS, NAFSA, TABS, FAIS member
Founded 1914
The 500-acre campus has Internet
access, a pool, and stables.
Las 202 hectáreas de terreno tienen
acceso a Internet, una piscina y
caballerizas.
Le campus de 202 hectares offre
l'accès à l'Internet, une piscine et
des écuries.
42 km from Dulles Airport; 80 km from Washington, DC
A 42 km del aeropuerto Dulles; a 80 km de Washington, DC
A 42 km de l'aéroport Dulles ; à 80 km de Washington, DC
Girls 9­PG / Niñas / Filles
101, 86 / solicitaron admisión, fueron
aceptadas / candidates, admises
Rolling / Continuo / Continuelles
$25,900; $75
ESL Yr. $3400
SLEP: Reading Comprehension 69%
Listening Comprehension 62%
September, January / septiembre,
enero / septembre, janvier
9
College of William and Mary, Davidson College, George
Washington University, James Madison University,
Syracuse University, University of Pennsylvania,
University of the South, University of Virginia
Ecuador (31), Germany (18),
Japan (28), Korea (15),
Mexico (37), Thailand (18),
UNITED STATES
Foxcroft has an ESL program, including ESL courses, an ESL-Year Program,
individual tutoring, and peer coaching, that is designed to prepare international
students for academic success at school and at college.
Foxcroft tiene un programa de enseñanza del inglés como segundo idioma
(ESL), que incluye clases de ESL, un programa de ESL de un año, clases particulares
y ayuda por parte de los compañeros, diseñado para preparar a los estudiantes
internacionales para que tengan éxito en sus estudios escolares y universitarios.
Foxcroft offre un programme d'anglais comme langue étrangère (ESL)
comprenant des cours, un programme complet d'un an, des cours particuliers
et un système de répétition entre élèves qui a été conçu pour assurer le succès
scolaire des élèves internationaux dans les écoles et dans les universités.
Rebecca B. Gilmore, Director of Admission
P.O. Box 5555
Middleburg, Virginia 20118-5555
Phone: 540-687-5555 Fax: 540-687-3627