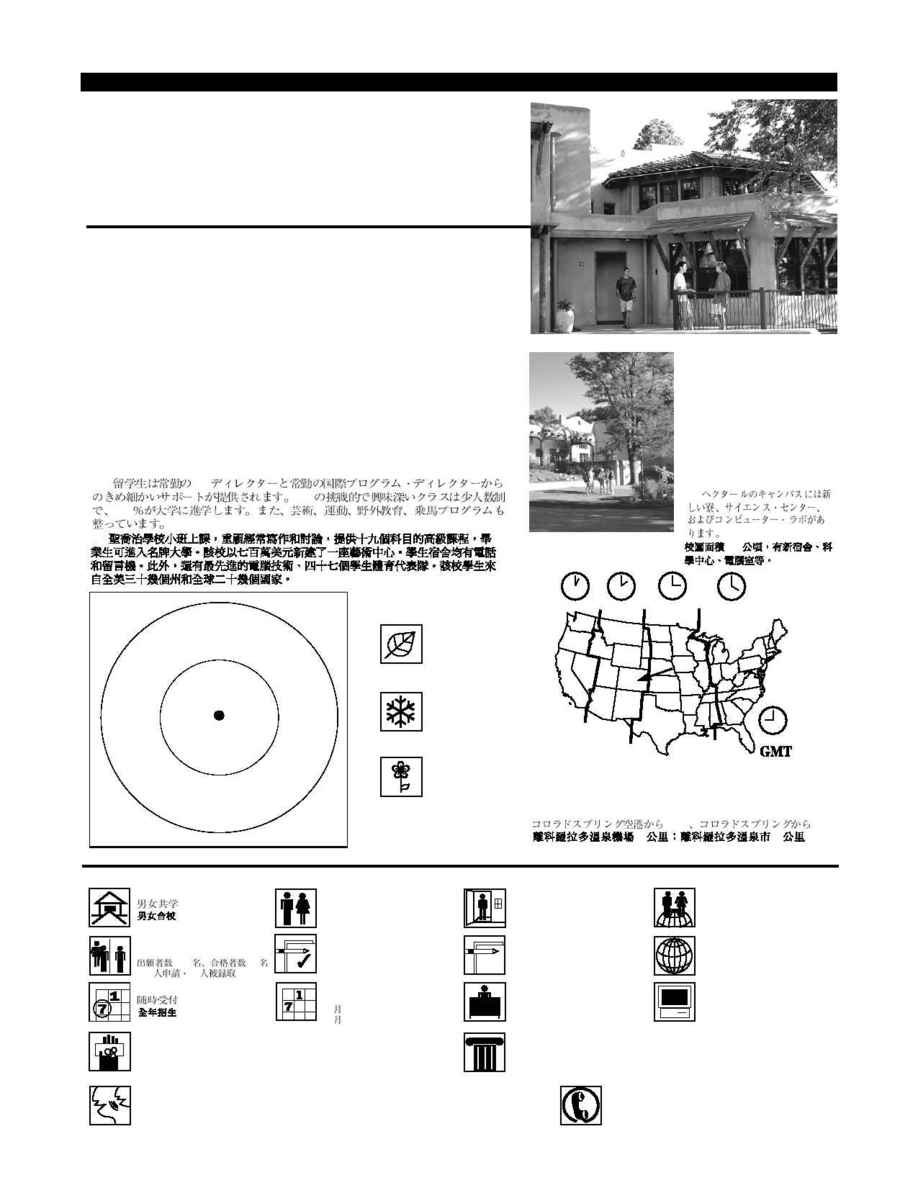 COLORADO
80 km
160 km
Fountain Valley School of Colorado
Founded 1929
1,100-acre campus offers new
dormitories, science center, and
computer labs.
El recinto escolar de 400 hectáreas de
terreno ofrece residencias estudiantiles
nuevas, un centro de ciencias y
laboratorios de computación.
Le campus de 400 hectares comporte
de nouveaux dortoirs, un centre
scientifique et des laboratoires
informatiques.
12 kilometers from Colorado Springs Airport, 15 kilometers from Colorado
Springs / A 12 km del Aeropuerto de Colorado Springs, a 15 km de
Colorado Springs / À 12 km de l'aéroport de Colorado Springs ; à 15 km de
Colorado Springs
Coeducational 9­12, / Mixto / Mixte
165, 80 / solicitaron admisión, fueron
aceptados / candidats, admis
Rolling / Continuo / Continuelles
September / septiembre /
septembre
9
9
Colorado College, Columbia University,
Hobart and William Smith College,
University of Colorado­Boulder,
University of Pennsylvania
Germany (12), Japan (9),
Korea (9), Taiwan (9),
Thailand (9)
UNITED STATES
International students are provided close support and interaction with the full-time
ESL director and full-time director of international programs. FVS offers small,
challenging classes; 100 percent college placement; and strong programs in arts,
athletics, outdoor education, and horseback riding.
Se ofrece mucho apoyo a los estudiantes extranjeros, así como interacción con el
director de tiempo completo de los cursos de inglés como segundo idioma (ESL) y el
director de tiempo completo de programas internacionales. FVS ofrece clases
estimulantes con pocos alumnos; 100% de aceptación en la universidad y programas
bien estructurados en artes, deportes, educación al aire libre y equitación.
Les étudiants étrangers bénéficient d'un excellent soutien et d'une collaboration
étroite avec les directeurs du programme d'anglais comme langue étrangère (ESL) et
des programmes internationaux, tous deux chargés à temps complet de ces
programmes respectifs. FVS offre des classes restreintes stimulantes, un placement de
100 % dans les universités, d'excellents programmes artistiques et sportifs, un
programme pédagogique de plein air, ainsi que la possibilité de faire de l'équitation.
Kilian Forgus, Director of Admission
6155 Fountain Valley School Road
Colorado Springs, Colorado 80911
Phone: 719-390-7035 Fax: 719-390-7762