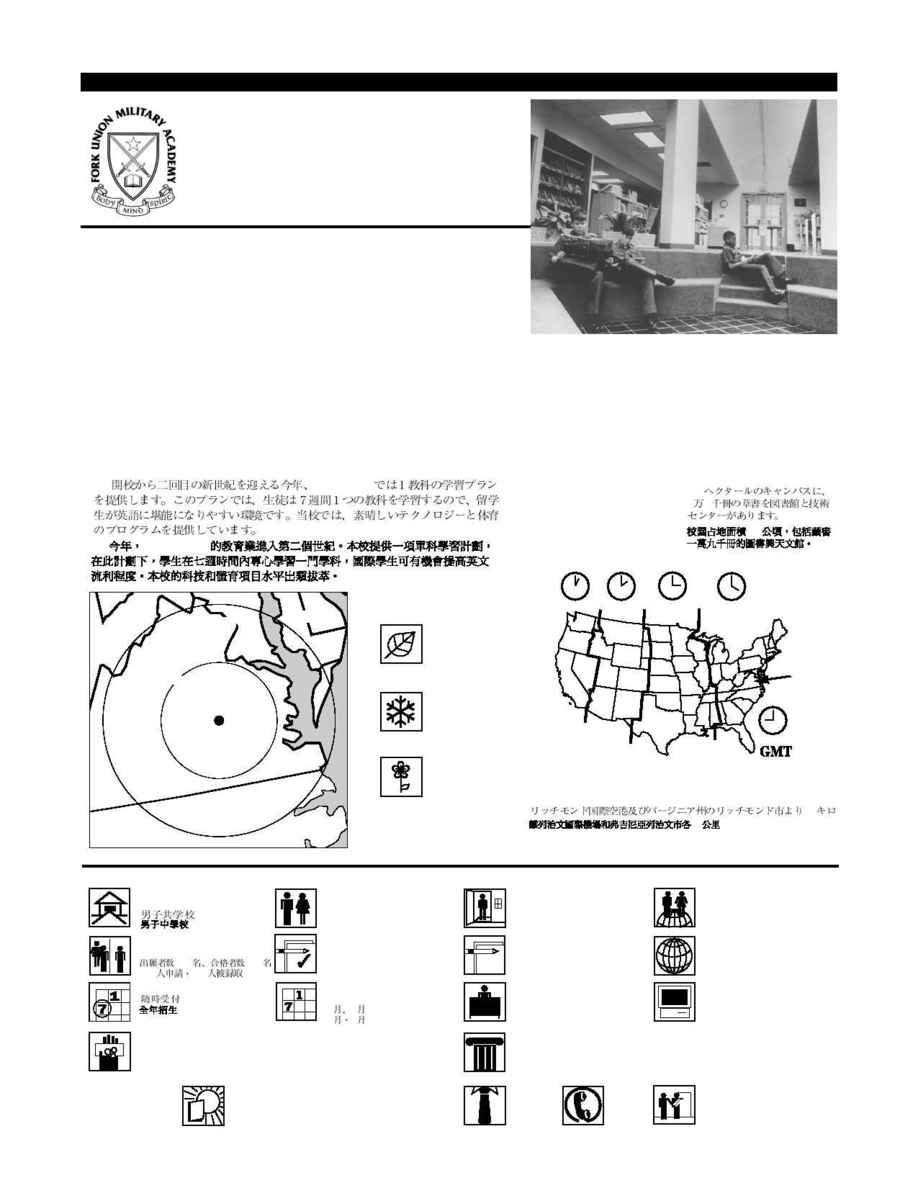 VIRGINIA
NORTH CAROLINA
DELAWARE
80 km
160 km
WEST
VIRGINIA
Fork Union Military Academy
Founded 1898
The 500-acre campus includes a
19,000-volume library and
technology center.
Las 202 hectáreas de terreno
incluyen una biblioteca con 19.000
volúmenes y centro de tecnología.
Le campus de 202 hectares
comprend une bibliothèque qui a
près de 19 000 volumes et une
centre de la technologie.
202
1
83 km from Richmond International Airport and Richmond, VA
A 83 kilómetros del aeropuerto internacional de Richmond y de Richmond, VA
A 83 kilomètres de l'aéroport international de Richmond et de Richmond, VA
Boys, 6­PG / Muchachos /
Garçons
500, 240 / solicitaron admisión,
fueron aceptados / candidats, admis
Rolling / Continuo / Continuelles
September, January / septiembre,
enero / septembre, janvier
9
Virginia Military Institute, College of
William and Mary, The Citadel, Virginia
Polytechnic Institute, University of Virginia
Japan (23), Mexico (23),
Panama (23), Saudi Arabia (18),
Venezuela (23)
UNITED STATES
Entering its 2nd century of service this year, Fork Union offers a one-subject plan of
study. Under this plan, students focus on one subject for seven weeks, giving
international students a chance to become fluent in English. The Academy's
technology and athletic programs are outstanding.
Entrando en su 2do. siglo de servicio este año, Fork Union ofrece un plan de
estudios de una sola asignatura. Bajo este plan, los estudiantes se centran en una
asignatura durante siete semanas, lo que da a los estudiantes extranjeros la
oportunidad de aprender a hablar inglés con soltura. Los programas de tecnología y
atletismo de la Academia son excepcionales.
Cette année marquant son 2ème siècle au service des étudiants, Fork Union
offre un plan d'étude sur une seule matière. Grâce à ce plan, les étudiants se
concentrent sur un seul et même sujet pendant sept semaines, donnant également
aux élèves étrangers la possibilité de parfaire leur anglais. Les programmes
technologiques et sportifs de l'Academy sont excellents.
Lt. Col. Jim Akers
Director of Admissions
P.O. Box 278
Fork Union, Virginia 23055
Phone: 804-842-4200 Fax: 804-842-4300