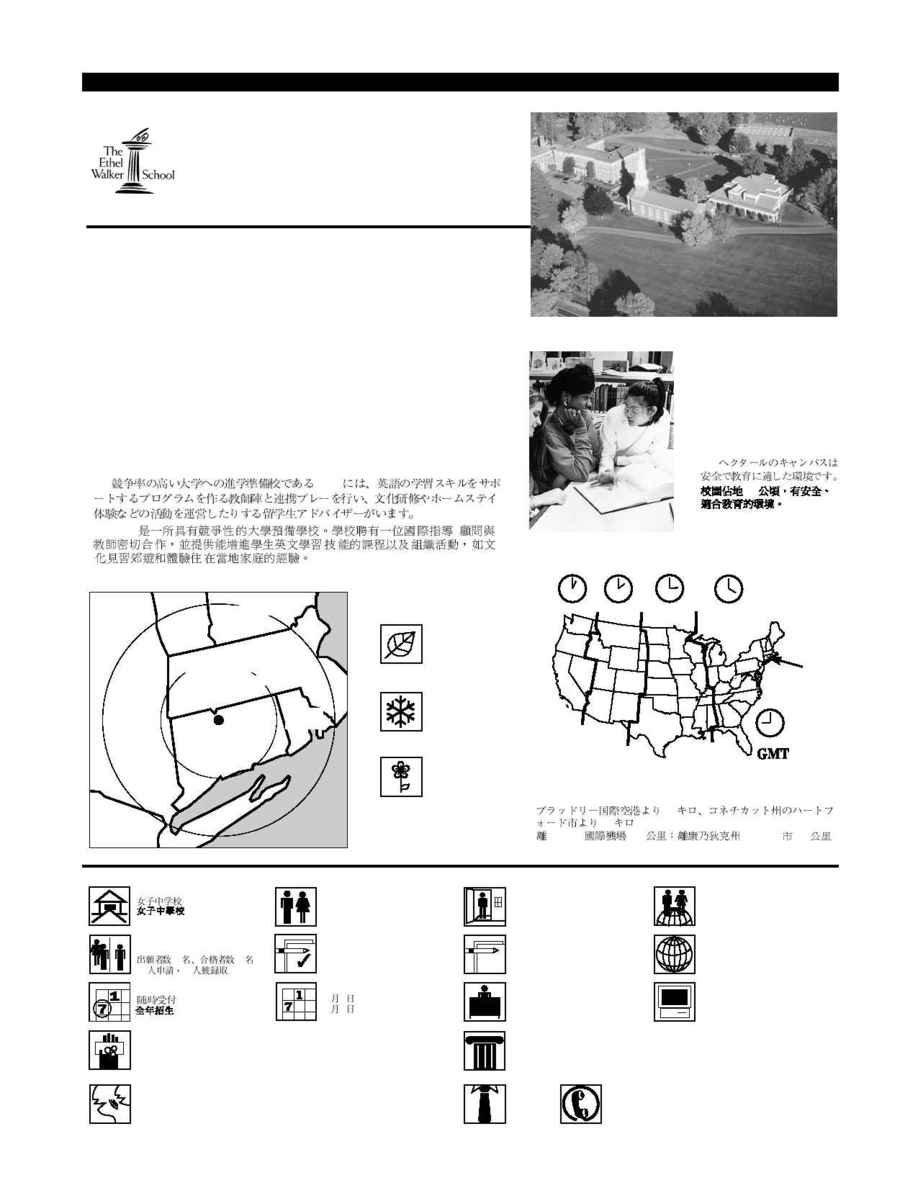 NEW
HAMPSHIRE
VERMONT
CONNECTICUT
NEW
YORK
MASSACHUSETTS
Atlantic
Ocean
80 km
160 km
RHODE
ISLAND
The Ethel Walker School
Founded 1911
24 km from Bradley International Airport; 19 km from Hartford, CT
A 24 km del aeropuerto internacional Bradley; a 19 km de Hartford, CT
A 24 km de l'aéroport international Bradley ; à 19 km de Hartford, CT
Girls 9­12 / Niñas / Filles
20, 10 / solicitaron admisión, fueron
aceptadas / candidats, admis
Rolling / Continuo / Continuelles
February 1 / 1 de febrero / 1
Tufts University, Boston College,
Wellesley College, Babson College,
University of Pennsylvania
Hong Kong (15), Japan (9),
Korea (7), Panama (23),
Saudi Arabia (5)
UNITED STATES
A competitive college-preparatory school, EWS has an international adviser who
works closely with faculty to create programs that support English learning skills
and to organize activities such as cultural trips and homestay experiences.
EWS, un renombrado colegio de preparación para la universidad, cuenta
con un consejero internacional que trabaja estrechamente con el profesorado
para elaborar los programas que desarrollan la capacidad de aprendizaje del
inglés y para organizar actividades especiales tales como excursiones culturales
y estadías con familias locales.
EWS, une école de préparation universitaire compétitive, met à la
disposition des élèves un conseiller international qui travaille de près avec les
professeurs pour créer des programmes qui améliorent les connaissances de
l'anglais et pour organiser des activités telles que des excursions culturelles et
des séjours en famille.
Helen McGlennon Treat
Director of Admission
230 Bushy Hill Road
Simsbury, Connecticut 06070
Phone: 860-408-4200 Fax: 860-408-4201
The 620-acre campus offers a
safe, nurturing environment.
Las 252 hectáreas de terreno
ofrecen un ambiente seguro y
creativo.
Le campus de 252 hectares
offre un environnement sûr
et attentionné.