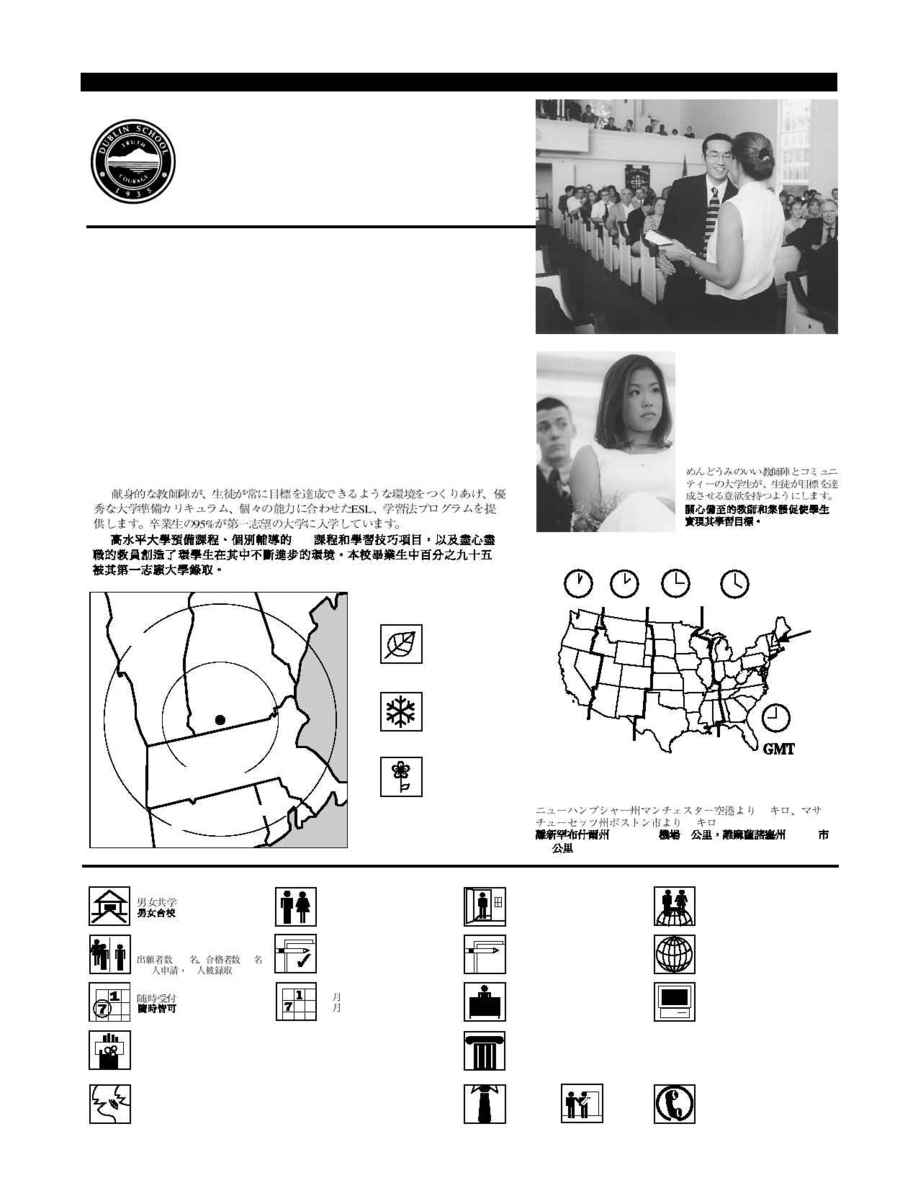 NEW
YORK
80 km
160 km
MASSACHUSETTS
MAINE
VERMONT
NEW
HAMPSHIRE
CONNECTICUT
Dublin School
Founded 1935
Nurturing faculty members and
community challenge students to
reach their goals.
Los profesores y la comunidad
estimulan el aprendizaje y ayudan a
los estudiantes a lograr sus metas.
Le corps enseignant attentif et la
communauté incitent les étudiants à
atteindre leurs buts.
66 km from Manchester, NH airport; 115 km from Boston, MA
A 66 km del aeropuerto de Manchester, NH; a 115 km de Boston, MA
A 66 km de l'aéroport de Manchester, NH ; à 115 km de Boston, MA
125, 74 / solicitaron admisión, fueron
aceptados / candidats, admis
TOEFL (350), SLEP (40-46)
September / septiembre / septembre
9
9
University of Massachusetts,
Wheaton College, Skidmore College,
St. Lawrence University,
Alfred University
Bermuda (11), Canada (11),
Germany (11), Japan (11),
Korea (11)
UNITED STATES
A strong college-preparatory curriculum, individualized ESL and learning skills
programs, and committed faculty members create an environment where
students continuously find success. Ninety-five percent of graduates enroll at
their first-choice college.
Un programa de preparación exigente para la universidad, clases individuales
de inglés como segundo idioma (ESL), un curso de técnicas de aprendizaje y
profesores dedicados a sus alumnos, crean un ambiente en el que los estudiantes
se esfuerzan por sobresalir continuamente. El 95 por ciento de los graduados se
matriculan en la universidad que seleccionan como primera opción.
Un solide programme de préparation universitaire, des cours individualisés
d'anglais comme langue étrangère, des programmes sur les techniques
d'assimilation et un corps enseignant attentif permettent de créer un
environnement favorisant la réussite des étudiants. Quatre-vingt-quinze pour cent
des jeunes diplômés sont admis dans les universités de leur choix.
Marylou T. Marcus, Director of Admission
P.O. Box 522
Dublin, New Hampshire 03444-0522
Phone: 603-563-8584 Fax: 603-563-8671
rolling / continuo / continuelles
Coeducational 9­12 / Mixto / Mixte