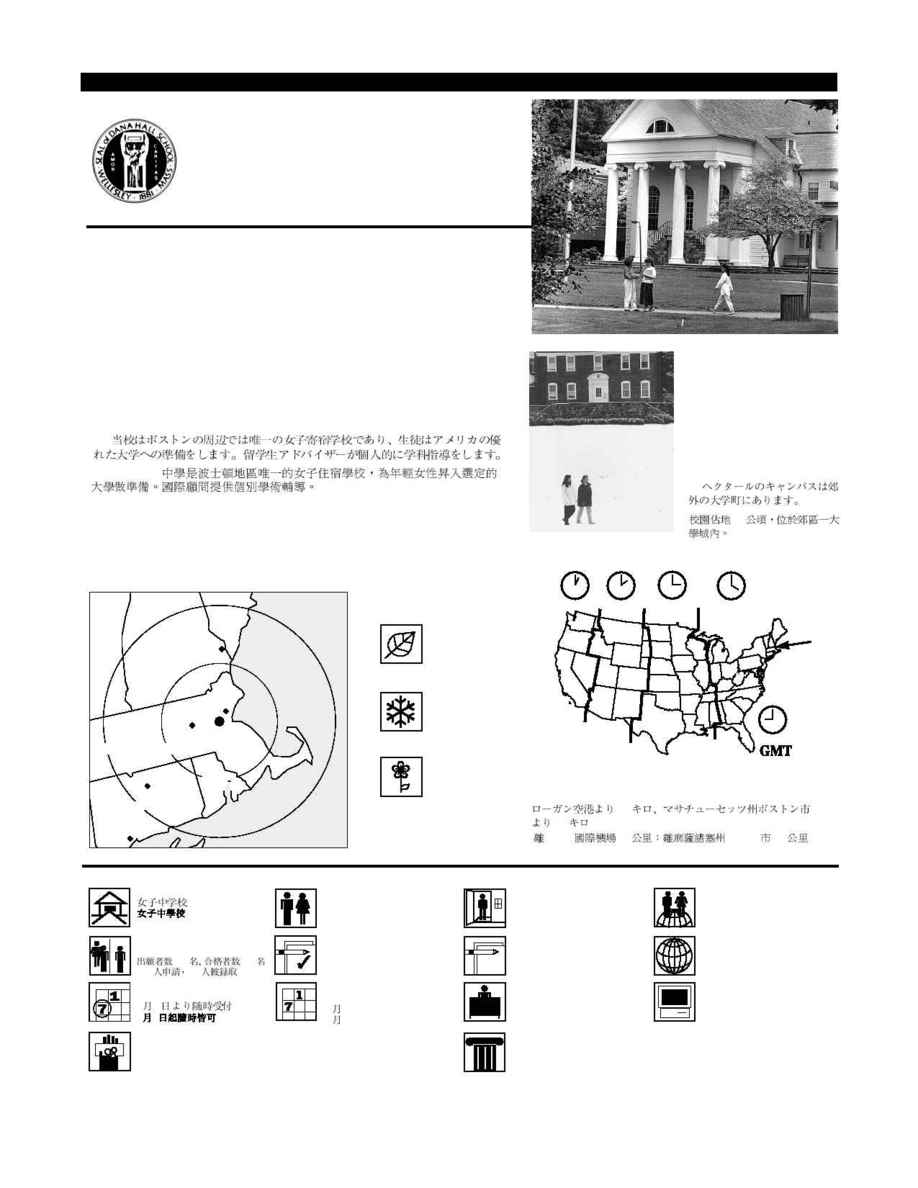 NEW HAMPSHIRE
MASSACHUSETTS
80 km
160 km
ATLANTIC
OCEAN
RHODE
ISLAND
MAINE
CONNECTICUT
Dana Hall School
NCGS, NAIS, TABS, NAFSA member
Founded 1881
The 50-acre campus is located in a
suburban college town.
Las 20 hectáreas de terreno se
encuentran en una pequeña ciudad
universitaria de las afueras
de Boston.
Le campus de 20 hectares est situé
dans une une banlieue de ville
universitaire.
24 km from Logan International Airport; 21 km from Boston, MA
A 24 km del aeropuerto internacional de Logan; a 21km de Boston, MA
A 24 km de l'aéroport international de Logan ; à 21 km de Boston, MA
Girls 6­12 / Niñas / Filles
320, 246 / solicitaron admisión, fueron
aceptadas / candidates, admises
February 1, rolling / 1 de febrero,
continuo / 1
September / septiembre /
septembre
9
9
Brown University, Cornell
University, Johns Hopkins
University, Boston University
Hong Kong, Indonesia, Japan,
Korea, Mexico, Thailand
UNITED STATES
The only girls' boarding school in the Boston area, Dana Hall prepares young
women for selective American universities. An international advisor provides
individual academic support.
El único internado para niñas en el área de Boston, Dana Hall prepara a las
jovencitas para ingresar en las universidades selectivas de los Estados Unidos.
Un consejero internacional ofrece apoyo académico individual.
DHS est le seul internat pour jeunes filles dans la région de Boston. L'école
prépare les élèves aux meilleures universités américaines. Un conseiller
scolaire international aide chaque étudiante à établir un programme d'étude
adapté à ses besoins individuels.
Olive B. Long, Director of Admission
45 Dana Road
Wellesley, Massachusetts 02482
Phone: 781-235-3010 Fax: 781-235-0577
E-mail: admission@danahall.org
URL: www.danahall.org