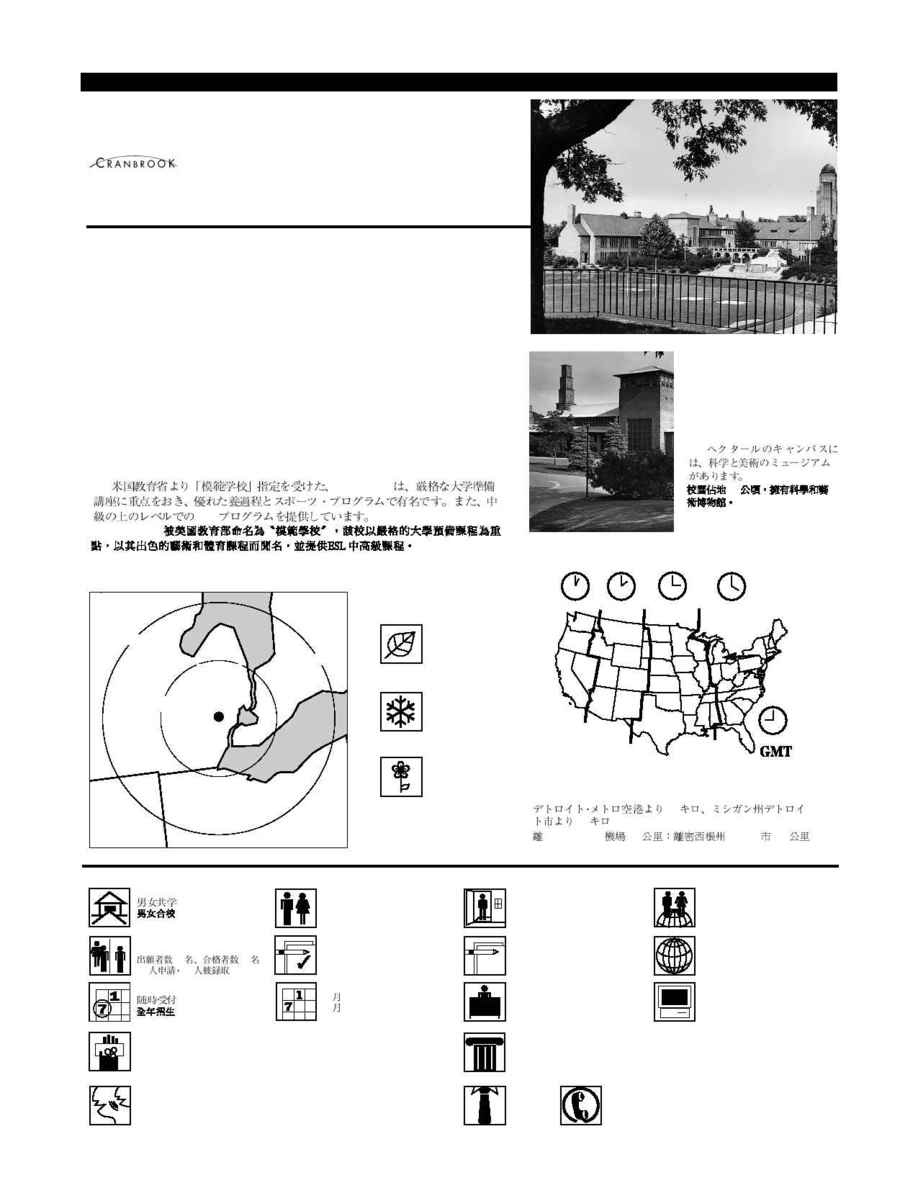 ONTARIO
MICHIGAN
Lake Huron
Lake Erie
OHIO
80 km
160 km
Cranbrook Schools
Founded 1922
The 315-acre campus includes
science and art museums.
Le campus de 128 hectares
comprend un musée des sciences
et un musée des arts.
Las 128 hectáreas de terreno
incluyen museos de ciencias y ate.
64 km from Detroit Metro Airport; 32 km from Detroit, MI
A 64 km del aeropuerto Metro de Detroit; a 32 km de Detroit, MI
A 64 km de l'aéroport Metro de Detroit ; à 32 km de Detroit, MI
50, 20 / solicitaron admisión, fueron
aceptados / candidats, admis
September / septiembre / septembre
9
9
University of Michigan, Michigan State
University, Northwestern University,
Brown University, Boston University,
Washington University
China, Germany, India, Japan,
Korea, Mexico, Taiwan, Thailand
UNITED STATES
Named an "Exemplary School" by the U.S. Department of Education,
Cranbrook emphasizes a rigorous college-preparatory curriculum, is noted for
its outstanding arts and athletics programs, and offers ESL at the high-
intermediate level.
Designado como un "Colegio Ejemplar" por el Departamento de Educación
de los Estados Unidos, Cranbrook hace énfasis en un riguroso plan de estudios
de preparación para la universidad, ha alcanzado renombre por sus
excepcionales programas de arte y atletismo y ofrece cursos de inglés como
segundo idioma a nivel alto-intermedio.
Nommé "école modèle" par le département américain de l'éducation,
Cranbrook, qui propose un solide enseignement préparant à l'entrée en
université, est réputé pour ses excellents programmes artistiques et sportifs.
L'établissement offre également des cours d'anglais comme langue étrangère
aux étudiants d'un niveau intermédiaire.
D. Scott Looney, Director of Admission
1221 N. Woodward Avenue, P.O. Box 801
Bloomfield Hills, Michigan 48303-0801
Phone: 248-645-3610 Fax: 248-645-3025
E-mail: scott_looney@cc.cranbrook.edu
Coeducational 9­12 / Mixto / Mixte
Rolling / Continuo / Continuelles