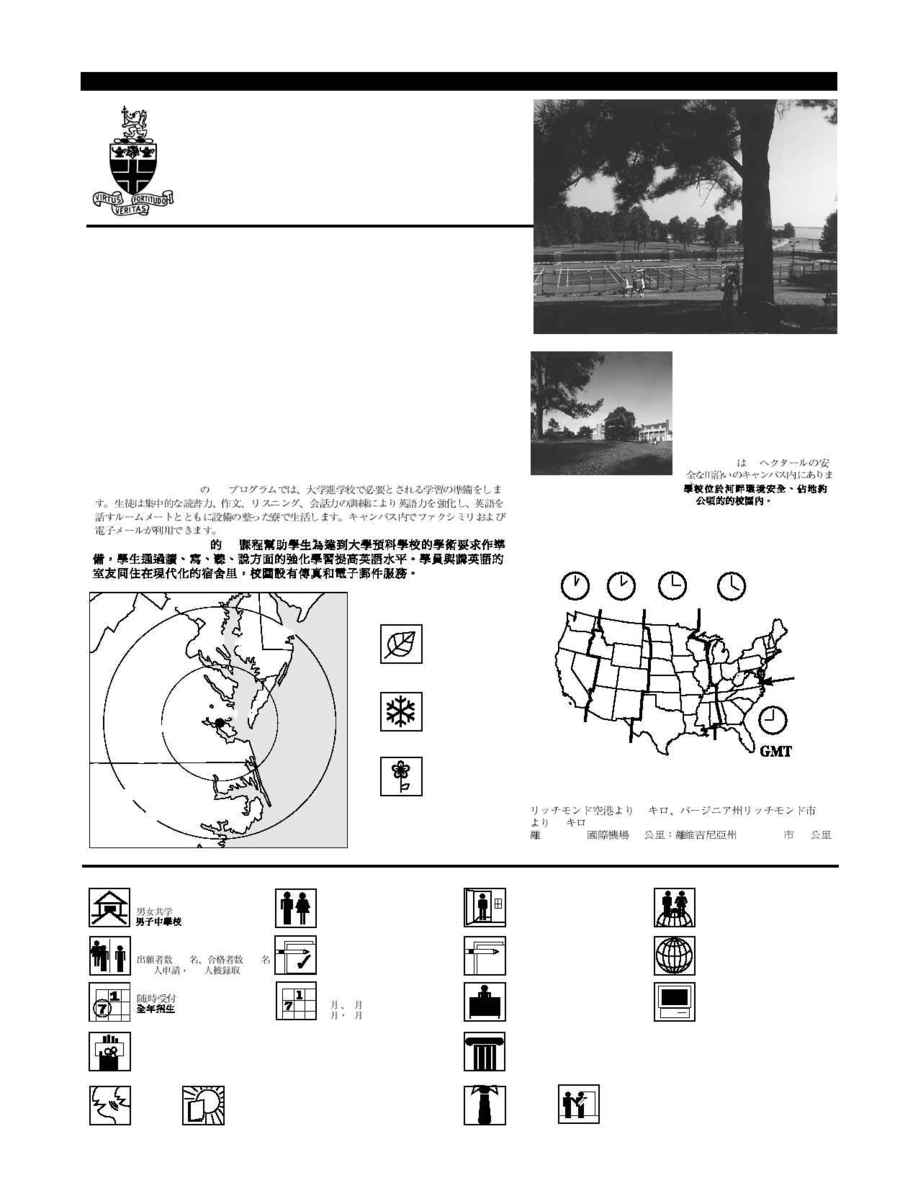 NORTH CAROLINA
VIRGINIA
80 km
160 km
ATLANTIC
OCEAN
MARYLAND
DELAWARE
Christchurch School
Founded 1921
Christchurch is located on a secure
120-acre riverfront campus.
Christchurch está situado en un
terreno seguro de 49 hectáreas
frente a un río.
Christchurch est située sur un
campus tranquille de 49 hectares au
bord d'une rivière.
72 km from Richmond Airport; 80 km from Richmond, VA
A 72 km del aeropuerto de Richmond; a 80 km de Richmond, VA
A 72 km de l'aéroport de Richmond ; à 80 km de Richmond, VA
Boys 8­PG; Coed day /
Muchachos / Garçons
156, 126 / solicitaron admisión,
fueron aceptados / candidats, admis
September, January / septiembre,
enero / septembre, janvier
9
University of Georgia, Hampden-Sydney,
James Madison, UNC, Virginia Tech
Brazil (2), Bulgaria (1),
Germany (4), Korea (11),
Sweden (1), Thailand (3)
UNITED STATES
Christchurch School's ESL program prepares students for the academic demands of a college-
preparatory school. Students improve their English through intensive work in reading, writing,
listening, and speaking. Students are housed in modern dormitories with English-speaking
roommates. Facsimile and e-mail services are available on campus.
El programa de inglés como segundo idioma (ESL) de Christchurch School prepara a
los estudiantes para las exigencias académicas de un colegio de preparación para la
universidad. Los estudiantes mejoran su inglés por medio de trabajos intensivos de lectura
y escritura, así como hablando y escuchando el idioma. Los estudiantes se alojan en
modernas residencias estudiantiles con compañeros de cuarto que hablan inglés. El recinto
escolar ofrece servicios de facsímil (fax) y correo electrónico (E-mail).
Le programme d'anglais comme langue étrangère (ESL) de Christchurch School enseigne aux
étudiants les exigences scolaires auxquelles ils feront face dans les écoles préparant à l'entrée
dans les universités. Les étudiants améliorent leur anglais en travaillant de façon intensive la
lecture, l'écriture, l'écoute et la production orale. Les étudiants sont logés dans des dortoirs
modernes qu'ils partagent avec un élève anglophone. Un service de télécopie et de messagerie
électronique est disponible sur le campus.
David E. Taibl, Director of Admissions
Route 33
Christchurch, Virginia 23031
Phone: 804-758-2306 Fax: 804-758-0721
E-mail: admissions@christchurchva.com
URL: http://www.christchurchva.com
Rolling / Continuo / Continuelles