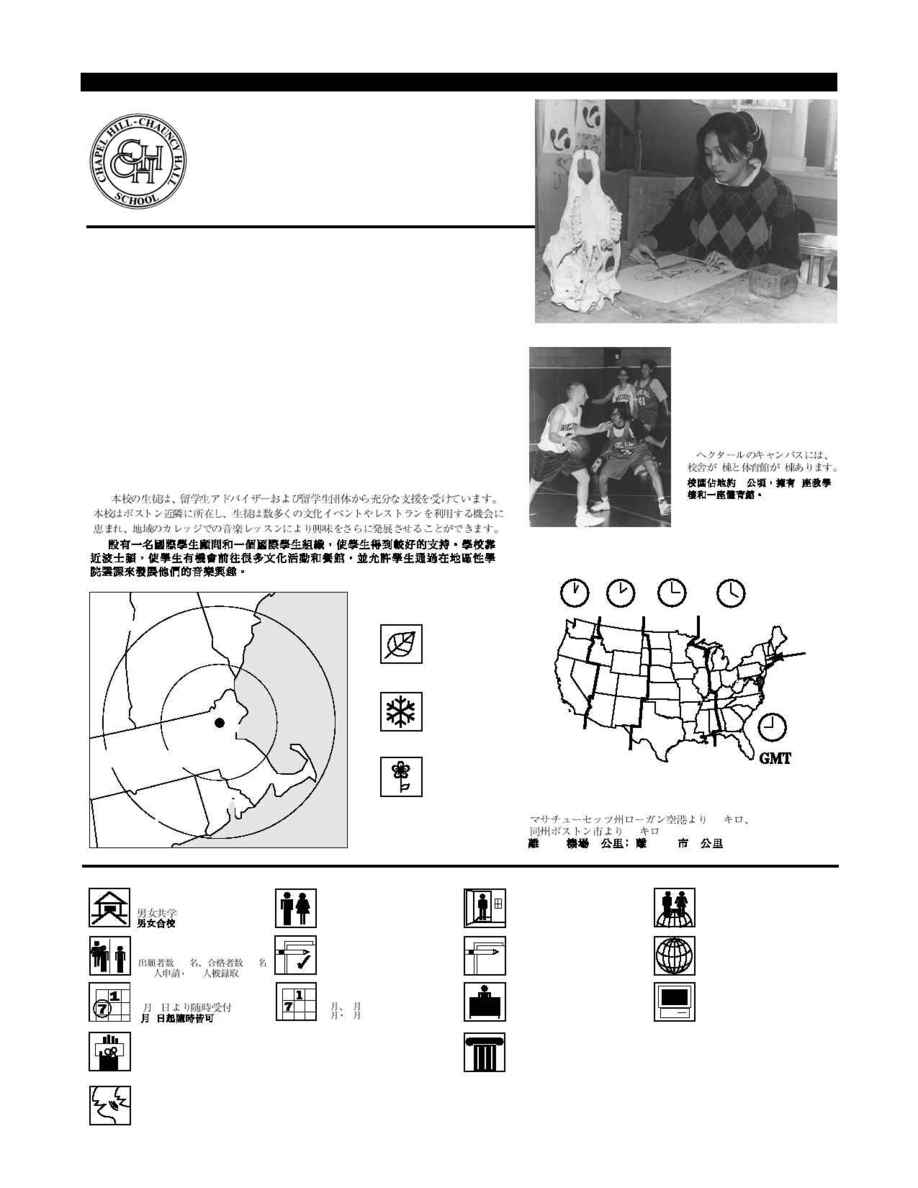 NEW HAMPSHIRE
MASSACHUSETTS
80 km
160 km
ATLANTIC
OCEAN
RHODE
ISLAND
MAINE
CONNECTICUT
VERMONT
Chapel Hill-Chauncy Hall School
Founded 1971
A 37-acre campus with 3 academic
buildings and a gymnasium.
Un terreno de 15 hectáreas con 3
edificios académicos y un gimnasio.
Le campus de 15 hectares
comprend 3 bâtiments pour
l'enseignement scolaire et un
gymnase.
20 km from Logan Airport, 14 km from Boston, MA
A 20 km del aeropuerto de Logan; a 14 km de Boston, MA
A 20 km de l'aéroport de Logan ; à 14 km de Boston, MA
172, 140 / solicitaron admisión,
fueron aceptados / candidats, admis
September, January / septiembre,
enero / septembre, janvier
9
New York University, Boston University,
Northeastern University, Curry College,
University of Massachusetts
Brazil (85), Hong Kong (85),
Japan (85), Korea (85),
Thailand (85)
UNITED STATES
With an international student adviser and an international student organization, the
students are well supported. The School's proximity to Boston provides students
with the opportunity to access many cultural events and restaurants and also allows
students to pursue their interests in music by taking lessons at area colleges.
Con un asesor de estudiantes extranjeros y una organización de estudiantes
extranjeros, los alumnos cuentan con el apoyo necesario. La proximidad del colegio
a Boston les da la oportunidad de tener acceso a muchos eventos culturales y
restaurantes y cultivar sus intereses en música tomando lecciones en las
universidades del área.
Grâce à un conseiller et à un organisme pour les étudiants étrangers, les élèves
de l'établissement disposent d'un appui considérable. L'école étant située à
proximité de Boston, les étudiants ont accès à de nombreuses manifestations
culturelles, ainsi qu'à un grand nombre de restaurants. Les étudiants qui s'intéressent
à la musique peuvent également prendre des cours dans les universités de la région.
Daniel I. Levine, Director of Admissions
785 Beaver Street
Waltham, Massachusetts 02452
Phone: 781-894-2644 Fax: 781-894-5205
Coeducational 9­12, PG /
Mixto / Mixte
February 1, rolling / 1 de febrero,
continuo / 1er février, continuelles
2