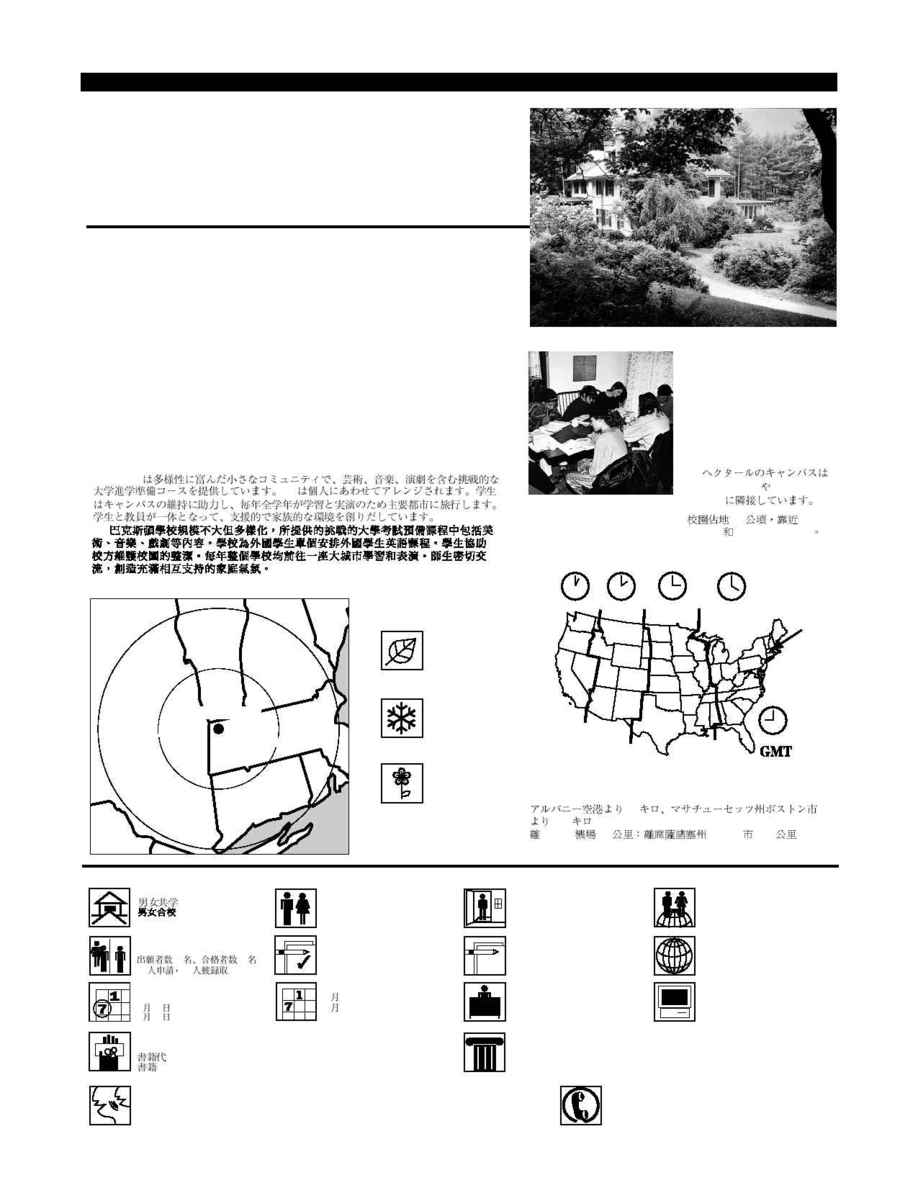 NEW
YORK
MASSACHUSETTS
80 km
160 km
CONNECTICUT
VERMONT
NEW
HAMPSHIRE
Buxton School
Founded 1928
The 150-acre campus is near
Williams College and the Clark
Art Institute.
Las 61 hectáreas de terreno están
cerca de Williams College y del
Clark Art Institute.
Le campus de 61 hectares est
proche de Williams College et de
Clark Art Institute.
61
Williams College
72 km from Albany Airport; 225 km from Boston, MA
A 72 km del aeropuerto de Albany; a 225 km de Boston, MA
A 72 km de l'aéroport d'Albany ; à 225 km de Boston, MA
57, 49 / solicitaron admisión, fueron
aceptados / candidats, admis
February 15 / 15 de febrero /
15 février
2
$25,500 + books; más libros;
+ prix des livres;
September / septiembre / septembre
9
9
Earlham College, Macalester College,
Mount Holyoke College, Oberlin College,
Wesleyan University
China (14), Mexico (17),
Spain (9)
UNITED STATES
Buxton is a small, diverse community offering a challenging college-preparatory program that also
includes art, music, and drama. ESL is individually arranged. Students help maintain the campus,
and, every year, the entire school travels to a major city to study and perform. Close student-
faculty interaction creates a supportive, family environment.
Buxton es una comunidad pequeña y variada que ofrece un estimulante programa de
preparación para la universidad que también incluye arte, música y drama. Las clases de inglés
como segundo idioma (ESL) se programan individualmente. Los estudiantes colaboran con el
mantenimiento del colegio y, todos los años, todos los alumnos viajan a una ciudad importante
para estudiar y hacer representaciones. La estrecha interacción entre estudiantes y profesores
crea un ambiente familiar con mucho apoyo.
Buxton est une petite communauté diversifiée qui propose un programme de préparation à
l'université stimulant comportant également des cours d'art, de musique et de théâtre. Les cours
d'anglais comme langue étrangère (ESL) sont organisés de façon individuelle. Les étudiants
participent à l'entretien du campus et, tous les ans, tout l'établissement effectue un voyage vers
une grande ville afin d'y étudier et d'y offrir un spectacle. L'étroite collaboration entre les
étudiants et le corps enseignant permet de créer un environnement familial et coopératif.
C. William Bennett, Director of Admissions
291 South Street
Williamstown, Massachusetts 01267
Phone: 413-458-3919 Fax: 413-458-9427
E-mail: Office@Buxton.Williamstown.ma.us
URL: http://www.Buxton.Williamstown.ma.us/
Coeducational 9­12 / Mixto / Mixte