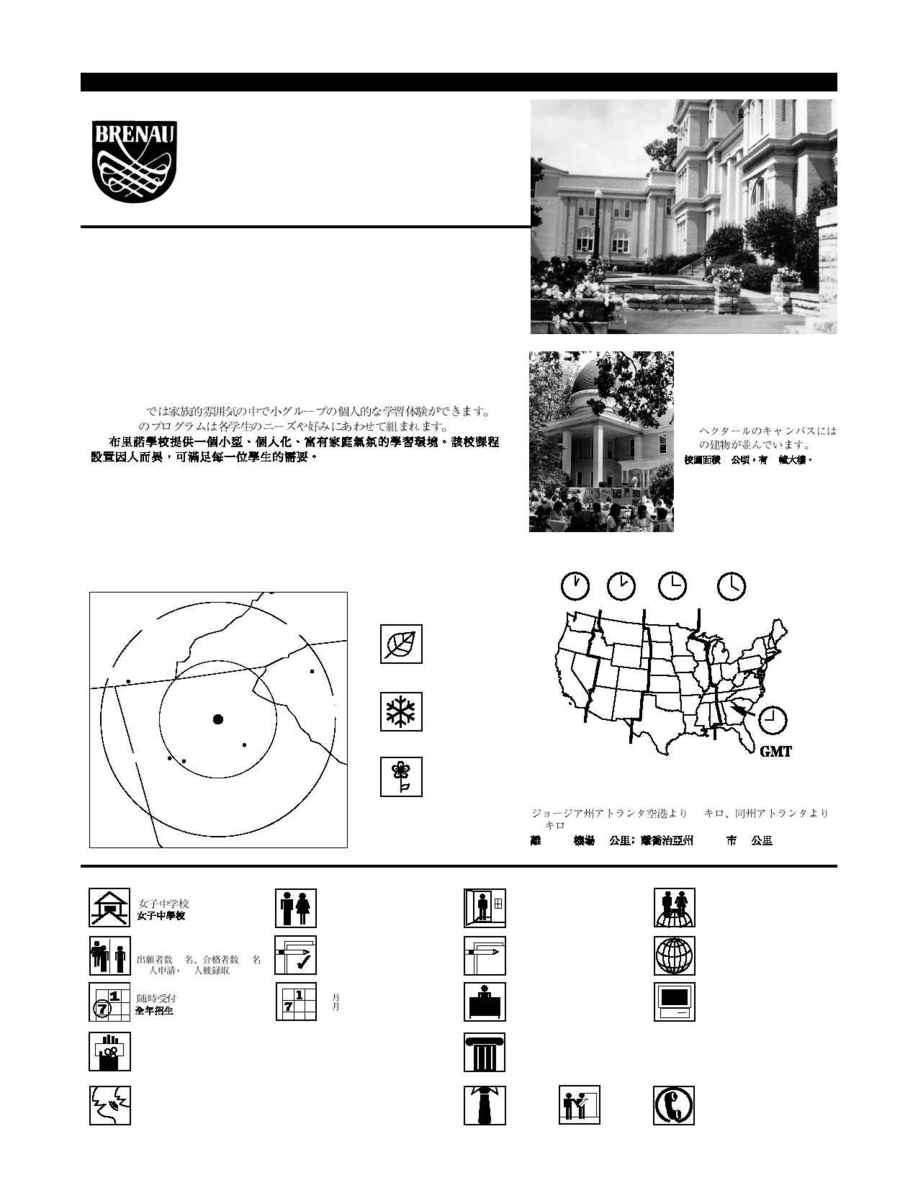 NORTH CAROLINA
SOUTH
CAROLINA
GEORGIA
TENNESSEE
80 km
160 km
Brenau Academy
Founded 1928
The 50-acre campus has fifty
buildings.
Las 20 hectáreas de terreno tienen
cincuenta edificios.
Le campus de 20 hectares est doté
de cinquante bâtiments.
20
50
81 km from Atlanta Airport; 81 km from Atlanta, GA
A 81 km del aeropuerto de Atlanta; a 81 km del Atlanta, GA
A 81 km de l'aéroport d'Atlanta ; a 81 km de Atlanta, GA
Girls 9­12 / Niñas / Filles
45, 30 / solicitaron admisión, fueron
aceptadas / candidates, admises
8
8
Brenau University, University of Georgia,
University of Florida, University of Mississippi,
Savannah College of Art and Design
Dominican Republic (4),
Germany (1), Japan (3),
Korea (3), Saudi Arabia (4),
UNITED STATES
Brenau offers a small, personal learning experience with a family atmosphere.
The Academy individualizes its program to meet each student's needs.
Brenau ofrece un ambiente académico con pocos alumnos y atención
personalizada, en una atmósfera familiar. La Academia individualiza su
programa para satisfacer las necesidades de cada estudiante.
Brenau offre un apprentissage individuel dans des classes restreintes au
sein d'une ambiance familiale. L'Academy individualise ses programmes pour
répondre aux besoins de chaque étudiant.
Jan Ewing, Director of Admissions
1 Centennial Circle
Gainesville, Georgia 30501
Phone: 770-534-6140 Fax: 770-534-6298
E-mail: enroll@lib.brenau.edu
URL: http://www.brenau.edu
Rolling / Continuo / Continuelles