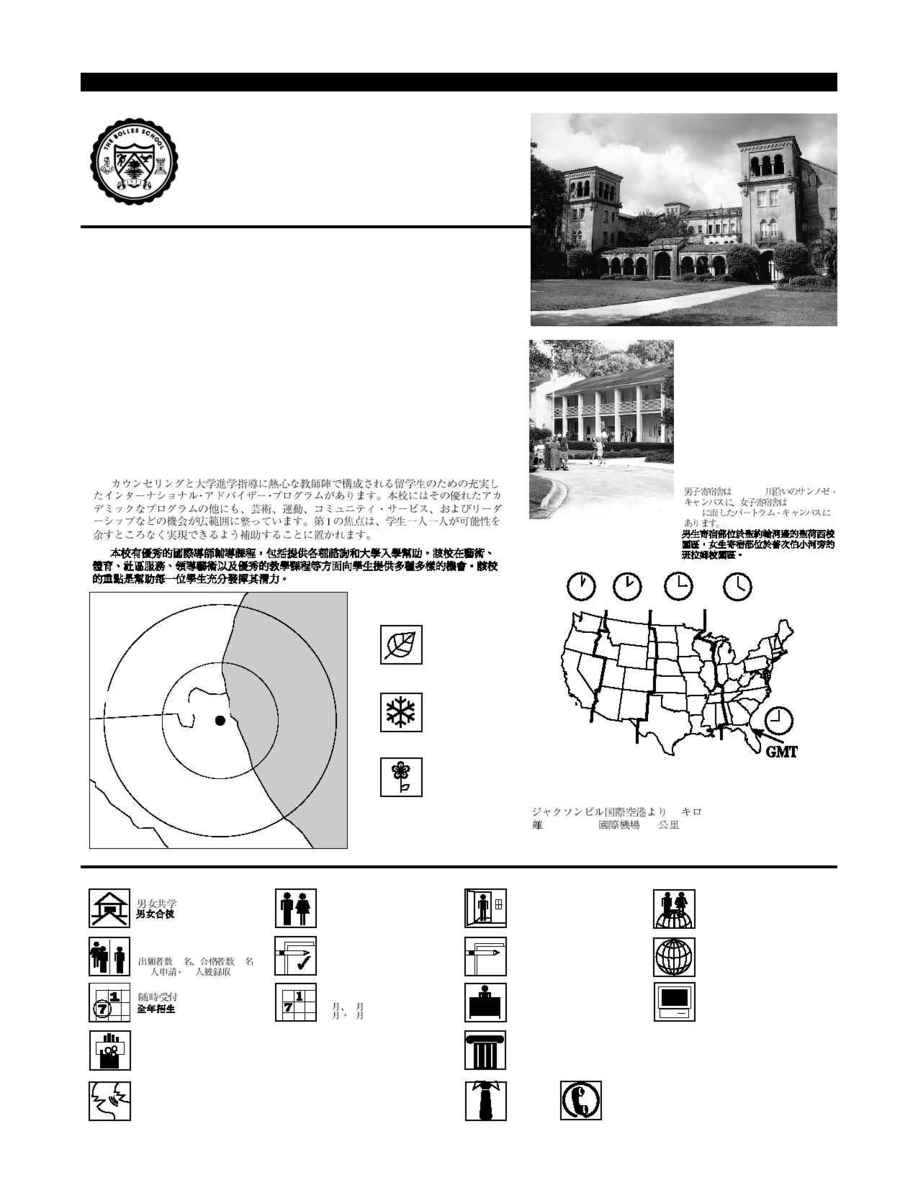 GEORGIA
FLORIDA
80 km
160 km
Atlantic
Ocean
The Bolles School
Founded 1933
The boys' boarding program is located on the
school's San Jose Campus along the St. Johns
River. The girls' boarding program is located on
the Bartram Campus along Pottsburg Creek.
El programa de internado para niños se realiza
en el Recinto San José del colegio, junto al río
St. Johns. El programa de internado para niñas
se realiza en el Recinto Bartram, junto al
riachuelo Pottsburg.
Le programme des garçons pensionnaires se
déroule sur le campus San Jose de l'école le
long de la rivière St. Johns. Celui des jeunes
filles pensionnaires est situé sur le campus
Bartam le long de Pottsburg Creek.
32 km from Jacksonville International Airport / A 32 km del aeropuerto
internacional de Jacksonville / A 32 km de l'aéroport international de
Jacksonville
85, 43 / solicitaron admisión, fueron
aceptados / candidats, admis
September, January / septiembre,
enero / septembre, janvier
9
University of Florida, University of
Virginia, Duke University
Bahamas (63), Germany (63),
Japan (45), Spain (63)
UNITED STATES
The Bolles School has a strong international adviser program consisting of staff members who
provide extensive assistance for counseling and college placement. The school provides
extensive opportunities in the arts, athletics, community service, and leadership as well as an
excellent academic program. Primary focus is placed on helping each student realize his or
her full potential.
La Bolles School tiene un excelente programa de asesoramiento internacional a través
del cual miembros del personal docente brindan orientación y asistencia en la selección
de una universidad. El colegio proporciona muchas oportunidades en artes, atletismo,
servicios comunitarios y liderazgo, así como un excelente programa académico. Se hace
énfasis especial en ayudar a cada estudiante a desarrollar al máximo sus posibilidades.
Bolles School possède un solide programme international de services consultatifs
composé de conseillers dont la mission est d'offrir l'aide nécessaire en matière
d'orientation et d'inscription dans les universités. L'établissement offre de nombreuses
opportunités dans différents domaines tels que l'art, le sport, l'aide sociale et le
leadership, ainsi qu'un excellent programme scolaire. Le but principal de Bolles School est
de favoriser l'épanouissement de tous les étudiants.
Douglas A. Walker,
Vice President/Admission Services
7400 San Jose Boulevard
Jacksonville, Florida 32217
Phone: 904-733-5952 Fax: 904-739-9929
E-mail: walkerd@bolles.org
URL: http://www.bolles.org
Rolling / Continuo / Continuelles
Coeducational PK­PG / Mixto / Mixte