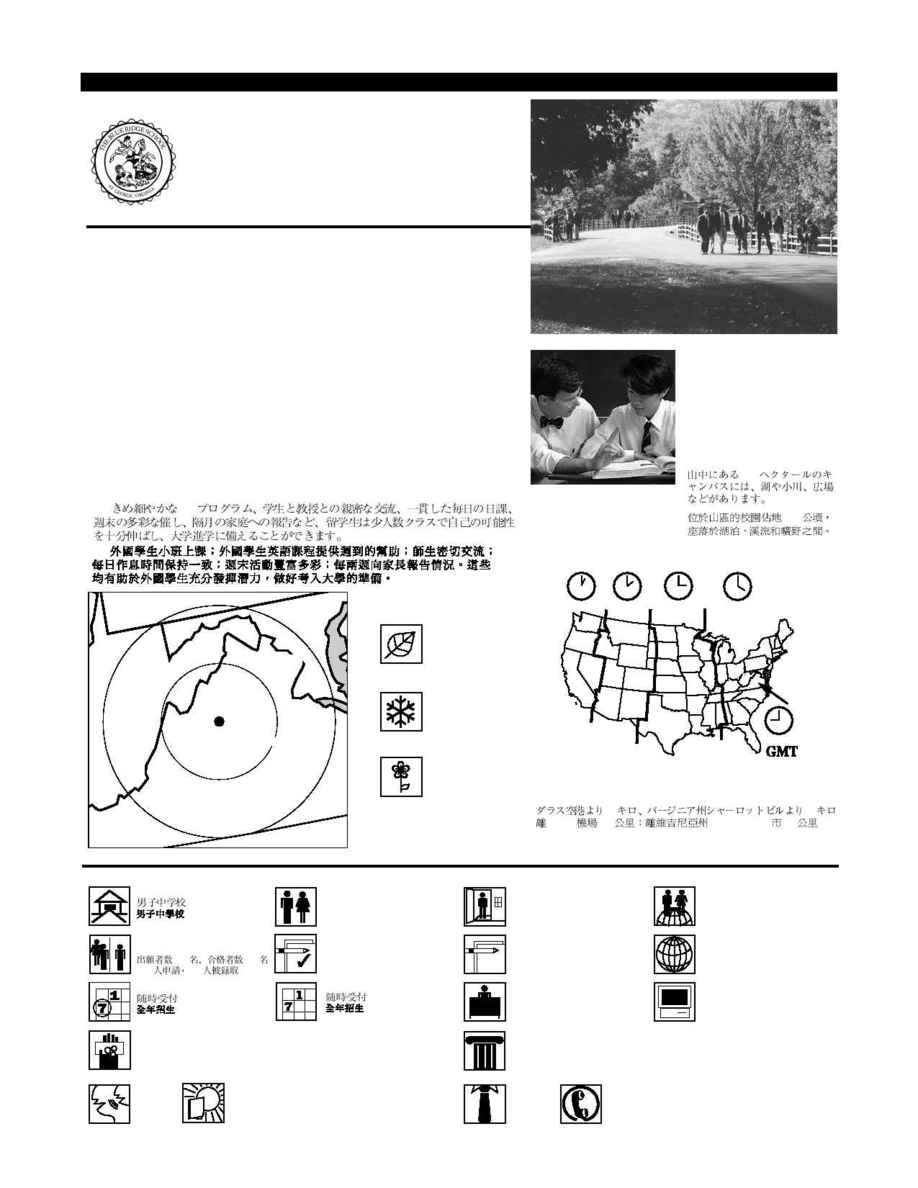 VIRGINIA
80 km
160 km
WEST
VIRGINIA
The Blue Ridge School
Founded 1909
1,000-acre mountain campus with
lakes, streams, and fields.
El terreno montañoso de 400
hectáreas contiene lagos, riachuelos
y prados.
Le campus est situé sur 400
hectares dans les montagnes et
comprend des lacs, ruisseaux et des
champs.
70 km from Dulles Airport; 12 km from Charlottesville, VA
A 70 km del aeropuerto Dulles; a 12 km de Charlottesville, VA
A 70 km de l'aéroport de Dulles ; à 12 km de Charlottesville, VA
Boys 9­12 / Muchachos / Garçons
205, 140 / solicitaron admisión, fueron
aceptados / candidats, admis
Rolling / Continuo / Continuelles
$21,300; $2200 ($2000 ESL)
College of Charleston, Elon University,
James Madison University, University of
Virginia, Mary Washington College,
Northeastern University
Korea (12), Germany (3), Thailand (1),
Philippines (2), Russia (1), Saudi
Arabia (14), China (1), Croatia (1),
Japan (1), Bahamas (1), Barbados (1)
UNITED STATES
Andrew Walpole, Director of Admissions
St. George, Virginia 22935
Phone: 804-985-2811 Fax: 804-985-7215
E-mail: bradmis@esinet.net
International students find small classes; a supportive ESL program; close
interaction between students and faculty members; a consistent, daily routine; a
wide variety of weekend activities; and biweekly reports to parents, all of which
help them to reach their full potential and prepare them for college admission.
Los estudiantes extranjeros encuentran clases con pocos alumnos; un
programa de inglés como segundo idioma (ESL) con mucho apoyo; estrecha
interacción entre alumnos y miembros del profesorado; una rutina diaria
coherente; una amplia variedad de actividades de fin de semana y la información
que se entrega cada dos semanas a los padres, todo lo cual ayuda a los jóvenes a
desarrollar al máximo su potencial y los prepara para ser admitidos en la
universidad.
Les étudiants étrangers bénéficient de classes restreintes, d'un programme
d'anglais comme langue étrangère (ESL) solide, d'une collaboration étroite entre
étudiants et membres du corps enseignant, d'un emploi du temps quotidien
homogène et d'une grande variété d'activités le week-end leur permettant de
s'épanouir et de préparer leur entrée à l'université ; les parents reçoivent par
ailleurs des compte-rendus bimensuels.
Rolling / Continuo / Continuelles