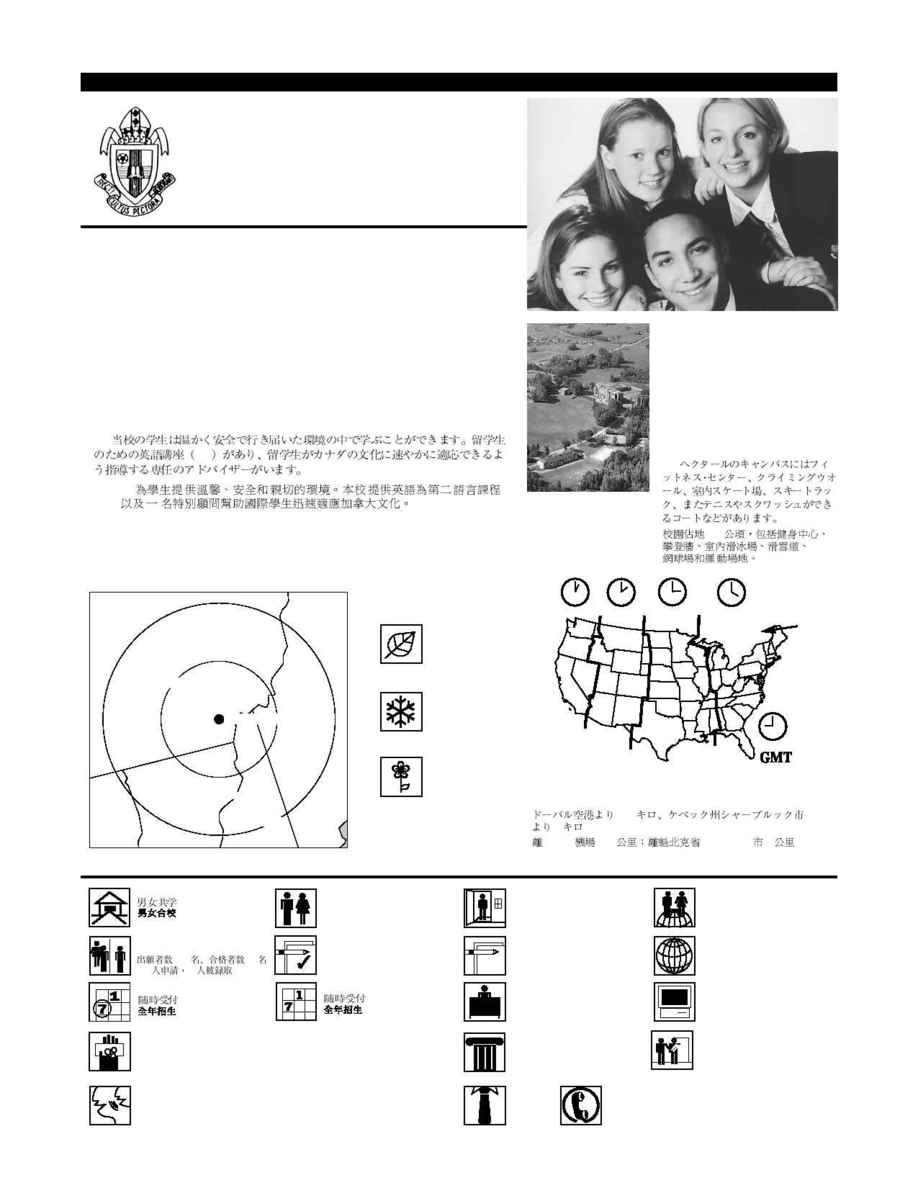 VERMONT
80 km
160 km
NEW
HAMPSHIRE
QUEBEC
MAINE
Bishop's College School
Founded 1836
150 km from Dorval Airport; 8 km from Sherbrooke, PQ
A 150 km del aeropuerto de Dorval; a 8 km de Sherbrooke, PQ
A 150 km de l'aéroport de Dorval ; à 8 km de Sherbrooke, PQ
Coeducational 7­12 / Mixto / Mixte
200, 30 / solicitaron admisión, fueron
acceptados / candidats, admis
$18,100; $500 (Canadian)
$19,700; $500 (International)
Queen's University, University of
Toronto, University of Waterloo,
University of Ottawa, Dalhousie
University
Bermuda, Japan, Mexico, Taiwan,
Zaire
CANADA
BCS provides the student with a warm, safe, and caring environment. We
provide ESL programs and a special advisor who helps international students
adapt quickly to Canadian culture.
BCS ofrece un ambiente acogedor y seguro. Ofrecemos programas de
inglés como segundo idioma (ESL) y un asesor especial que ayuda a los
estudiantes internacionales a adaptarse rápidamente a la cultura canadiense.
BCS offre une ambiance chaleureuse, sûre et attentive aux besoins des
étudiants. Nous offrons des programmes d'anglais comme langue étrangère
(ESL) et un conseiller qui aidera les élèves étrangers à s'adapter rapidement à la
culture canadienne.
Suzan Kendall, Director of Admissions
P.O. Box 5001
Lennoxville, Quebec J1M 1Z8
Canada
Phone: 819-566-0227 Fax: 819-822-8917
The 350-acre campus includes a fitness
center, climbing wall, indoor skating rink, ski
trails, tennis/squash courts, and sports fields.
El terreno de 142 hectáreas incluye un centro
de ejercicios, una pared para escalada, pista de
patinaje bajo techo, pistas para esquiar,
canchas de tenis/squash y campos deportivos.
Le campus de 142 hectares comprend un
centre de remise en forme, un mur de
varappe, une patinoire couverte, des pistes
de ski, des courts de tennis/squash et des
espaces pour le sport en plein air.
Rolling / Continuo / Continuelles
Rolling / Continuo / Continuelles