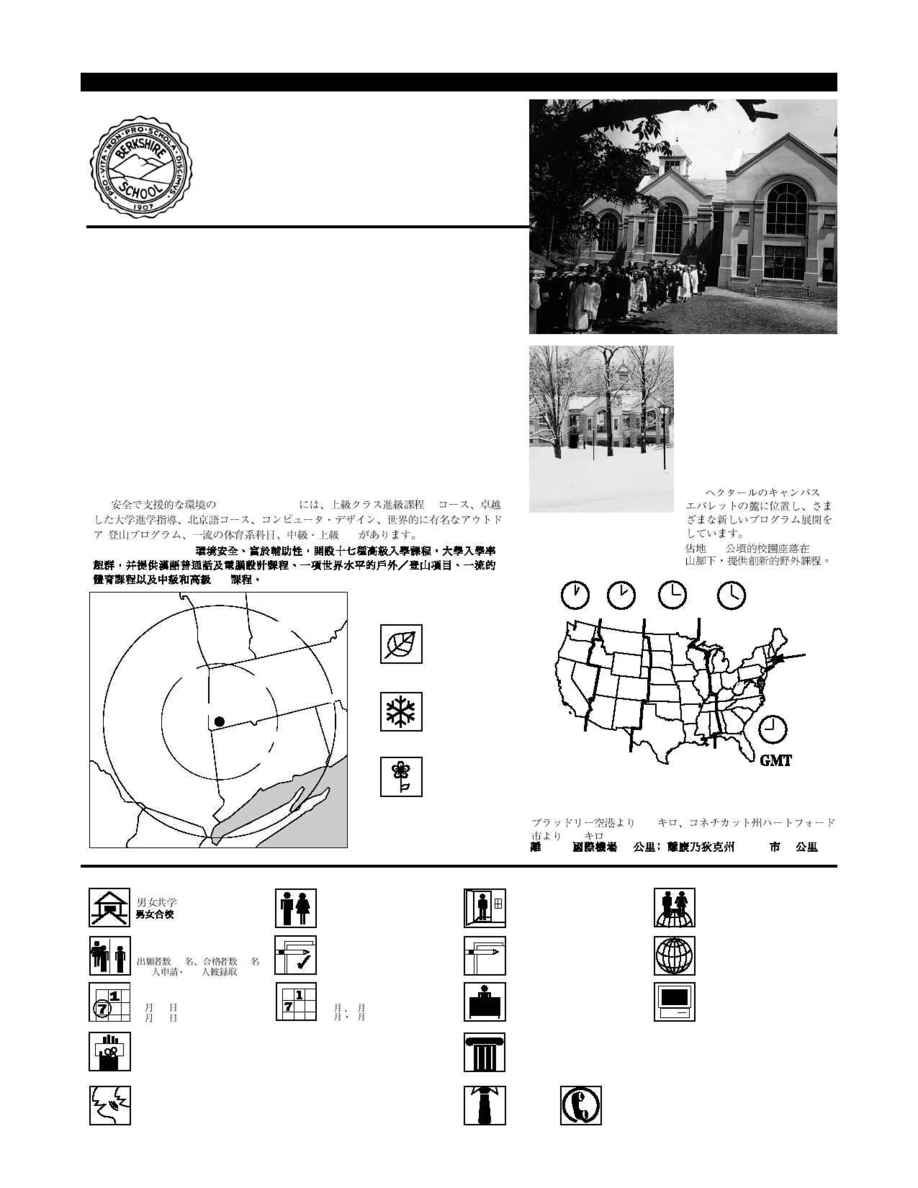 CONNECTICUT
80 km
160 km
MASSACHUSETTS
NEW
YORK
VERMONT
NEW
HAMPSHIRE
Berkshire School
Founded 1907
The 500-acre campus is set at the
base of Mt. Everett and offers
innovative wilderness programs.
Situado en 202 hectáreas de terreno
al pie del Monte Everett, ofrece
programas innovadores en reservas
naturales.
Le campus de 202 hectares est situé
à la base du Mt. Everett et offre des
programmes innovateurs sur les
régions sauvages.
100 km from Bradley Airport; 100 km from Hartford, CT
A 100 km del aeropuerto de Bradley; a 100 km de Hartford, CT
A 100 km de l'aéroport de Bradley ; à 100 km de Hartford, CT
586, 355 / solicitaron admisión, fueron
aceptados / candidats, admis
September, January / septiembre,
enero / septembre, janvier
9
Cornell University, Johns Hopkins
University, Carnegie Mellon University,
Dickinson College, Boston University
Canada, Germany, Hong Kong,
Indonesia, Korea
UNITED STATES
Seventeen Advanced Placement courses, outstanding college placement, courses in
Mandarin Chinese and computer design, a world-class outdoor/mountaineering
program, top-notch athletic offerings, and intermediate and advanced ESL can be
found in the secure and supportive environment of Berkshire School.
Diecisiete cursos en programas avanzados, colocación en universidades
destacadas, cursos de mandarín y diseño por computadora, un programa de
categoría internacional de actividades al aire libre y montañismo, instalaciones de
primera clase para atletismo y clases de inglés como segundo idioma (ESL) pueden
encontrarse en el ambiente seguro y con mucho apoyo de Berkshire School.
Berkshire School, dont le nombre d'étudiants acceptés dans les universités est
exceptionnel, propose dix-sept cours préparant à l'enseignement supérieur, des
cours de mandarin et de conception par ordinateur, un excellent programme
d'alpinisme et d'activités de plein air, des opportunités sportives de premier ordre,
ainsi que des cours d'anglais comme langue étrangère (ESL) de niveaux
"intermédiaire" et "avancé" dans un environnement sûr offrant un grand soutien.
Phillip J. Jarvis
Assistant Head of School (Enrollment)
245 North Undermountain Road
Sheffield, Massachusetts 01257-9672
Phone: 413-229-1003 Fax: 413-229-1016
Coeducational 9­PG / Mixto / Mixte
February 15 / 15 de febrero /
15 février
2