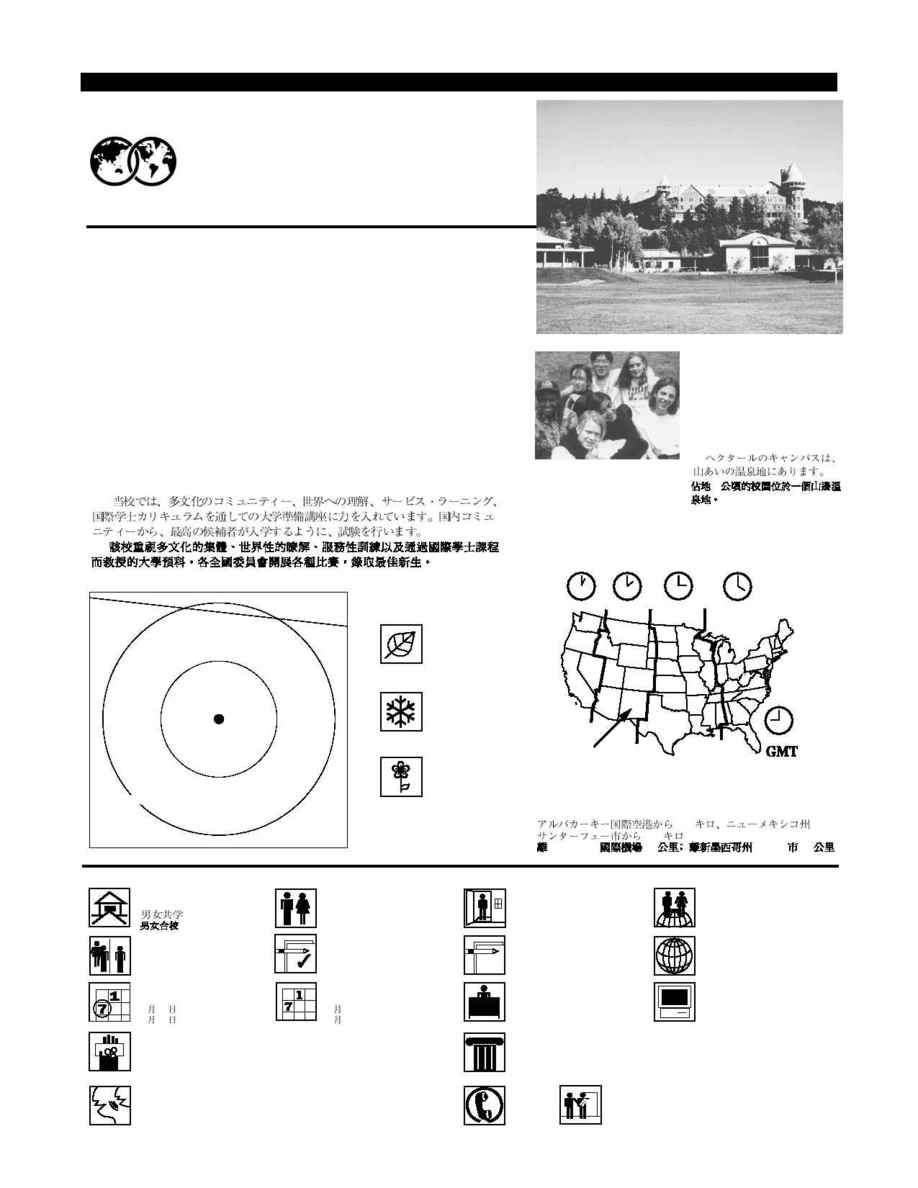 NEW MEXICO
NEW MEXICO
COLORADO
80 km
160 km
Armand Hammer United World College of the American West
Founded 1982
The 120-acre campus is set on a
mountain hot springs site.
Las 49 hectáreas de terrenos se
encuentran en una zona montañosa
famosa por sus fuentes termales.
Le campus de 49 hectares est situé
sur le site de sources chaudes dans
les montagnes.
193 km from Albuquerque International Airport; 107 km from Sante Fe,
NM / A 193 km del aeropuerto internacional de Albuquerque; a 107 km de
Sante Fe, NM / A 193 km de l'aéroport international Albuquerque ; à 107
km de Sante Fe, NM
Coeducational 11­12 / Mixto /
Mixte
February 10 / 10 de febrero /
10 février
2
September / septiembre /
septembre
9
9
Swarthmore College, Macalester College,
Cornell University, Harvard University,
Wesleyan University
Canada (17), England (17),
Germany (17), Japan (17),
Mexico (17)
UNITED STATES
The school emphasizes a multicultural community, world understanding,
service learning, and university preparation via the International Baccalaureate
curriculum. National committees conduct competitions to enroll their best
candidates.
El colegio hace énfasis en una comunidad multicultural, la comprensión
internacional, al aprendizaje del servicio y la preparación para los estudios
universitarios a través de un plan de estudios para obtener un Baccalaureate
internacional. Los comités nacionales realizan competiciones para matricular a los
mejores candidatos.
L'école fait une large place à la communauté multiculturelle, la
compréhension du monde, l'apprentissages des services, et propose une
préparation universitaire au travers du programme scolaire du baccalauréat
international. Des comités nationaux organisent des concours afin de
sélectionner leurs meilleurs candidats.
Eric Tyson, Director of Admissions
State Road 65
P.O. Box 248
Montezuma, New Mexico 87731
Phone: 505-454-4201 Fax: 505-454-4274