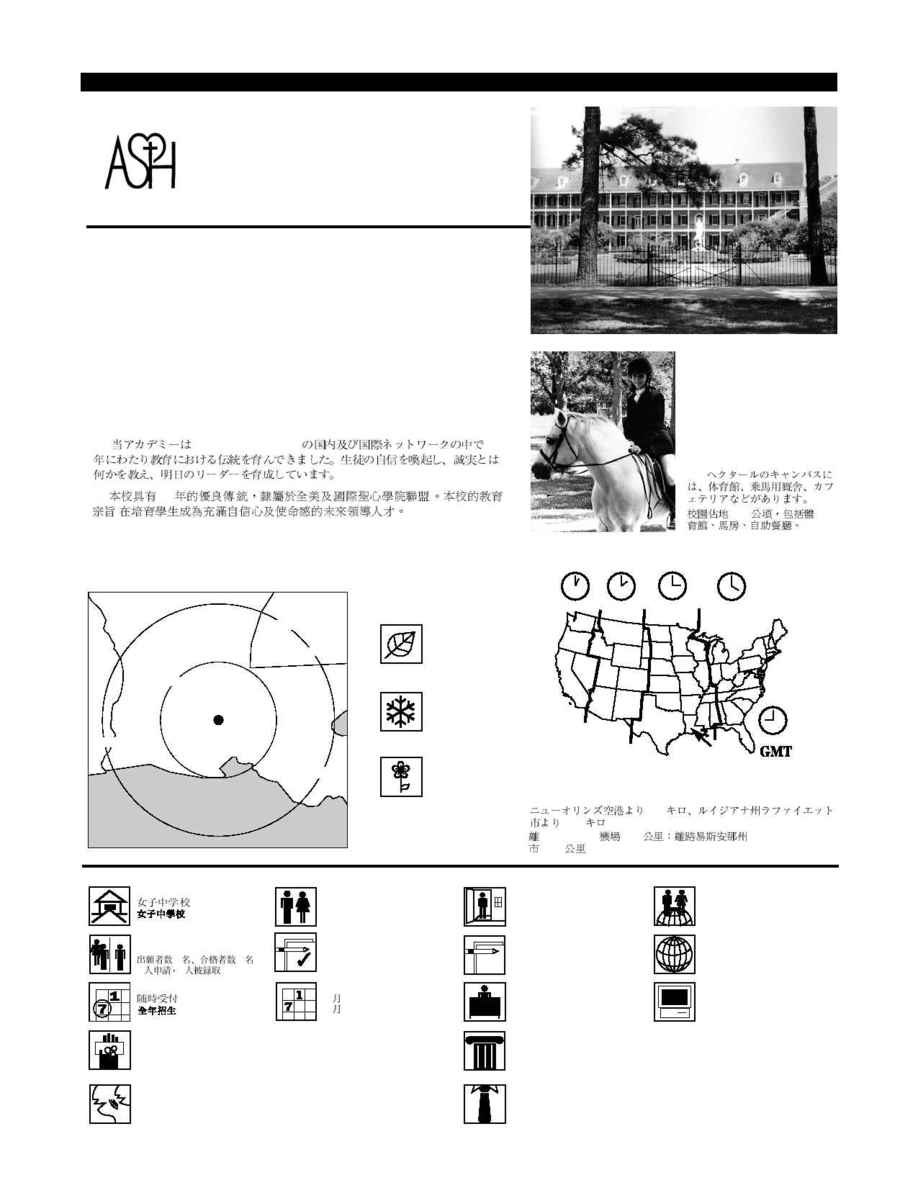 LOUISIANA
MISSISSIPPI
GULF OF MEXICO
160 km
80 km
Academy of the Sacred Heart
Founded 1821
The 250-acre campus includes gym,
riding stables, and cafeteria.
Las 101 hectáreas de terreno
incluyen gimnasio, caballerizas y
cafetería.
Les installations de ce campus de
101 hectares comprennent un
gymnase, des écuries et une
cafétéria.
101
206 km from New Orleans Airport; 17.6 km from Lafayette, LA
A 206 km del aeropuerto de Nueva Orleans; a 17,6 km de Lafayette, LA
A 206 km de l'aéroport de la Nouvelle Orléans ; à 17,6 km de Lafayette, LA
Girls Pre-K­12 / Niñas / Filles
7, 6 / solicitaron admisión, fueron
aceptadas / candidates, admises
Rolling / Continuo / Continuelles
August / agosto / août
8
8
Louisiana State University,
University of Southwestern
Louisiana, Loyola University
Costa Rica (10), Cuba (22),
El Salvador (1), Germany (10),
Hong Kong (3), Mexico (44),
Nicaragua (12), Saudi Arabia (10)
UNITED STATES
Anita M. Landry, Director of Admissions
P.O. Box 310
1821 Academy Road,
Grand Coteau, Louisiana 70541
Phone: 318-662-5275 Fax: 318-662-3011
E-mail: info@ashcoteau.org
Enriched by a 200-year tradition of teaching, within a national and international
network of Sacred Heart schools, the Academy prepares students to become
confident, faith-filled, and effective leaders of tomorrow.
Enriquecido por una tradición de enseñanza de 200 años dentro del
conjunto de escuelas del Sagrado Corazón a nivel nacional e internacional,
Academy of the Sacred Heart prepara a sus alumnas a confiar en sí mismas,
tener fe y convertirse en líderes efectivas del mañana.
Forte des 200 années de tradition et d'excellence du réseau américain et
international des établissements du Sacré Coeur, l'académie inculque aux
élèves l'assurance, la foi et les compétences qui leur permettront de jouer un
rôle important dans leur avenir.