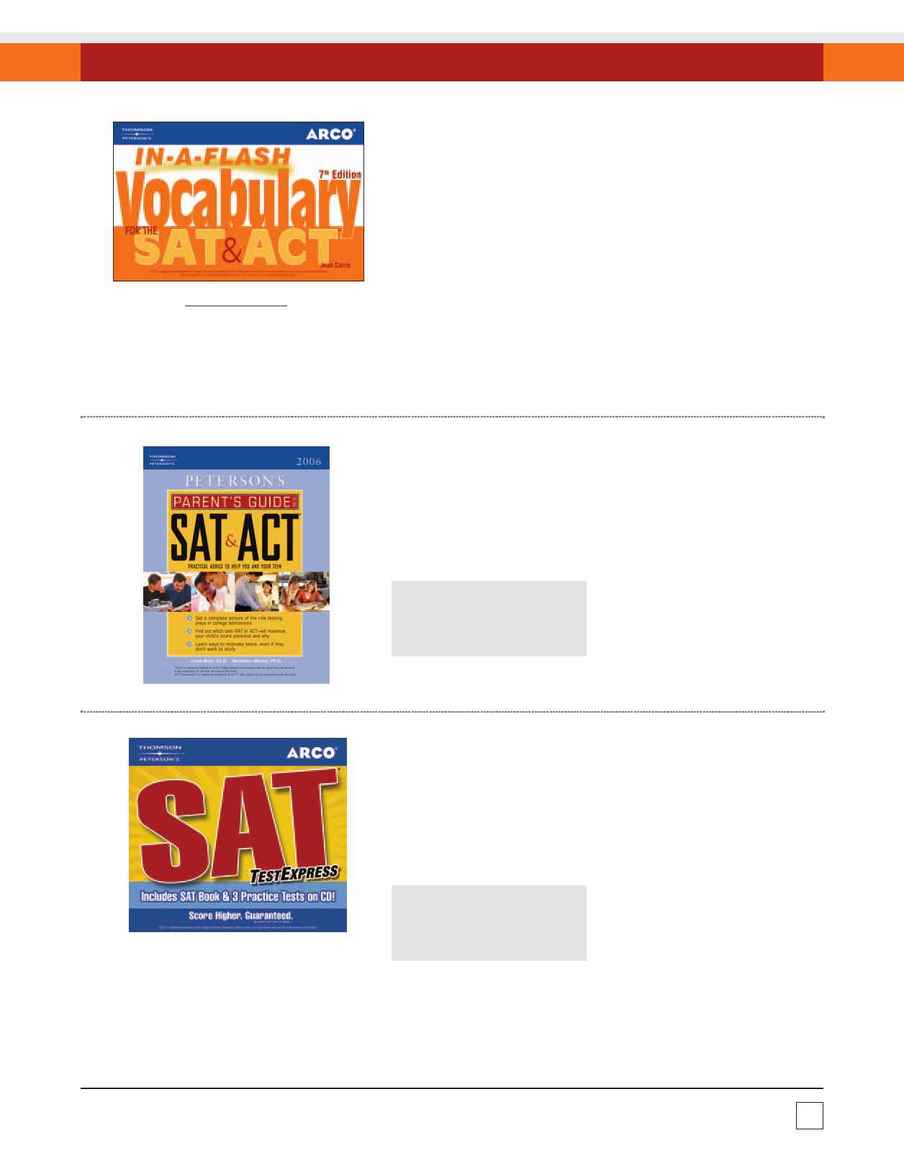 Test Preparation: SAT and ACT
Phone: 800.338.3282 · 609.896.1800
Fax: 888.768.2099 · 609.896.4544
Web: petersons.com
Peterson's In-a-Flash Series
Fun, effective games and exercises for SAT and ACT prep
Students who could use some
brushing up on the basics of math
and vocabulary can do it "in-a-flash"
with these must-have guides. A great
investment for students who need
skill-building for standardized tests!
This guide covers everything test related, including advice on the role parents
should play in test prep and how to develop the best plan--even when students
don't want to study!
Peterson's Parent's Guide to the SAT & ACT
Test prep for parents!
Students who want high-speed practice for the SAT without a high-speed internet
connection get it with this convenient CD and booklet. The CD provides 3 full-length
practice tests, and along with the booklet prepares students to score higher in no
time. 6 CDs per package.
ARCO SAT Test Express
Fast-track practice for the SAT
NEW EDITION
In-a-Flash: Math
Covers all the important concepts
on the tests.
ISBN: 0-7689-1414-0, $9.95,
152 pp., 6 x 9 pb, 6th ed., 2003
In-a-Flash: Vocabulary for
the SAT & ACT
Includes explanations of the
360 most commonly tested
words, tricks for identifying
word roots, and more.
ISBN: 0-7689-2231-3, $11.99,
224 pp., 8.5 x 5.5 pb, 7th ed., January 2006
ISBN: 0-7689-1823-5, $15.00,
220 pp., 7.375 x 9.25 pb,
1st ed, 2004
ISBN: 0-7689-2282-8, $89.70,
6 pack, PC/MAC compatible, 2005