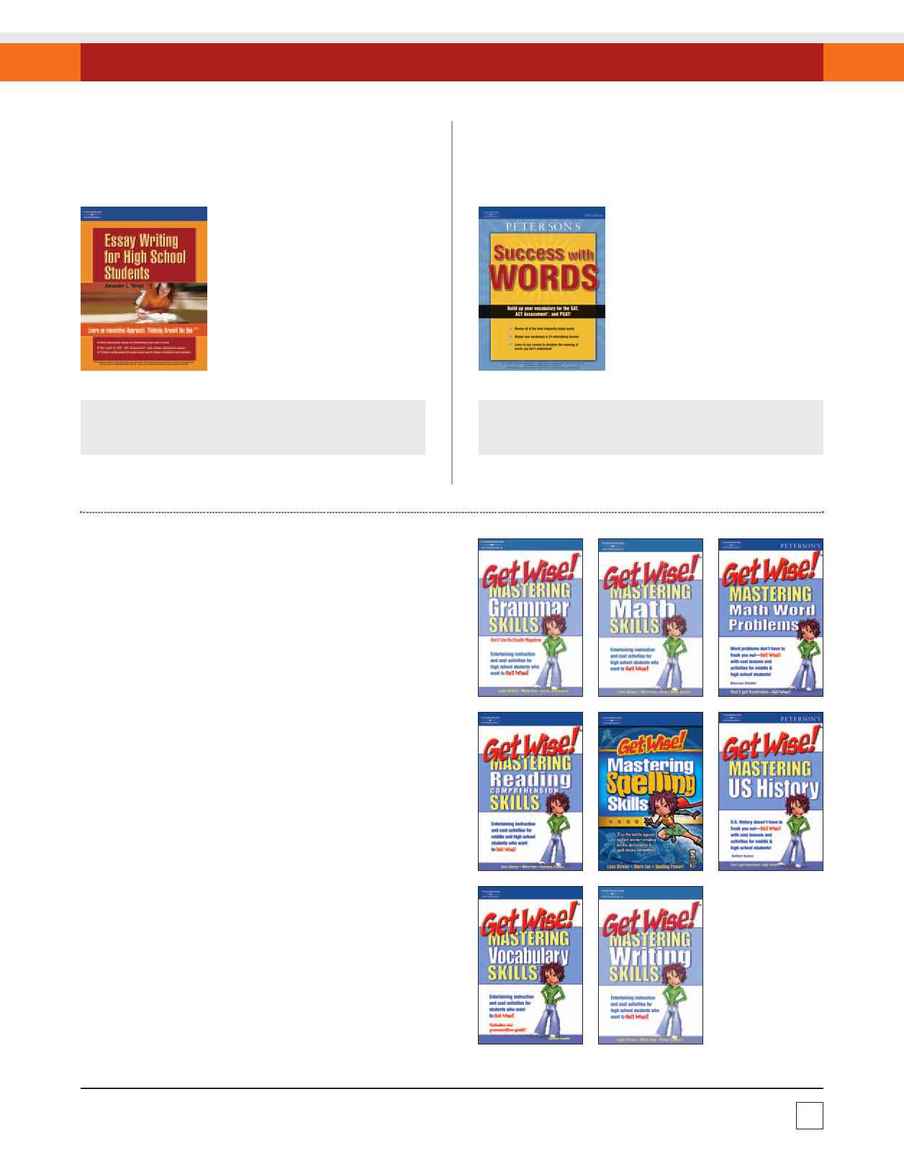 Skill Building
Phone: 800.338.3282 · 609.896.1800
Fax: 888.768.2099 · 609.896.4544
Web: petersons.com
Peterson's Success with Words
Help students use words to their advantage
Peterson's Essay Writing for
High School Students
Every student's guide to better writing
With writing components on the
SAT and ACT and the increasing
importance of college application
essays, writing skills are on the
minds of students and teachers
everywhere. This guide emphasizes
contextual thinking and provides
practical advice and instruction
in an effective, holistic approach
to writing.
A reassuring, step-by-step guide filled
with exercises that enable students to
cultivate the vocabulary skills they
need for academic success.
Peterson's Get Wise!TM Series
Help your students sharpen the skills they need for academic
success! These entertaining guides are a surefire way to
keep their attention while they learn with engaging lessons
and games.
ISBN: 0-7689-2063-9, $14.00, 200 pp., 7.375 x 9.25 pb,1st ed.
Order five or more copies and receive a FREE teacher's manual!
ISBN: 0-7689-1698-4, $14.95, 456 pp., 8.5 x 11 pb, 4th ed., 2004
ISBN Prefix: 0-7689-, $12.95
Mastering Grammar Skills
ISBN: 1077-3,
Mastering Math Skills
ISBN: 1076-5,
Mastering Math Word Problems
ISBN: 1600-3, 312 pp., 1st ed., 2004
Mastering Reading Comprehension Skills
ISBN: 1248-2, 240 pp., 1st ed., 2003
Mastering Spelling Skills
ISBN: 1244-X, 240 pp., 1st ed., 2003
Mastering U.S. History
ISBN: 1246-6, 312 pp., 1st ed., 2004
Mastering Vocabulary Skills
ISBN: 1342-X,
Mastering Writing Skills
ISBN: 1078-1, 216 pp., 1st ed., 2002