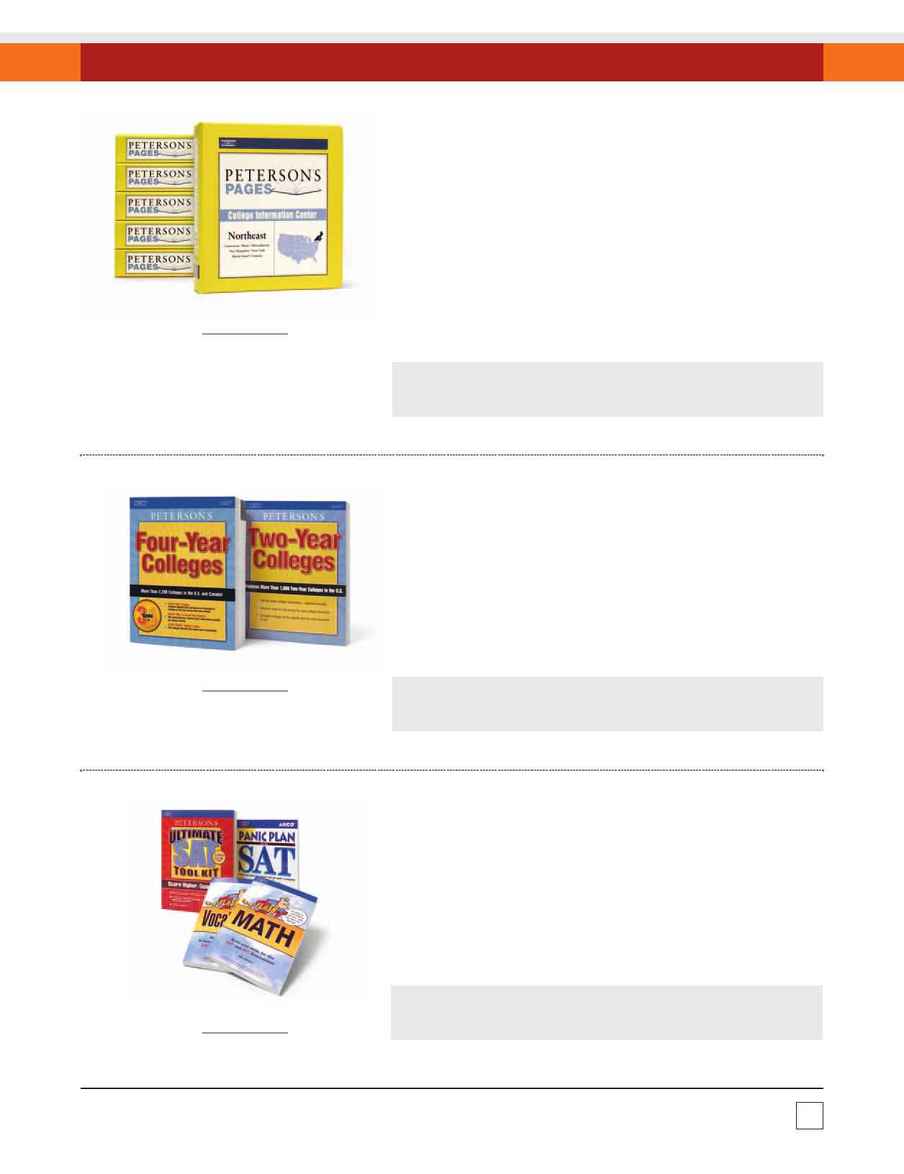 Value Sets
Phone: 800.338.3282 · 609.896.1800
Fax: 888.768.2099 · 609.896.4544
Web: petersons.com
Peterson's Pages:
College Information Center 2007
An irresistible value for busy educators
Completely updated, these regional
binders make connecting students
and schools more convenient than
ever. Complete with easy-to-photo-
copy profiles with admission and
financial aid data, the set also
includes a bonus CD for quick
printing and emailing.
This streamlined set provides
accurate, up-to-date college
information for students considering
both two- and four-year schools.
Peterson's Undergraduate Guidance Set 2007
Thousands of college options in one set
Every student studies differently.
With this four-book set, test takers
will find an array of resources to help
them master the SAT in a format that
best suits their studying style.
SAT Test Prep Set 2007
SAT prep for every type of learner
ISBN: 0-7689-2336-0, Special Set Price: $99.00, prev. ed.: 1944-4, August 2006
5
-Volume Set
ISBN: 0-7689-2355-7, Special Set Price: $44.25, compare to: $59.00,
prev. ed.: 1902-9, August 2006
ISBN: 0-7689-2353-0, Special Set Price: $47.89, compare to: $63.85,
prev. ed.: 1898-7, July 2006
SET INCLUDES:
Peterson's Pages: South
Peterson's Pages: West
Peterson's Pages: Northeast
Peterson's Pages: Middle Atlantic
Peterson's Pages: Midwest
SET INCLUDES:
Peterson's Four-Year Colleges 2007,
Page 12
Peterson's Two-Year Colleges 2007,
Page 12
SET INCLUDES:
Peterson's Ultimate SAT Tool Kit, Page 27
In-a-Flash Math, Page 5
In-a-Flash Vocabulary, Page 5
ARCO Panic Plan for the SAT, Page 9
2
-Volume Set
4
-Volume Set