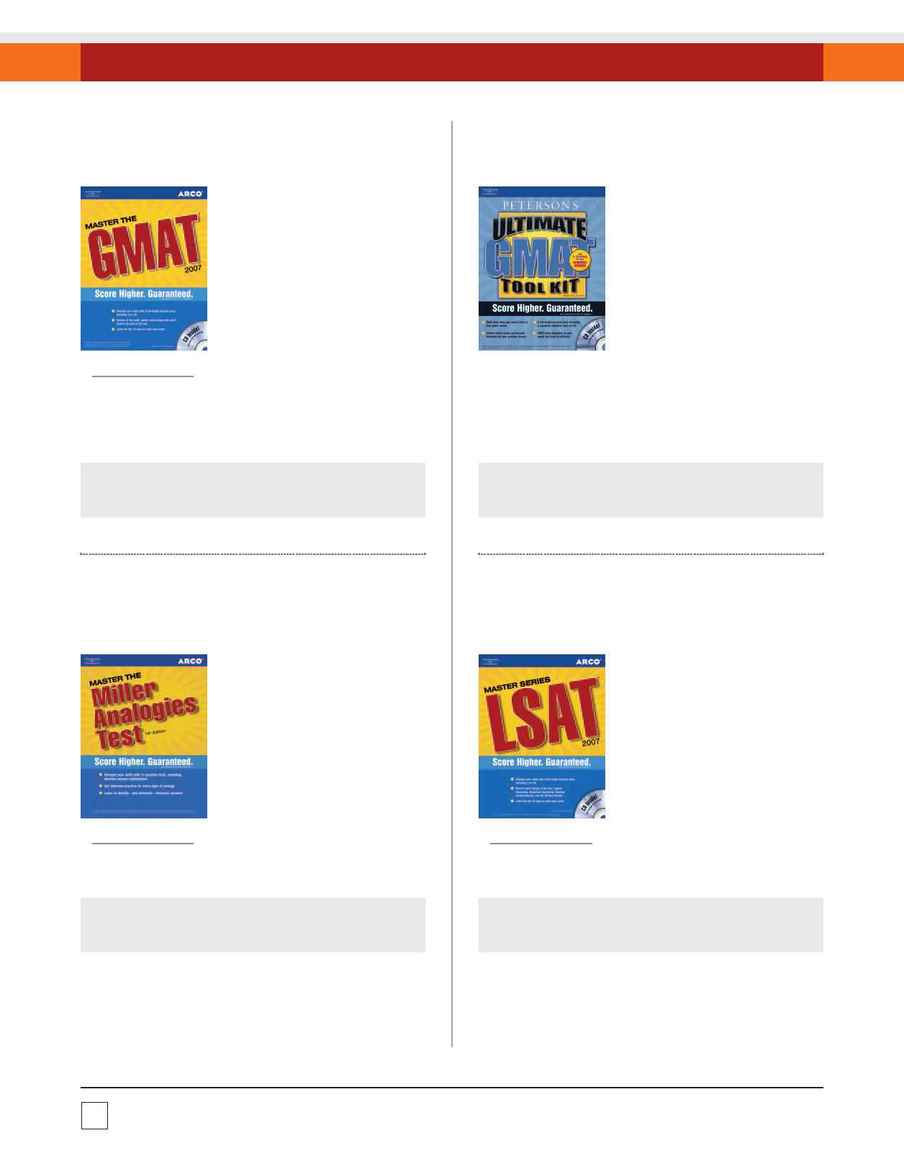 Graduate Guides
Peterson's Ultimate GMAT
®
Tool Kit
The ultimate in preparation for the GMAT
ARCO Master the GMAT
®
2007
GMAT prep that gets down to business
ARCO The Master Series LSAT
®
2007
Authoritative LSAT prep for the future law student
ARCO Master the Miller
Analogies Test
®
NEW EDITION
(With CD) ISBN: 0-7689-2312-3, $35.99, 672 pp., 8.5 x 11 pb,
13th ed., July 2006, prev. ed.: 1926-6
ISBN: 0-7689-1486-8, $39.00, 672 pp., 8.5 X 11 pb,
1st ed., 2005
(With CD) ISBN: 0-7689-2307-7, $24.95, 296 pp., 8.5 X 11 pb,
19th ed., May 2006, prev. ed.: 1472-8
(With CD) ISBN: 0-7689-2317-4, $35.99, 584 pp., 8.5 x 11 pb,
14th ed., August 2006, prev. edition: 1929-0
NEW EDITION
NEW EDITION
For complete prep for the GMAT,
students know and trust ARCO.
Now in its 13th edition, this no-
nonsense guide provides an intensive
review of everything on the exam. It
also features essay-writing analysis,
a CD with lectures, and bonus
practice tests.
· The "Top Ten" test-preparation tips from
· 6 full-length practice tests with detailed
answers for each question
· Special advice on writing a personal
· CD featuring author's Private Tutor
Lecture series and three additional
practice tests
In addition to the printed book, this
tool kit includes essay scoring and
feedback, one-to-one math tutoring
online, and a CD with 3 computer-
adaptive GMAT practice tests.
Book contains essay-writing guide,
detailed review of subject areas,
practice questions, test-taking
strategies, and 3 more practice
tests. Students can customize
their study plan.
· Essay scoring and feedback
· One-to-one online tutoring on
· 6 full-length practice tests, including 3 on CD
· Targeted diagnostic test with feedback to
identify areas where improvement is needed.
Widely used by graduate programs
and law schools, the 60-minute,
120-question exam measures critical-
thinking ability and knowledge of a
broad range of subjects--including
literature, the arts, math, and science.
Exclusive analogy strategies help
students to better understand the
relationship between words and to
excel on this short, yet difficult exam.
This effective guide features eight
full-length practice tests, as well as
a bonus CD with two additional tests.
Students serious about getting into
law school want serious LSAT prep.
This tip-filled bestseller delivers.
Complete with essential advice,
in-depth review, and four full-length
practice tests, it's exactly what
ambitious students need to raise
their scores.
· New strategies for tackling the writing
sample and tough LSAT puzzles
· Frank advice on finding the right school
· A bonus CD with two extra practice tests
and author's Private Tutor Lecture Series