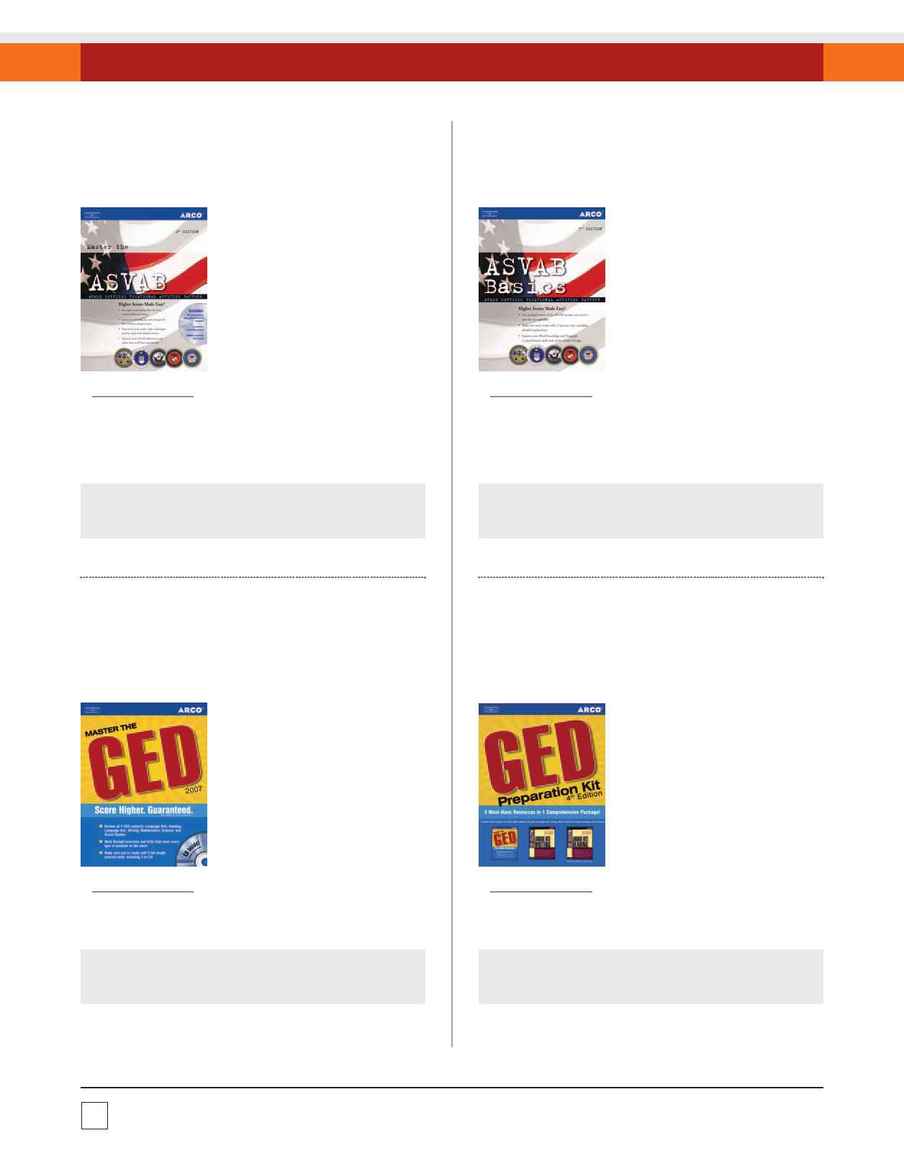 Military Exam Guides/GED Resources
ARCO ASVAB Basics
Gets students ready for the four core
ASVAB subjects
ARCO Master the ASVAB
The most comprehensive ASVAB instructional
guide anywhere
This basic guide includes
reviews of Arithmetic Reasoning,
Mathematics, Knowledge,
Paragraph Comprehension, and
Word Knowledge. No matter where
students want their military careers
to take them, they must show what
they know in these four subjects by
mastering the ASVAB. And they will
when they prepare with this excellent
study resource from ARCO.
ARCO GED Preparation Kit
Peterson's survival kit for adult learners
ARCO Master the GED 2007
Covers all 5 Subject tests--available with
and without CD
NEW EDITION
EACH: ISBN Prefix: 0-7689-, 672 pp., 8.5 x 11 pb, 20th ed.
September 2006, (With CD) ISBN: 2322-0, $24.95, prev. ed.:
1526-0, (Without CD) ISBN: 2321-2, $16.95, prev. ed.: 1525-2
ISBN: 0-7689-2326-3, $12.95, 400 pp., 8.5 x 11, 7th ed.,
October 2006, prev. ed.: 1527-9
Additional military guides available on page 28.
Each: ISBN Prefix: 0-7689-, 888 pp., 8.5 x 11 pb, August 2006
(With CD) 2316-6, $25.99, 3rd ed., prev. ed.: 1940-1
(Without CD) 2315-8, $17.99, 20th ed., prev. ed.: 1939-8
ISBN: 0-7689-2288-7, $29.95, 4th ed., 2005, prev. ed: 1510-4
Additional GED guides available page 26.
NEW EDITION
NEW EDITION
Available with or without CD, this
exhaustively thorough guidebook
includes more practice tests and
more updated test advice than
any other resource. Includes
an introduction to hundreds of
careers open to enlistees in all
five military branches.
· 4 full-length practice ASVAB tests
· Detailed overview of the Computer
· Updated information on enlisting, military
training, duty assignment, pay scales and
grades, and benefits
· Profiles of more than 120 military careers
A Vocabulary Builder and additional practice
tests included with CD version.
Whether they're students or
instructors, readers find a practical,
easy-to-use blend of practice,
subject review, and strategy for
improving scores on the high
school equivalency diploma exam.
· 3 full-length practice tests
· Expert test-taking strategies specifically for
older students new to standardized testing
· Exercises and drills for practicing every
· 2 additional exams on CD
· Instruction tips for teachers
Valued at over $44, this unique
three-book kit offers a winning
combination of effective preparation
materials essential for adult
learners preparing for the GED.
THE KIT CONTAINS:
Master the GED 2006
Master the GED Language Arts, Writing
Master the GED Language Arts, Reading
· Comprehensive coverage of all 5
· Step-by-step instructions geared to
· Full-length practice tests
· Expert study techniques for adult learners
NEW EDITION