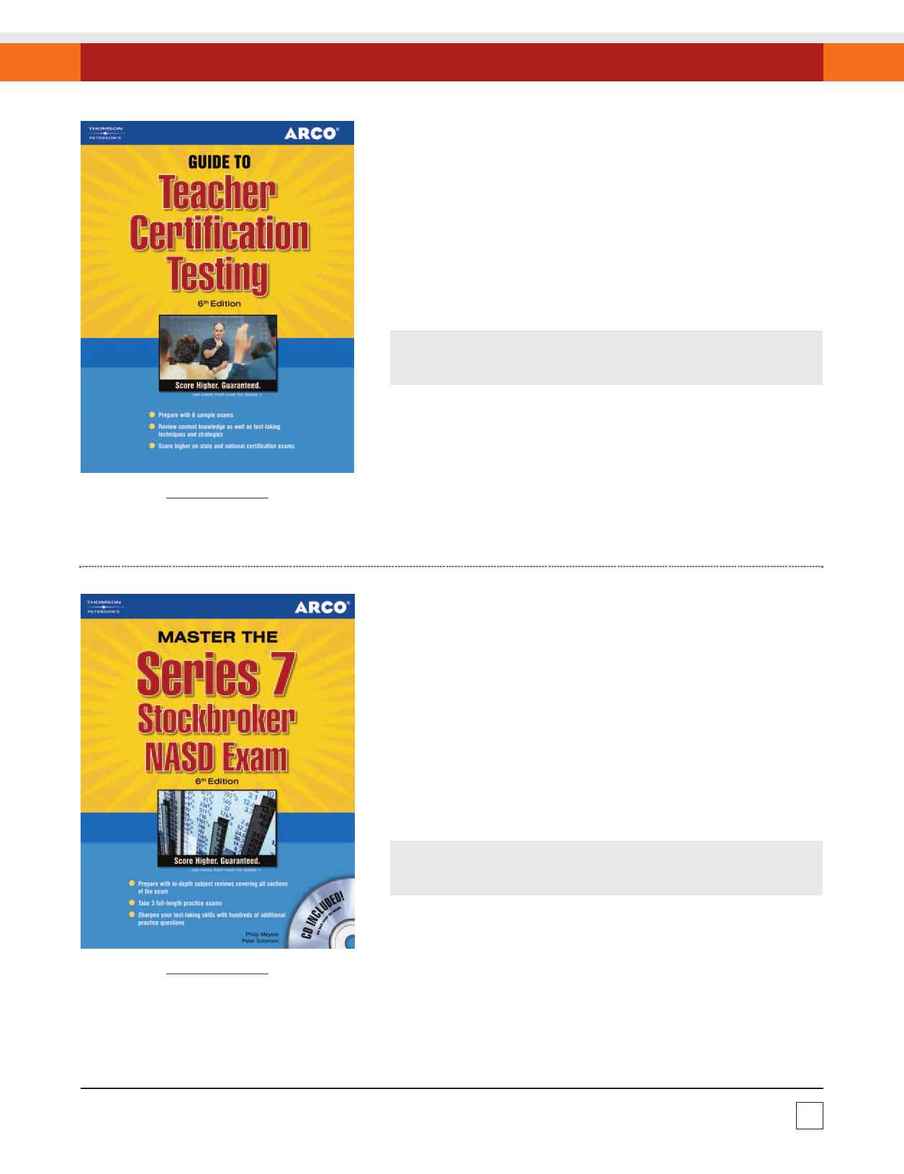 Career Planning and Testing
Phone: 800.338.3282 · 609.896.1800
Fax: 888.768.2099 · 609.896.4544
Web: petersons.com
NEW EDITION
NEW EDITION
ARCO Guide to Teacher Certification Testing
Introduction to teacher-certification tests
Helps future teachers prepare for certification tests in Alabama, Arizona,
Arkansas, California, Colorado, Connecticut, Delaware, District of Columbia,
Florida, Georgia, Illinois, Kansas, Kentucky, Maine, Michigan, Minnesota,
Nebraska, Nevada, Oklahoma, Oregon, South Carolina, Tennessee, Texas,
West Virginia, and Wisconsin.
· Introduction to teacher certification exams
· Test-taking tips and strategies
· Review of specifications of certification exams, state-by-state
ARCO Master the Series 7 Stockbroker
NASD Exam
The best in preparation for the Series 7 exam
Newly updated edition of expert preparation for the national licensing exam required
for securities and commodities sales agents, stockbrokers, registered representatives,
account executives, and financial consultants. Revised and expanded to include the
latest industry regulations.
· 5 comprehensive practice exams, including 2 on CD
· Hundreds of practice questions
· Complete coverage of rules and regulations
· Topics include stocks, bonds, money market, mutual funds, options, annuities, margins,
client accounts, and more!
ISBN: 0-7689-2323-9, $60.00, 584 pp., 8.5 x 11 pb, 7th ed., prev. ed. 0632-6
ISBN: 07689-2311-5, $17.95, 266 pp, 8.5 x 11 pb, 6th ed., July 2006,
prev. ed.: 0-02-862823-3