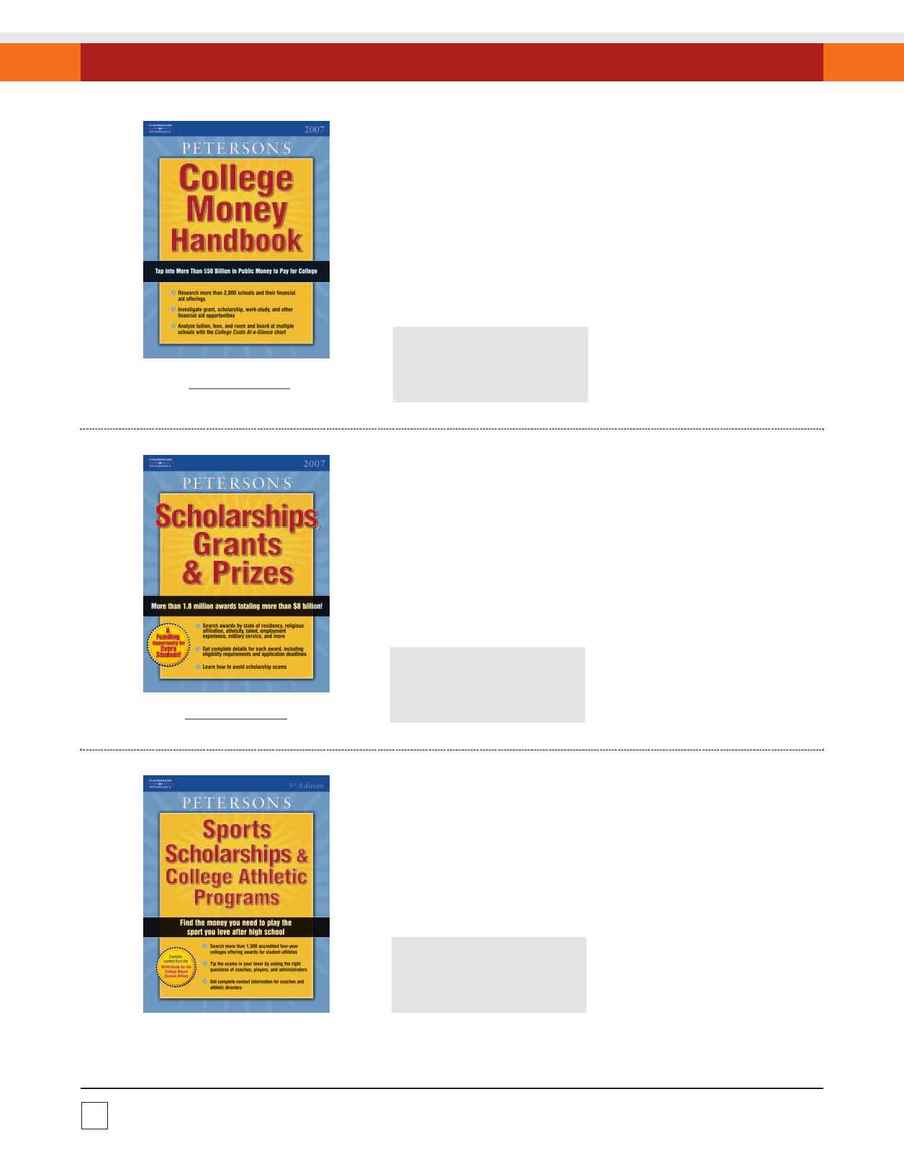 College Planning and Financial Aid
Peterson's College Money Handbook 2007
Tap into more than $50 billion in public money
Comprehensive directory with
complete and accurate information
about federal grants, work-study
programs, need-based grants,
academic scholarships, and other
financial aid opportunities available
from more than 2,000 four-year
colleges and universities.
These days, who doesn't need help
paying for college? This unparalleled
guide to privately funded scholarships
is the very best resource on the
market, packed with information
about more than 1.8 million awards
worth over $8 billion.
Peterson's Scholarships, Grants & Prizes 2007
The biggest and best scholarship guide available
Have students with hoop dreams? In this one-of-a-kind guide, your prospective
college athletes learn what it takes to play sports in college. Covering Division I, II, II,
or NAIA teams, it also features need-to-know information from the NCAA.
Peterson's Sports Scholarships & College
Athletic Programs
What it really takes to earn an athletic scholarship
ISBN: 0-7689-2324-7, $32.00,
936 pp., 8.5 x 11 pb, 24th ed.,
September 2006, prev. ed: 1937-1
NEW EDITION
· Comprehensive overview of the financial
· State-by-state listing of state-funded
scholarship and grant programs
· Worksheets and tables for measuring
· "College Cost Chart" helps to easily
· Access to more scholarships and awards
· Millions of awards and prizes based on a
wide range of unique criteria
· Complete eligibility requirements and
ISBN: 0-7689-2314-X, $32.00,
936 pp., 8.5 x 11 pb, 11th ed.,
July 2006, prev. ed.: 1888-X
ISBN: 0-7689-1524-4, $26.95,
624 pp., 8.5 x 11 pb, 5th ed., 2004
NEW EDITION