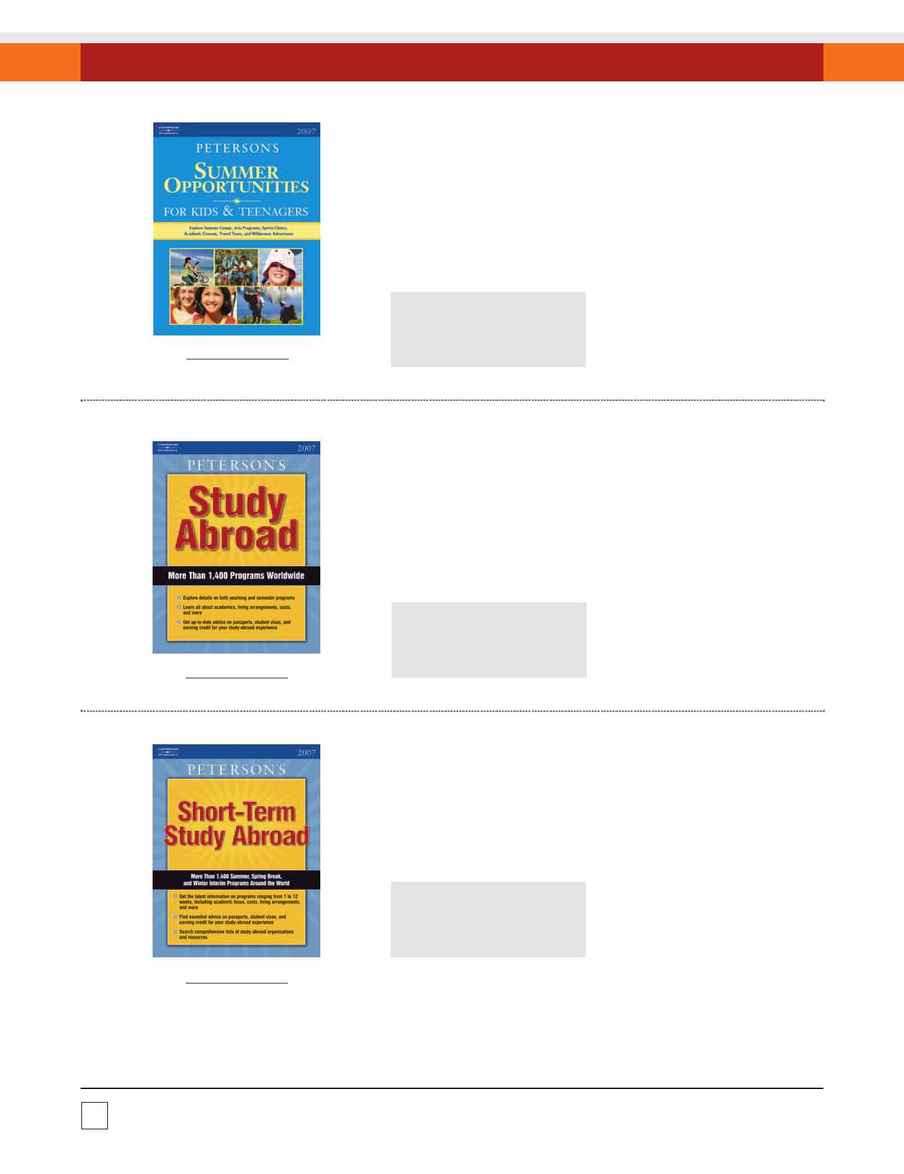 Directories: Summer Programs and Study Abroad
Peterson's Summer Opportunities
for Kids & Teenagers 2007
Have the summer of a lifetime!
Overseas study gives students
real-life training in a second
language, cultural immersion,
and college credit!
Peterson's Study Abroad 2007
More than 1,400 yearlong and semester programs
Not all students have the inclination or the time to spend an entire school year
overseas. This annually updated guide describes academic, volunteer, and language
programs offered in the summer or for a few weeks during the school year.
Peterson's Short-Term Study Abroad 2007
Information on credit and non-credit programs all over the world
ISBN: 0-7689-2173-2, $30.00,
1,000 pp., 8.5 x 11 pb, 24th ed.,
November 2006, prev. ed.: 1891-X
NEW EDITION
This resource is not limited to
traditional summer camps--readers
can also find:
· Community service projects
Organized alphabetically by
country, this guide features the
latest information on:
· Visa regulations, passports
· Down-to-earth advice about travel safety
ISBN: 0-7689-2175-9, $29.00,
992 pp., 8.5 x 11 pb, 14th ed.,
December 2006, prev. ed.: 1894-4
ISBN: 0-7689-2176-7, $29.00,
504 pp., 8.5 x 11 pb, 10th ed.,
December 2006, prev. ed.: 1895-2
NEW EDITION
NEW EDITION
No other reference guide gives
families such a variety of fun,
exciting, and enriching programs.