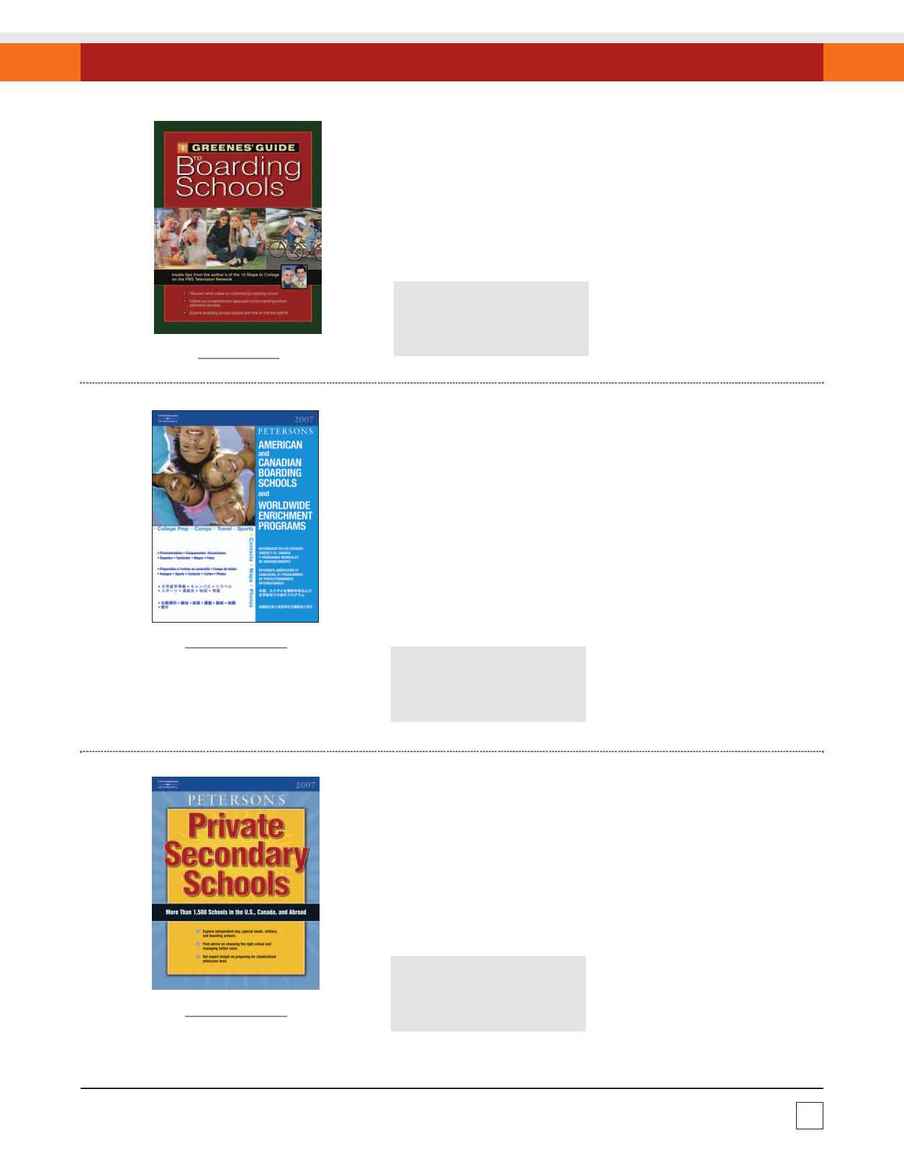 Directories: Boarding and Private Schools
Phone: 800.338.3282 · 609.896.1800
Fax: 888.768.2099 · 609.896.4544
Web: petersons.com
The Greenes' Guide to Boarding Schools
A thorough overview of the boarding school world
Provides parents, students, and
counselors with an overview of a
wide range of boarding schools. By
leading admissions experts Howard
R. Greene and Matthew W. Greene.
With this essential guide, parents
can ensure that their children take
advantage of their best education
options, including sports camps,
college-prep courses, travel
programs, and more.
Peterson's American and Canadian
Boarding Schools and Worldwide
Enrichment Programs 2007
The authoritative source for information about opportunities
in the U.S. and throughout the world
· Tips and advice for parents on planning
· Quick-reference chart for easy
· Helpful planning calendar
· Updated information on semester
For more than 25 years, Peterson's Private Secondary Schools has been the
ultimate authority for families searching for a private school for their child. With
information on tuition, faculty, student life, and more, parents can read up on pri-
vate schools in the U.S. and Canada and all over the world.
Peterson's Private Secondary Schools 2007
The only guide of its kind, completely updated with information
on more than 1,500 schools
ISBN: 0-7689-2241-0, $19.00,
300 pp., 7.375 x 9.25 pb,
1st ed., August 2006
NEW TITLE
· Narrative descriptions of individual
· The pros and cons of attending a boarding
school--and choosing the right school
· Admission and financial aid strategies
· Tips from admissions counselors, Heads
of School, faculty members, and others
· Latest information about program costs
and application deadlines
· Information on visa regulations and
· An overview of private schooling in the
ISBN: 0-7689-2332-8, $18.00,
256 pp, 8.5 x 11 pb, 13th ed.,
December 2006, prev. ed.: 1990-8
ISBN: 0-7689-2152-X, $30.00
1,488 pp., 8.5 x 11 pb, 27th ed.,
April 2006, prev. ed.: 1736-0
NEW EDITION
NEW EDITION