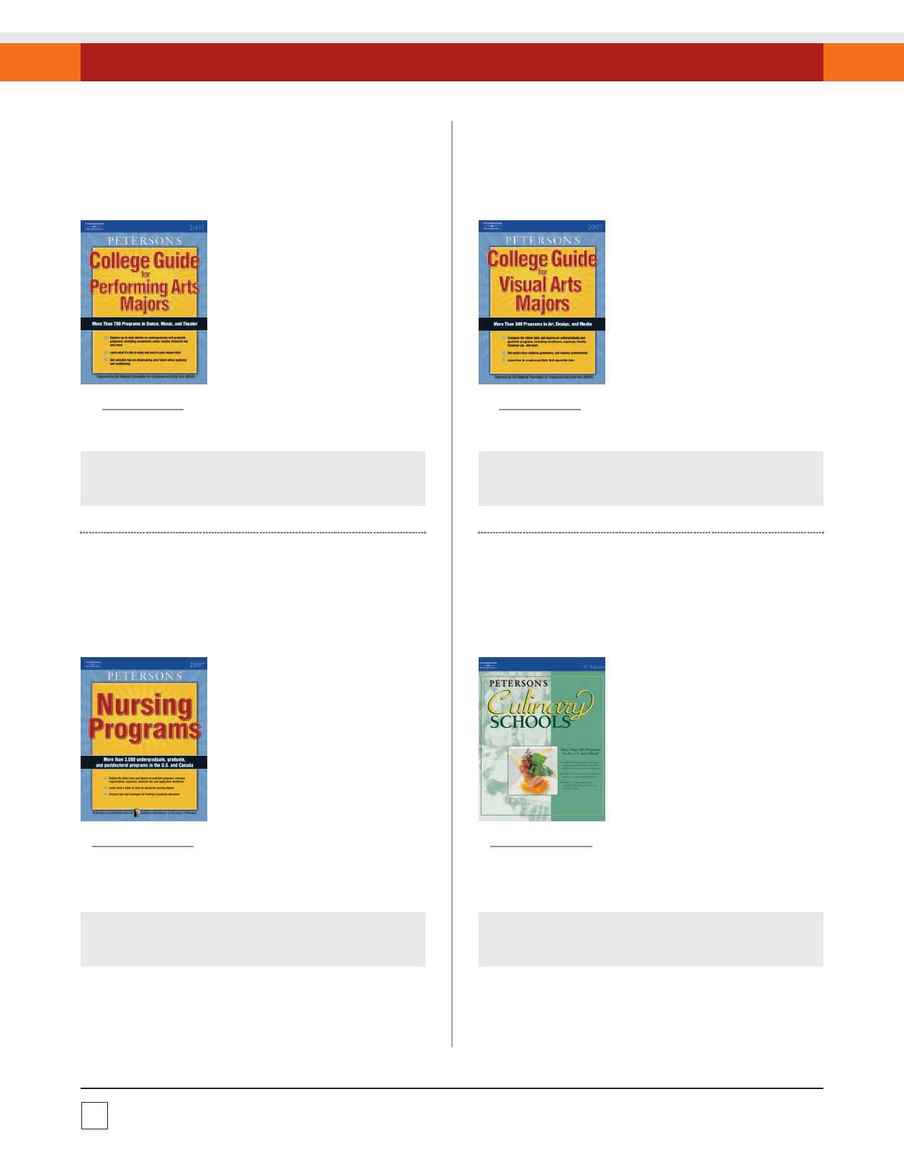 Directories: Special Interest
NEW TITLE
Peterson's College Guide for Visual
Arts Majors 2007
An essential guide for visual arts majors
Peterson's College Guide for
Performing Arts Majors 2007
The perfect resource for students preparing for
a career in the performing arts
Whether they're interested in the
study of music, dance, or theater,
students will use this valuable
resource for guidance in choosing the
right program. Updated descriptions
of programs throughout the U.S. and
Canada provide information about
schools that everyone talks about,
as well as lesser-known institutions
that may offer a perfect fit.
Students interested in fine arts,
graphic arts, design, architecture,
or the new media arts will find
this to be the perfect resource for
exploring professional arts programs.
In addition to comprehensive
profiles and descriptions of programs
in the U.S. and Canada, this valuable
guide offers students helpful advice
about getting admitted to their
top-choice schools.
Peterson's Culinary Schools
A complete recipe for success
Peterson's Nursing Programs 2007
Updated profiles of more than 3,600 undergraduate,
graduate, and postdoctoral options in the
U.S. and Canada
Great for aspiring chefs, restaurant
managers, and anyone who wants
to turn a passion for food into a
profession. Students will find
complete details about more
than 500 degree and apprentice
programs--including tuition, facilities,
and job-placement programs.
NEW TITLE
ISBN: 0-7689-2325-5, $24.00, 224 pp, 8.5 x 11 pb, 1st ed,
October 2006, prev. ed: 1913-7
ISBN: 0-7689-2172-4, $24.00, 260 pp, 8.5 x 11 pb, 1st ed,
October 2006,
ISBN: 0-7689-2165-1, $28.00, 672 pp., 8.5 x 11 pb, 12th ed.,
May 2006, prev. ed.: 1748-4
ISBN: 0-7689-1896-0, $25.00, 526 pp., 8 x 10 pb, 9th ed.,
January 2006, prev. ed.: 1567-8
NEW EDITION
NEW EDITION
Endorsed by the American
Association of Colleges of Nursing
(AACN), this annual guide is the
comprehensive resource for the
latest information on degree programs
for nurse practitioners, clinical
specialists, RNs, LPNs, Ph.D.'s,
and more.
· Updated facts and figures on research
facilities, degree programs, tuition, financial
aid, faculty, and entrance requirements
· Inside tips from nursing professionals
on accelerated programs, Ph.D. programs,
career choices, and financial aid
· An overview of the nursing profession,
including data on the current nursing
shortage