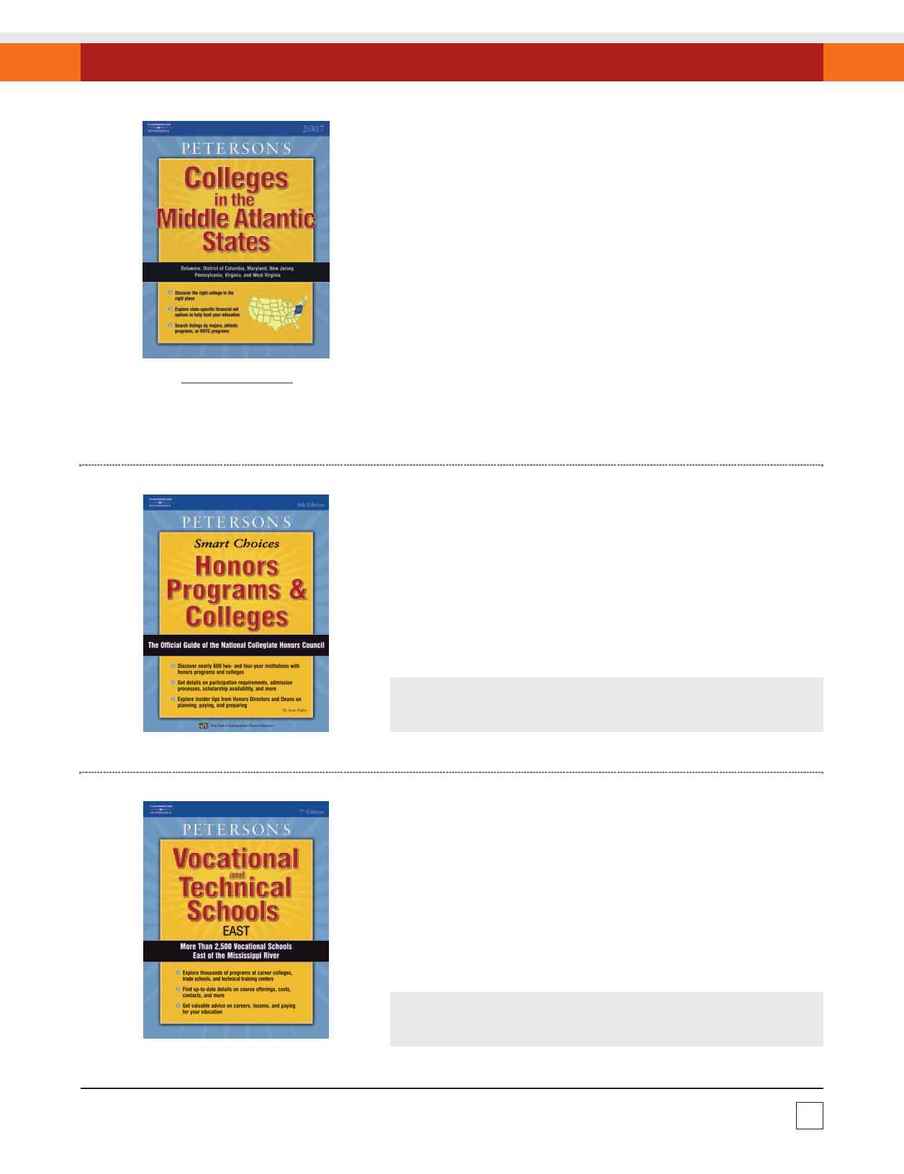 Directories: Special Interest
Phone: 800.338.3282 · 609.896.1800
Fax: 888.768.2099 · 609.896.4544
Web: petersons.com
Peterson's Regional Guides 2007
For students who'd rather not stray too far from home
EACH: ISBN Prefix: 0-7689-,
8.5 x 11 pb, October 2006
Colleges in the Middle Atlantic
States 2007
DC, DE, MD, NJ, PA, VA, WV
ISBN: 2166-X, $16.00, 384 pp., 22nd ed.,
prev. ed.: 1760-3
Colleges in the Midwest 2007
IA, IL, IN, KS, MI, MN, MO, ND, NE, OH,
OK, SD, WI
ISBN: 2167-8, $17.00, 480 pp., 20th ed.,
prev. ed.: 1759-X
Colleges in New England 2007
CT, MA, ME, NH, RI, VT
ISBN: 2168-6, $15.00, 192 pp., 22nd ed.,
prev. ed.: 1755-7
Honors programs and colleges offer ambitious students who relish a challenge
a rigorous academic schedule and an affordable price. This is the only guide
available devoted solely to honors, it offers new information on nearly 600 colleges
and programs, profiles of program alumni, and insights from Deans and
Directors on the honors experience.
Peterson's Smart Choices:
Honors Programs & Colleges
Published in cooperation with the National Collegiate
Honors Council
Peterson's Vocational and Technical Schools:
East and West
Degree programs at thousands of colleges, schools,
and technical training centers
NEW EDITIONS
Colleges in New York 2007
ISBN: 2169-4, $15.00, 224 pp., 21st ed.,
prev. ed.: 1758-1
Colleges in the South 2007
AL, AR, FL, GA, KY, LA, MS, NC, SC,
TN, TX
ISBN: 2170-8, $16.00, 400 pp., 21st ed.,
prev. ed.: 1756-5
Colleges in the West 2007
AK, AZ, CA, CO, HI, ID, MT, NM, NV, OR,
UT, WA, WY
ISBN: 2171-6, $15.00, 312 pp., 20th ed.,
prev. ed.: 1757-3
Help your students compare and choose from thousands of opportunities--
in automotive engineering, IT, and other fields--east and west of the Mississippi
River. Revised with more programs and only the latest information, each volume
features up-to-the-minute facts and figures, financial aid advice, and practical
steps for securing an apprenticeship.
Each volume includes updated descriptions--with information on degrees, financial
aid, and more--of regionally or nationally accredited colleges in the U.S.
ISBN: 0-7689-2141-4, $29.00, 600 pp., 8.5 x 11 pb, 4th ed., 2005, prev. ed.: 1068-4
EACH: ISBN Prefix: 0-7689-, $42.00, 8.5 x 11 pb, 7th ed., 2005
EAST: ISBN: 2139-2, 576 pp., prev. ed.: 1272-5
WEST: ISBN: 2140-6, 552 pp., prev. ed.: 1271-7