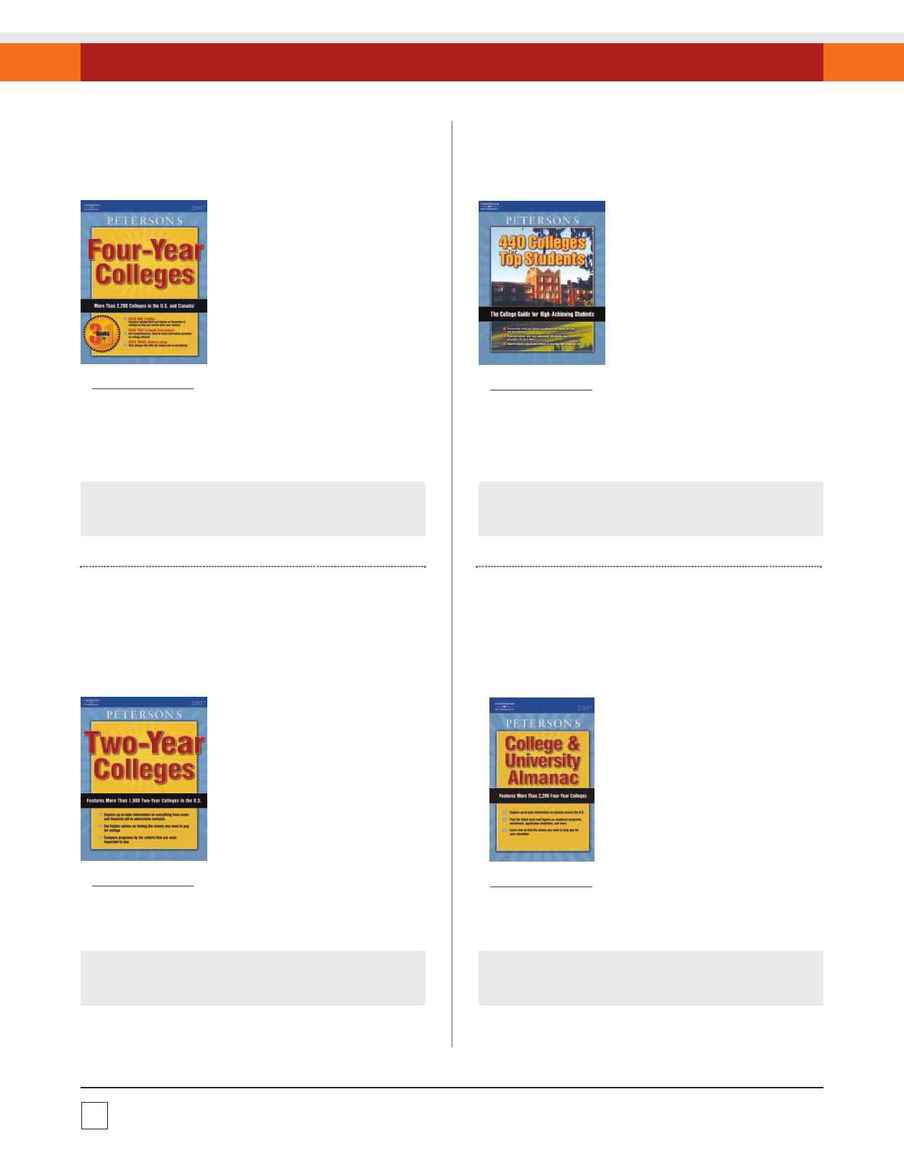 Peterson's 440 Colleges for
Top Students
The college guide for high-achieving students
NEW EDITION
ISBN: 0-7689-2151-1, $19.00, 530 pp., 7.375 x 9.25 pb,
26th ed., April 2006, prev. ed.: 1753-0 (previously published
as Competitive Colleges)
Directories: General College & University
Peterson's College & University
Almanac 2007
Easy-to-use overviews of more than 2,200
accredited colleges
Peterson's Two-Year Colleges 2007
Information on every accredited two-year institution
in the U.S.
Peterson's Four-Year Colleges 2007
3 Books in 1!
ISBN: 0-7689-2163-5, $15.00, 560 pp., 5.5 x 8.5 pb, 9th ed.,
August 2006, prev. ed.: 1752-2
ISBN: 0-7689-2153-8, $32.00, 3,144 pp., 8.5 x 11 pb, 37th ed.,
July 2006, prev. ed.: 1749-2
ISBN: 0-7689-2154-6, $27.00, 696 pp., 8.5 x 11 pb, 37th ed.,
August 2006, prev. ed.: 1750-6
NEW EDITION
NEW EDITION
NEW EDITION
Annually updated reference guide to
accredited colleges and universities
in the United States offering
baccalaureate-level degrees.
Filled with basic information useful
in helping students and families
compare and select colleges.
· Essential information on different
aspects of college selection, admissions,
and financing
· Concise profiles of accredited U.S.
colleges, including admissions deadlines,
programs offered, total enrollment,
expenses, and more
· Tips for adult students returning to school
Packed with details on more than
2,200 colleges in the U.S. and
Canada, this guide enables students
and parents to research colleges':
1) Profiles: updated facts and figures on
everything from entrance requirements
to housing costs
2) In-Depth Descriptions: comprehensive,
need-to-know information exclusively
provided by college officials
3) Majors Listing: research all the majors at
If it's an accredited four-year
college in the U.S. or Canada,
it's in here!
Valuable resource packed with
information about more than
1,900 accredited two-year
undergraduate institutions.
· Helpful articles on what you need to know
about getting in to and paying for college
· State-by-state summary table allows
comparison of institutions by a variety
of characteristics
· Informative data profiles listed
· Exclusive two-page in-depth descriptions
written by college administrators exclusively
for Thomson Peterson's
Top students will find an enticing
collection of prospective colleges in
this newly revised guide, including
all the relevant details on academics,
student body, facilities, campus
life, and more. It's perfect for
the motivated student seeking
a challenging and fulfilling
collegiate experience.
· Easy-to-read profiles of each school,
with complete admissions data
· Articles on choosing the right college,
managing finances, and more
· Listings by size, acceptance rate, gender,
and religious affiliation