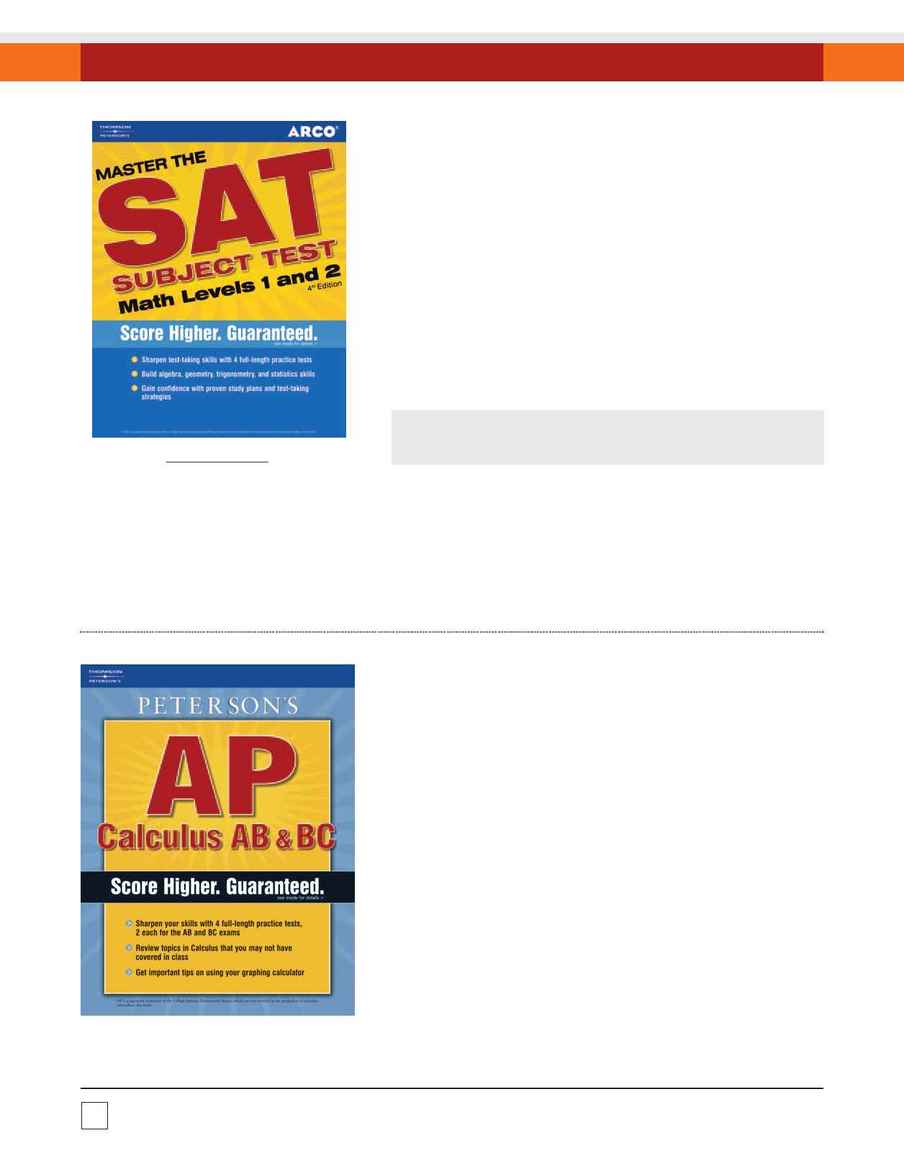 Test Preparation: SAT Subject Tests and AP
NEW EDITION
Peterson's SAT Subject Test Series
Advanced preparation for higher scores
Peterson's AP Series
Peterson's premier AP series
These high-octane books deconstruct the most popular AP tests. Perfect for
students who want college credit in advance!
These subject guides help students approach their tests with the confidence it
takes to ace them.
ARCO Master the SAT Subject Test: Math Levels 1 and 2
Detailed reviews and expert test-taking strategies
Prepares students for the exam with a detailed review of math subjects ranging
from algebra and geometry to trigonometry and statistics, as
well as expert test-taking strategies. Review questions and full-length practice
tests at the end of each chapter reinforce learning.
· Four full-length practice tests
· Diagnostic tests to help students identify the areas in which they need improvement
· Detailed review of fundamental subject principles, followed by practice questions
Also available:
EACH: ISBN Prefix: 0-7689-, $16.95, 8.5 x 11 pb, 2002
U.S. History: ISBN: 0908-2, 345 pp., 3rd ed.
Literature: ISBN: 0959-7, 318 pp., 2nd ed.
Physics: ISBN: 0960-0, 376 pp., 2nd ed.
Biology E/M: ISBN: 0907-4, 329 pp., 3rd ed.
EACH: ISBN Prefix: 0-7689-, 8 x 11 pb
Online practice tests also available.
See page 31 for details.
AP Calculus AB & BC
ISBN: 1827-8, $18.00, 672 pp., 1st ed., 2004
AP Chemistry
ISBN: 1828-6, $18.00, 576 pp., 1st ed., 2004
AP English Language & Composition
ISBN: 1830-8, $17.00, 320 pp., 1st ed., 2004
AP English Literature & Composition
ISBN: 2230-5, $18.00, 368 pp., 6th ed.,
January 2006
AP European History
ISBN: 2229-1, $17.00, 272 pp., 2nd ed.,
January 2006
AP U.S. Government & Politics
ISBN: 1826-X, $17.00, 336 pp., 1st ed., 2004
AP U.S. History
ISBN: 1824-3, $17.00, 400 pp., 1st ed., 2004
AP World History
ISBN: 1825-1, $17.00, 368 pp., 1st ed., 2004
ISBN: 0-7689-2304-2, $16.95, 400 pp., 8.5 x 11 pb, 4th ed., prev. ed.: 0909-0