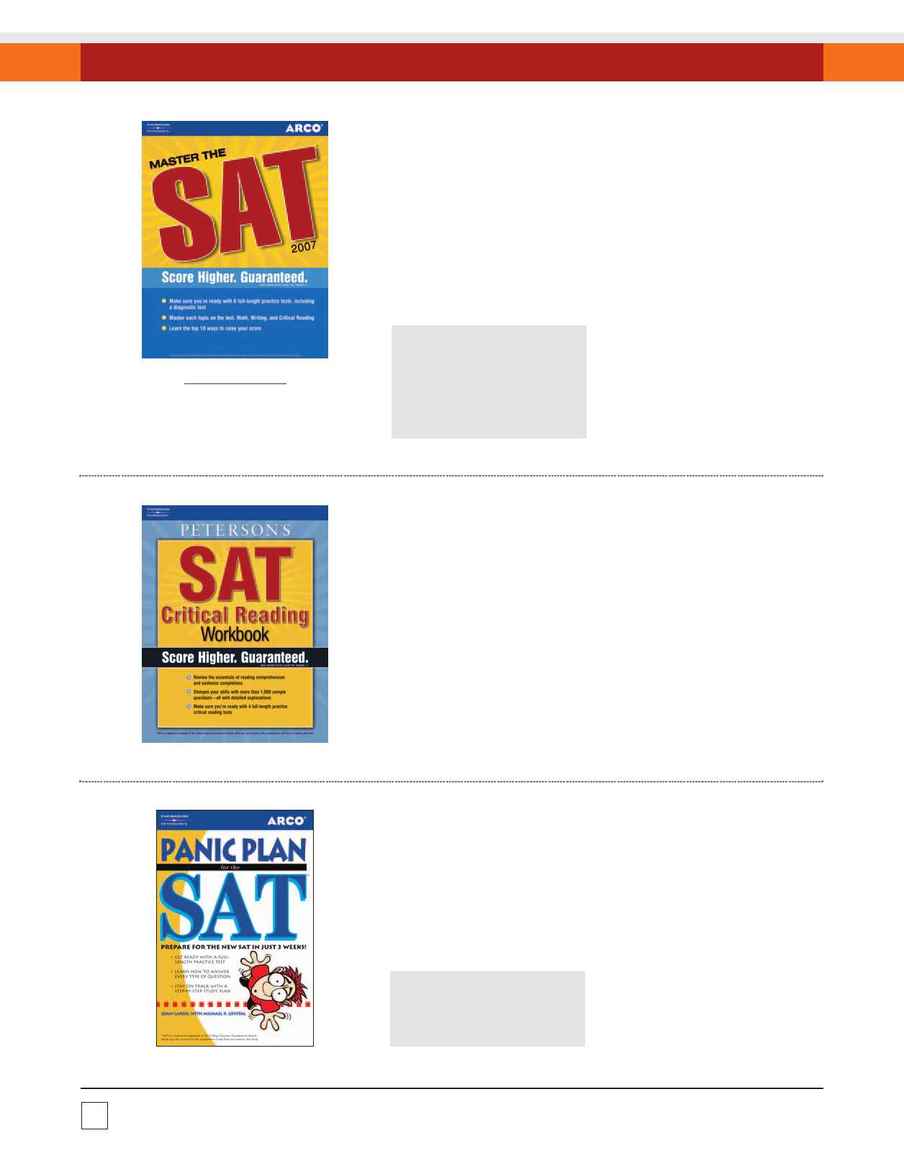 Test Preparation: SAT
ARCO Master the SAT 2007
Complete SAT preparation
The introduction of difficult test
material like essay writing and
higher-level math requires more
preparation than ever before for the
SAT. This complete guide answers
that call with intensive math, reading,
and writing review; expert strategies;
and tons of practice.
Peterson's SAT Workbooks
Prep and practice for each section of the test
The three-week study plan for
students who need to get ready--
fast! Completely rewritten for the
test, it includes a special section
on essay-writing.
ARCO Panic Plan for the SAT
Ideal for last-minute studying
EACH: ISBN Prefix: 0-7689,
720 pp., 8.5 x 11 pb, 6th ed.
(With CD) ISBN: 2318-2,
$29.99, prev. ed.: 1915-0
(Without CD) ISBN: 2319-0,
$17.99, prev. ed.: 1916-9
NEW EDITION
· Lessons covering every type of question
· A diagnostic pretest, 5 practice tests,
and expert writing review
· CD version includes extra practice tests,
Peterson's SAT Critical
Reading Workbook
With analogies gone, what's
left? Students find out in this
essential guide.
ISBN: 1716-6, 288 pp., 2004
ISBN: 0-7689-1534-1, $9.95,
320 pp., 6 x 9 pb, 7th ed., 2004,
prev. ed.: 0859-0
EACH: ISBN Prefix: 0-7689-, $16.95,
8.5 x 11 pb, 1st ed., 2004
Peterson's SAT Writing Workbook
Expert writing review for students
determined to ace the new test.
ISBN: 1714-X, 384 pp., 2004
Peterson's SAT Math Workbook
Students get intensive help
for new SAT test material.
ISBN: 1717-4, 336 pp., 2004