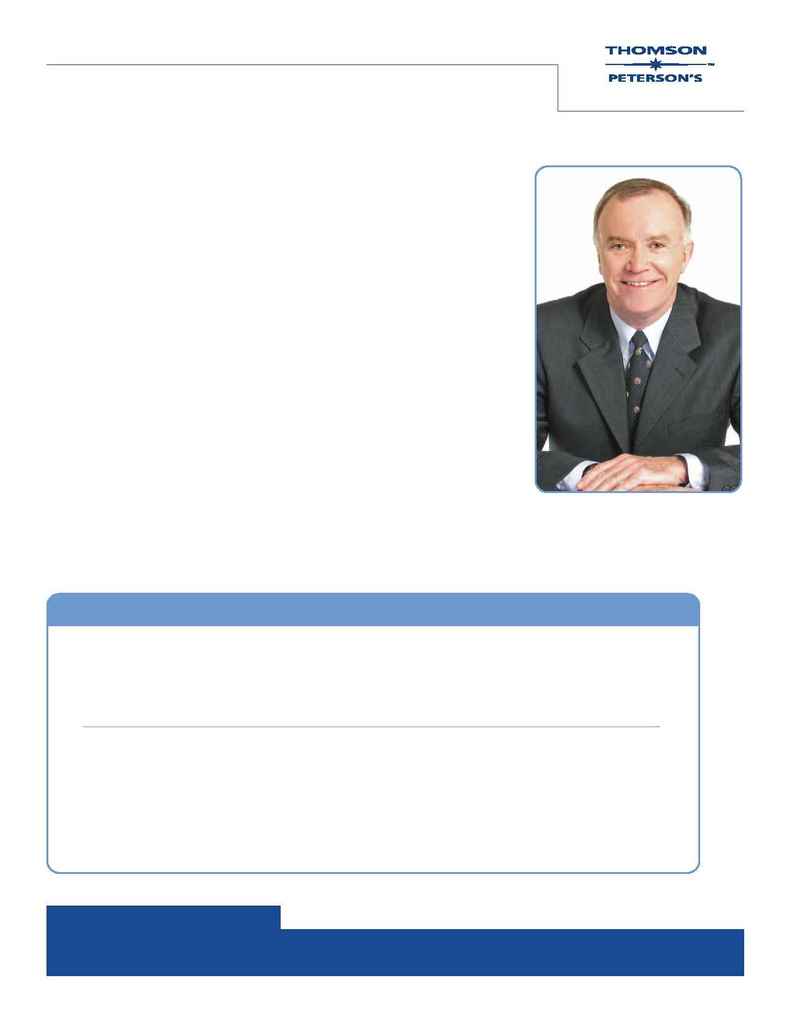 www.petersons.com
Carl Buck
Carl Buck, a financial aid expert, has over 30 years of experience guiding students, parents,
and educators on matters related to financial aid. Mr. Buck currently serves as the VP of
College Funding Solutions for Thomson Peterson's, and is the author of one of our
bestselling guides to financial aid, Get a Jump! The Financial Aid Answer Book.
Prior to joining Thomson Peterson's, Mr. Buck held numerous financial aid positions in both
the public and private sectors. As the Senior Vice President for the New Mexico Educational
Assistance Foundation, Mr. Buck was instrumental in setting financial aid policy and
educating college-bound families on the importance of pursuing financial assistance. As the
Director of Student Financial Services at leading U.S. institutions, including Rice University,
Rutgers University, and the University of Utah, Mr. Buck has helped thousands of families
explore financial aid options and acquire the money to pay for college.
Mr. Buck has appeared on numerous talk shows and has been extensively quoted on
financial aid matters in leading media such as The New York Times, The Wall Street Journal,
Kiplinger's, and Bloomberg Radio. As the affordability of higher education continues to grow
in importance, Mr. Buck is often called upon to answer questions related to scholarships,
grants, loan alternatives, and more.
In 2003, Mr. Buck developed Peterson's BestCollegeDeals
, a one-of-a-kind online financial
aid resource that shows students and their families little-known financial aid deals available
at leading colleges and universities, covering up to 100% of financial need. Data collected
directly from institutions provides families information on more than 4,000 deals in the
following categories: First-Generation, Tuition, GPA/SAT/ACT, National Merit, Valedictorian,
Sibling, Minority, Community Service, and other Exceptional Opportunities. Visit
Bestcollegedeals.com to learn more about this one-of-a-kind resource.
Testimonials
What educators are saying about Carl's Financial Aid Seminars:
"Carl Buck's wealth of knowledge and expertise in financial aid, coupled with his wit and sense of humor,
actually make learning about financial aid enjoyable."
­ Lynn O'Grady, Director of Guidance, Princeton High School, Princeton, NJ
What educators are saying about Get a Jump! The Financial Aid Answer Book:
"Thanks for making my job easier."
"One of the most thorough and easy-to-use publications on financial aid I have seen in years."
"A great counseling tool."
"Thank you very much for providing this valuable resource!"
To learn more, call 800-338-3282, ext 5370