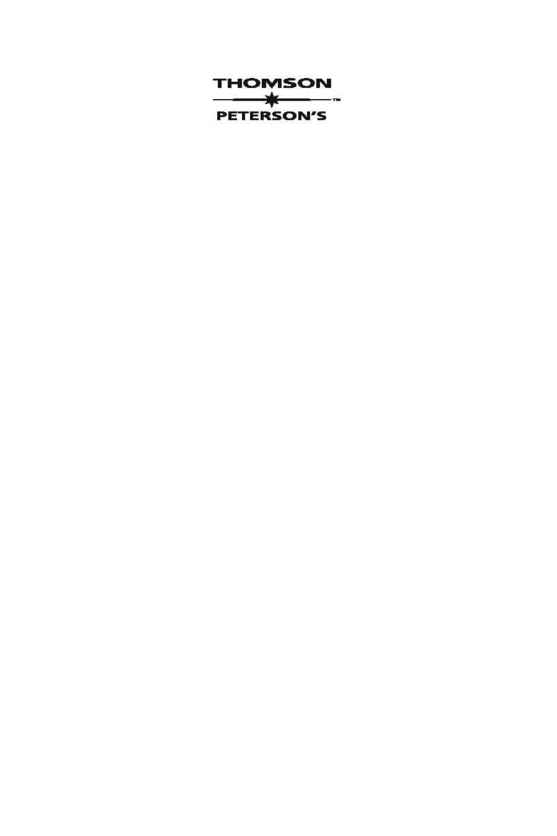 About The Thomson Corporation and Peterson's
With revenues of US$7.8 billion, The Thomson Corporation (www.thomson.com)
is a leading global provider of integrated information solutions for business, edu-
cation, and professional customers. Its Learning businesses and brands
(www.thomsonlearning.com) serve the needs of individuals, learning institutions,
and corporations with products and services for both traditional and distributed
learning.
Peterson's, part of The Thomson Corporation, is one of the nation's most re-
spected providers of lifelong learning online resources, software, reference guides,
and books. The Education Supersite
at www.petersons.com--the Internet's most
heavily traveled education resource--has searchable databases and interactive tools
for contacting U.S.-accredited institutions and programs. In addition, Peterson's
serves more than 105 million education consumers annually.
For more information, contact Peterson's, 2000 Lenox Drive, Lawrenceville,
NJ 08648; 800-338-3282; or find us on the World Wide Web at:
www.petersons.com/about
COPYRIGHT © 2003 by Paul Boyer.
College Rankings Exposed is a trademark of Peterson's, a division of Thomson
Learning, Inc.
ALL RIGHTS RESERVED. No part of this work covered by the copyright herein
may be reproduced or used in any form or by any means--graphic, electronic, or
mechanical, including photocopying, recording, taping, Web distribution, or in-
formation storage and retrieval systems--without the prior written permission of
the publisher.
For permission to use material from this text or product, contact us by
Phone:
Printed in the United States of America
10 9 8 7 6 5 4 3 2 1 05 04 03