Peterson's brickers ss 2006 Page 1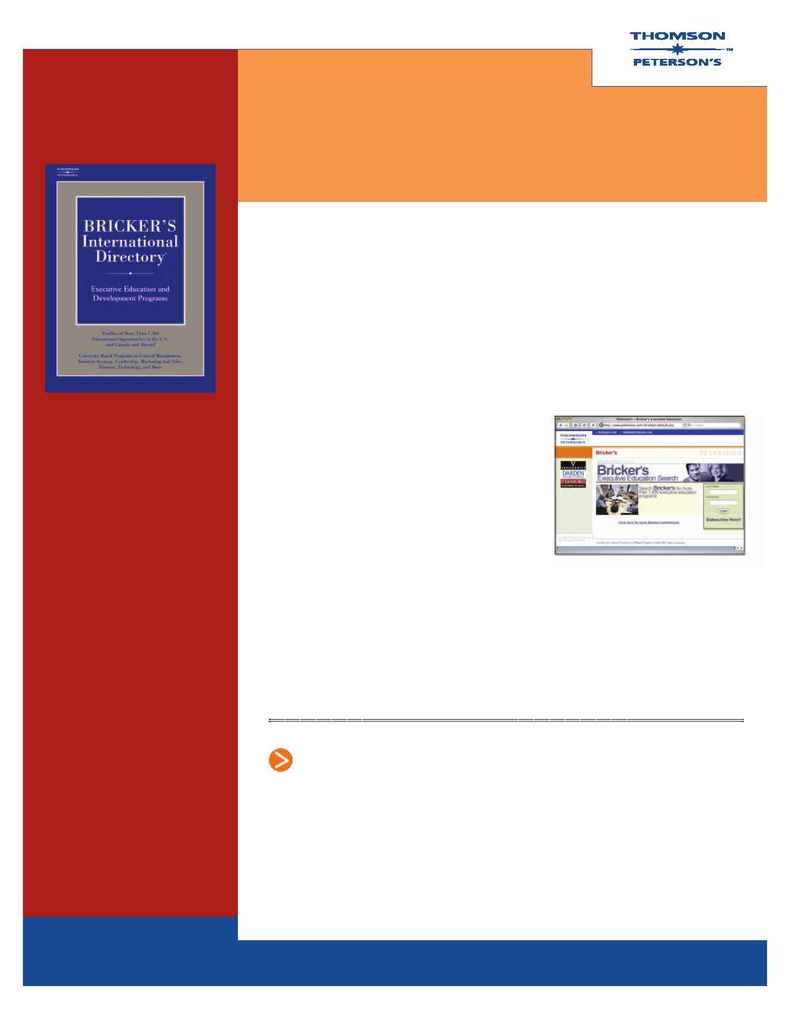 UNIVERSITY-BASED PROGRAMS IN GENERAL MANAGEMENT,
BUSINESS STRATEGY, LEADERSHIP, MARKETING AND SALES,
FINANCE, TECHNOLOGY, AND MORE
Peterson's knows that education doesn't stop at graduation. For more than 20 years, the
Bricker's database has been helping mid- to high-level executives find Executive MBA and other
professional development programs all over the world. Available in both online and print formats,
the database is robust and comprehensive, perfect for a wide range of organizations--from small
start-ups to large, Fortune 500 multinationals.
YOUR PURCHASE OPTIONS...
Bricker's Online--www.brickers.com
Annual Site License $2,495
Provide your entire organization unlimited 24/7 access
with an annual subscription. Users can search programs
by content, cost, and other important criteria. Plus,
get FREE access to thousands of 1­3 day seminars
run throughout the year all over the world.
Single-Use Access $695
Select an administrator as a point person to coordinate everyone's options. Includes all advanced
search features, plus links to institutions in the database.
Bricker's International Directory
®
$395
This annual guidebook is an easy-to-use print alternative or supplement to the online database.
Newest edition available November 2006.
PROVIDE EMPLOYEES WITH THE INFORMATION
THEY NEED TO PURSUE EXECUTIVE EDUCATION
AND DEVELOPMENT OPPORTUNITIES
www.thomsonpetersons.com
SPECIAL BRICKER'S OFFER!
Bricker's Online Single-Use Access plus Bricker's International Directory
(in print) for only $895--a $1,090 value!
Discuss your organization's needs with a Peterson's representative today!
Phone: 800-338-3282
Fax: 609-896-4543
WHY BRICKER'S?
information on university-
based executive education
1,300 executive education
well-researched information
Quickly compare and narrow
Patricia Sheffer
EXT 3410
patricia.sheffer@thomson.com
Kevin Knotts
EXT 3463
kevin.knotts@thomson.com