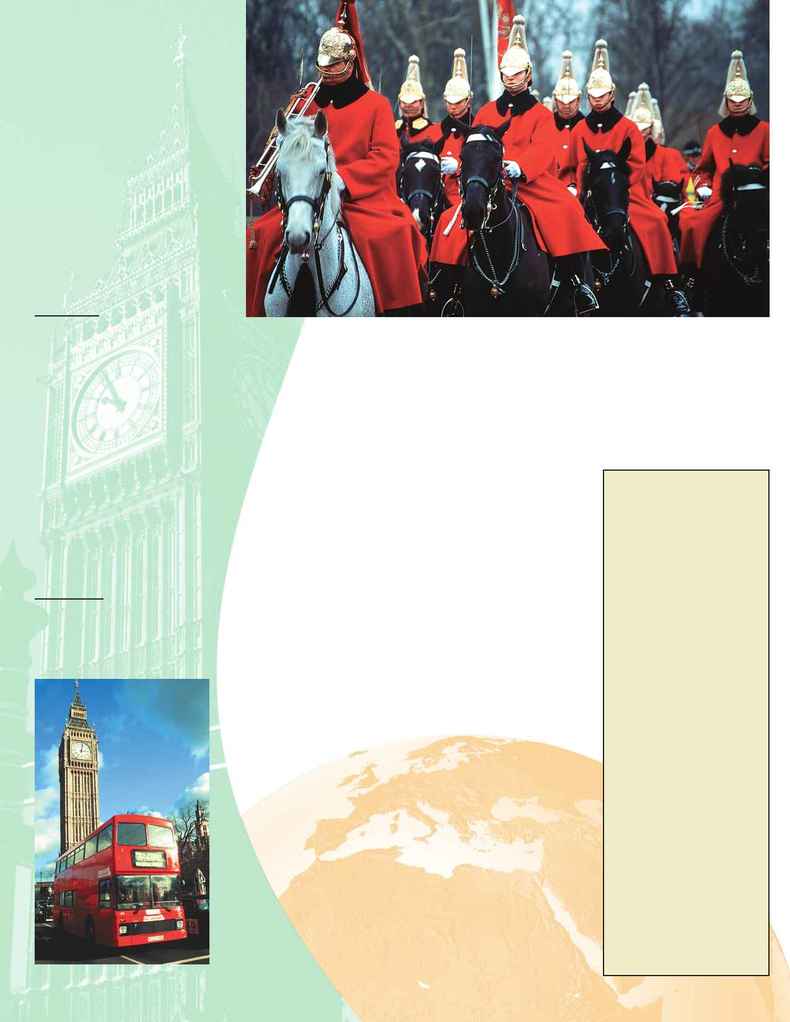 Voyageur Educational Tours · 120 Stafford Street · Worcester, MA 01603 · 1-800-767-7667
Depart from the USA on an over-
May 10
LONDON
Arrive at the airport in London,
where you will be greeted and
transferred to your centrally-
located 4-star London hotel for
check-in. Time to relax and
unpack or explore London on
your own before an evening
welcome reception, followed by
included dinner at your hotel.
May 11
LONDON
Tour historic London this morn-
ing under the direction of a local
Blue Badge Guide. See St. Paul's
Cathedral, Westminster Abbey,
Piccadilly Circus, and more. This
afternoon embark on a guided
excursion to Windsor Castle -
the official residence of the Brit-
ish Royal Family, and the largest
inhabited castle in the world.
Return to London for a free eve-
ning, with dinner on your own.
May 12
LONDON
This morning take the famous
London Underground (or Tube)
for a visit to the world-renowned
Cordon Bleu Culinary Arts Insti-
tute in London. This afternoon
enjoy a guided visit to the Tate
Modern Museum, followed by
dinner at the Anchor Inn, and
a performance at Shakespeare's
Globe Theatre. A return transfer
is provided back to your hotel
May 13
LONDON
Today features a guided excursion
to Oxford and Stratford-on-Avon.
Begin with a guided walking tour
of Oxford - home to 35 different
· Round-Trip Air Arrangements on
· Guided Sightseeing Tour of
· Windsor Castle Excursion
· Tate Modern Museum
· Shakespeare's Globe Theatre Per-
· Guided Excursion to Oxford and
· Scheduled Visits to Le Cordon
Bleu Institute, London College of
Fashion, and Schiller University
· Guided Visit to the Tower of
· West End Theatre Performance
· Daily Continental Breakfasts
· Five Dinners
Twin Accommodations (2 persons
Career College
Association
Exploring
London
Program
Group Organizer:
Bob Martin,
Executive Director /
Vice President Career Training
Foundation
bobm@career.org
Departure Date:
May 9, 2003
Prices / Departure Cities:
$2549 ex: New York City
$2549 ex: Washington
$2579 ex: Miami
$2579 ex: Chicago
$2899 ex: Seattle
$2679 ex: SFO
$2719 ex: LAX
These are ALL-INCLUSIVE
Prices (No additional fees
required), based on a min-
imum total group size
of 15, and guaranteed
for all participants who
submit applications with
$495 deposits by Novem-
ber 15, 2002, and pay in
full by January 15, 2003.
colleges - including entrance to
one of the colleges, the oldest
of which dates back to the 12th
century. Then travel to Shake-
speare's hometown of Stratford
for visits to Shakespeare's Birth-
place and Anne Hathaway's Cot-
tage. Return to London for dinner
(on your own) and overnight.
May 14
LONDON
This morning visit another career
college in London - the London
College of Fashion. Free after-
noon to stay at the college or
explore more of London on your
own. This evening, visit the
Tower of London - the fortress
begun by William the Conqueror
in the 11th century - for a guided
tour by the Yeoman Warders.
Then enjoy dinner in a local res-
taurant before a return transfer
back to your hotel for overnight.
May 15
LONDON
Enjoy a final career college visit
to London's Schiller University.
Time this afternoon to explore
London's many museums on your
own. This evening Voyageur
includes dinner in London's West
End, followed by a West End
theatre performance. Transporta-
tion provided back to your hotel
May 16
LONDON
Enjoy a full free day in London,
with time to visit the British
Museum or the National Gallery,
explore Westminster Abbey, take
a cruise on the Thames River, or
get a bird's eye view of the city
aboard the London Eye. This
evening, Voyageur includes a
special farewell carvery dinner at
a traditional English restaurant,
with a return transfer back to
Say "Cheerio!" to London as you
transfer to the airport for your