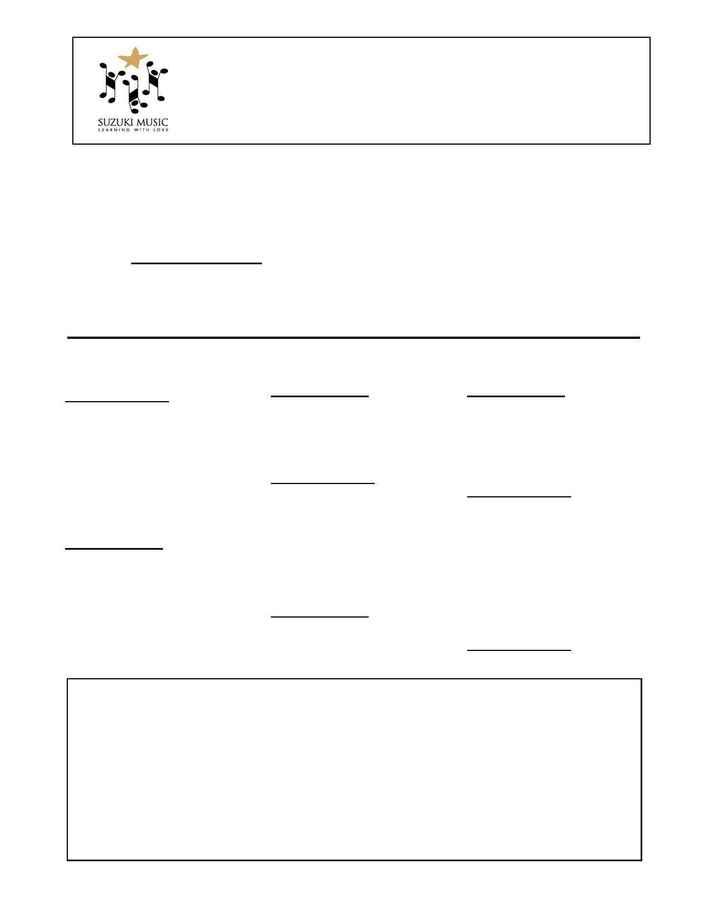 PO Box 439 Kew East Vic 3102
Phone (03) 9859 0433 Fax (03) 9859 0477 Email info@suzukimusic.org.au
Suzuki Talent Education Association of Australia (Vic.) Inc. Reg. No. A5744 ABN 14 080 413 955
SUZUKI MUSIC
ALL INSTRUMENT CONCERTS
Sunday 5 August or Sunday 12 August
Payment must be received with this form.
Closing Date: Friday 29 June
INFORMATION FOR TEACHERS
You must be able to attend and assist at concerts in which you are entering students. If you enter your
students for 2 days, you must be available to help on both days.
Please ensure students are current financial members BEFORE entering them.
Please enter a maximum of 6 students per concert time at MLC and a maximum of 10 students per
concert time at Wesley College and Kew Music Centre. Please distribute your students evenly across
concerts at all other venues.
Students may only be entered by their own current financial Suzuki teacher.
All details including piece duration should be entered on the reverse side of this form.
Please enter students for only one venue and concert time per form ­ if you are entering students for
more than one venue or time, please photocopy more forms as required.
Payment for concerts must be included with this form ­ one payment per teacher please.
Entries received after the closing date are subject to payment of a late fee and availability in concerts.
Please see Concert Procedures for Teachers for further information.
WESLEY COLLEGE
620 High St Rd
GLEN WAVERLEY
SUNDAY 12 AUGUST
- 2 rooms (1 accompanied)
3.00pm*
4.30pm
*Accompanist: Lakshmi Rasaratnam
PENLEIGH & ESSENDON GRAMMAR
Limerock Hall, Park Street
MOONEE PONDS
1.30pm*
3.00pm*
*Accompanist: Juliana Frazer
Ph: 9380 1457
KEW MUSIC CENTRE, KEW EAST PS
Beresford Street
KEW EAST
SUNDAY 5 AUGUST
1.30pm*
3.00pm*
4.30pm
*Accompanist: Karen Vincent
3.00pm*
4.30pm
ST MARTINS UNITING CHURCH
Cnr Gibbs St and Dalgetty Rd
BEAUMARIS
1.30pm
2.30pm
MLC, Music School
Barkers Rd
KEW
SUNDAY 5 AUGUST
- 2 rooms (1 accompanied)
1.30pm*
3.00pm*
*Accompanist: Chiah Quah
Ph 9850 5370
- 2 rooms (1 accompanied)
1.30pm*
4.30pm*
*Accompanist: Sarah Denholm
TOORAK COLLEGE
MacLean Hall, Junior School
Old Mornington Rd
MT ELIZA
10.30am
11.45am
PAYMENT DETAILS
(Payment will only be accepted from teachers not from individual families)
Teacher ______________________________________________________ Phone ___________________________
Number of families ______ @ $15 per family = Cost $_____________
Late fee (for applications received after 29 June) - $3.75 per family(max. of $25) $_____________
TOTAL
Cheque/Money Order [Payable to Suzuki Music] Credit Card (Visa/Mastercard)
[Please circle card type]
_ _ _ _ / _ _ _ _ / _ _ _ _ / _ _ _ _
Cardholder's Name __________________________________ Signature ______________________________________