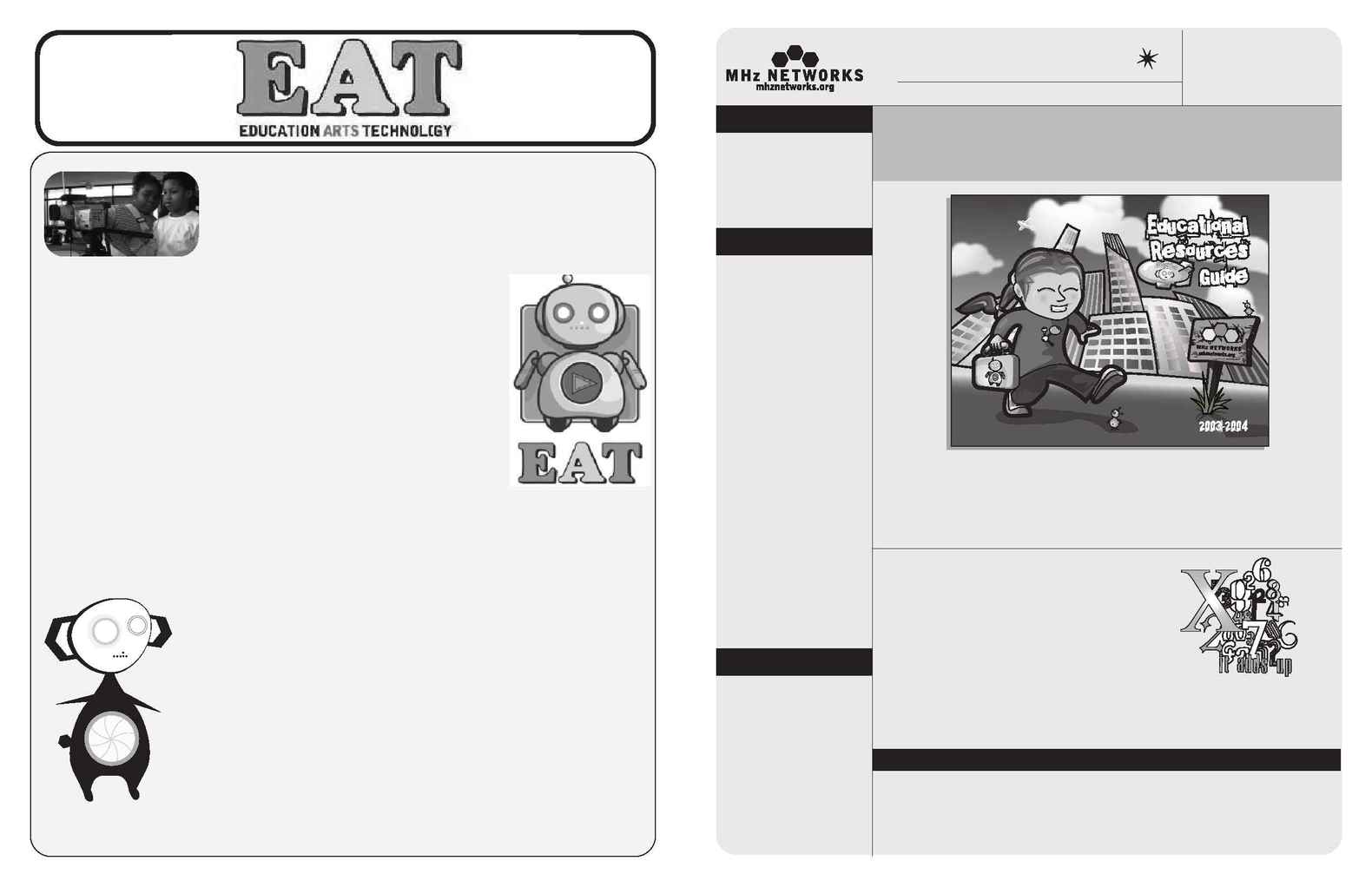 Volume 4 Issue 1 · September 16 ­ October 31
2003-2004 RSCPC Meetings
10 am @ MHz
agenetski@mhznetworks.org
mkhatcheressian@mhznetworks.org
mmarzette@mhznetworks.org
Project EAT (Education, Arts,
Executive Vice President/General Manager
Funds Provided by Commonwealth of
Virginia Department of Education
All instructional series are block fed overnight on MHz--look inside for schedule and cable listings.
MHz will feature daily staff development programming @ 2 p.m. on school days! DOE productions will air @ 2 p.m.
on Tuesdays and Thursdays, with overnight repeats @ 1 a.m. Wednesdays and Fridays.
Monday, Wednesday and Friday @ 2 p.m., don't miss Spanish for Educators--the staff development course for school
personnel who interact with non-English speaking or limited English speaking students and their families.
Check out MHz's new algebra series for 8th and 9th grade students! X-Power
supports the current paradigm in algebra instruction methods that promotes
visualization of concepts, multiple methods to solve problems and methods
other then emphasizing abstract symbolic manipulation. X-Power is scheduled
to air in April on MHz, but you can request an earlier broadcast by e-mailing
dejaview@mhznetworks.org.
What's in the News is an award-winning multi-media instructional series that uses current events as a springboard for
exploring history, geography, government, world cultures, science, language arts, and all other areas of the curriculum.
Utilized in the 4th- 7th grade classrooms around the country, WITN combines 15-minute television programs with
computer-based resources and print materials. Look for What's in the News, Saturdays @ 1 a.m. on MHz!
Rights for the following series were
not renewed for 2003-2004. Please
erase these titles from your library.
· Working it Out Together
· 3-2-1 Classroom Contact
THE 411
This is a story where everybody
wins and learns and even gets a T-shirt.
EAT (Education Arts Technology) at MHz NETWORKS.
you may know of us already. You may have submitted a student or
teacher film to MHz Shortz Student Film Festival.
of EAT, but there is so much more.
About a year ago the Department of Education informed us that we had been selected to
receive an Arts in Education Model Development and Dissemination Grant. They had
decided to fund our idea to combine theatre (scriptwriting, acting, and performance) with
the tools of digital filmmaking (organization, video skills, editing). We could expand our
educational outreach and offer real tools for content creation and media production; we
could expand the film festival; we could provide an interactive website and an instructional
video. And so, we started doing just that.
The first thing we did was to add Taishya Adams to the EAT staff as Associate Project
Director. With her background in filmmaking (BA from Vassar in Film Production) and
experience with L.E.A.P. (Learning through an Expanded Arts Program), she was the perfect
choice. She has been instrumental in organizing the film festival, developing the
partnerships with the schools, and creating the website. (That's her in the top right-hand
corner of the picture at the top.)
Next, we refined our ideas and strengthened our methodology as we worked with our
partner schools of George Mason Middle School (7th and 8th grades) in Falls Church)
and Jefferson-Houston Elementary School (4th and 5th grades) in Alexandria. We worked
with our arts partners ­ InterAct Story Theatre and Young Playwrights Theatre to teach the theatre skills and help
create original stories. Then members of the MHz NETWORKS staff ­ specifically Taishya, along with Debbie Mintz
Brodsky, and Mike Leyva ­ worked on teaching production skills and editing.
Coming this Fall is the EAT website where you will be able to find curriculum and activities
for creating project-based learning with multimedia for the classroom. You will also find
examples of student and teacher films that have been outstanding entries in the MHz
Shorts Student Film Festival. Here, you will meet Play, the character who represents EAT.
You will also meet Shortie, the film festival guy--he is the logo for MHz Shortz and you
can see him on our T-shirts, tattoos (temporary), stickers, postcards, and website.
And now we would like to invite you to get involved with this story ­ if you haven't
already. Here's how:
1. Contact us for a free glossy 14x17 Shortie poster to hang in your classroom
2. Mark your calendar and try to attend all or one of our scheduled teacher training
3. Start planning your entry into the 2004 MHz Shortz Student Film Festival: Due
4. Send us your email address and get EAT and MHz Shortz information sent
directly to your email box.
Make sure you get your copy of MHz's 2003-2003 Educational Resources Guide
It's chock full of ITV series and schedule information!
If you want to find that perfect ITV resource to fit your needs,
then RUN to the nearest computer and visit www.mhznetworks.org.
Our Instructional Resources database is standing by...waiting to make your day.
Students at an EAT workshop.