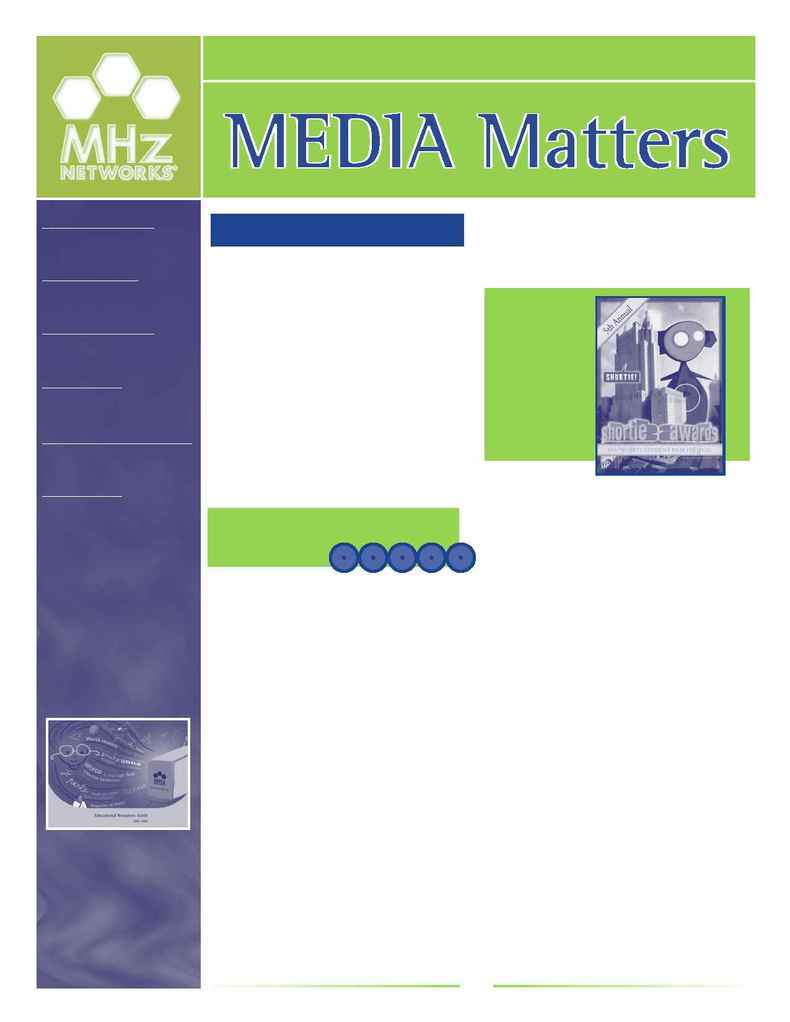 Education/EAT Director
Elizabeth Pringle
epringle@mhznetworks.org
Shortz Film Festival
Andrea Ellis
aellis@mhznetworks.org
Scheduling & DejaView
Katie Abell
kabell@mhznetworks.org
PBS TeacherLine
Maia Ermita
mermita@mhznetworks.org
General Manager/ Executive VP
Frederick Thomas
fthomas@mhznetworks.org
Station Manager
Ann Williams
awilliams@mhznetworks.org
MHz NETWORKS
www.mhznetworks.org
703.770.7100
Funds Provided by
Commonwealth of Virginia
Department of Education
Here's the first MHz Media Matters newsletter of
the year -- full of opportunities, connections, new
ideas, training, and more! So, start with our newsletter
and read about the new ITV programs, then plan
your next media workshop or online course. Next
visit our revamped EAT and MHz websites and,
while you're there, search our SOL database and
see what programs are right for your classroom.
How can we help you with your curriculum and
professional goals? Write to us, blog with us, train
with us. It is going to be a great year!
Elizabeth Pringle
CREATIVE LEARNING IN THE
CLASSROOM
DVD AND TEACHER'S CURRICULUM GUIDEBOOK
Coming in November! Creative Learning in the
Classroom features an instructional film and
special features that inspire and instruct teachers
to integrate digital media and story-making
into their classrooms.
The DVD follows the process as two classes
create original stories and turn them into films.
It includes interviews with students and
educators along with extra features that share
the details for story creation and filmmaking.
The guidebook is the teacher's own filmmaking
diary that includes the curriculum, handouts,
and exercises as well as plenty of room for
notes. A CD containing a digital version of the
handbook is also included.
Creative Learning ­ 24 minute film $49.95
Available November, 2005 Pre-Order your
copy today!
www.mhznetworks.org/shop or write:
epringle@mhznetworks.org
Tell The World!
5
th
Annual
MHz Shortz Student Film Festival
The 5th Annual MHz Shortz Student Film Festival
is accepting entries from students ages 7-18,
and their teachers. This is an opportunity for your
students (and you) to share original films and have
a chance to win a Shortie Award! With over a
thousand students and teachers participating last
year, it is clear that digital filmmaking can be a
powerful tool to inspire and reinforce learning as
well as encourage student imagination and self-
expression.
Every film is assessed by a panel of judges
composed of teachers, filmmakers, and artists
using a rubric created for the festival and available
online. The Shortie Award recognizes the originality
and skills of young filmmakers.
Films are submitted by age group and film category:
Ages: 7-10, 11-14, 15-18 and Teacher
Film category: Live Action (narrative, experimental,
documentary, PSA, music video) and Animation
(stop-motion and claymation).
The 5th Annual MHz Shortz Student Film Festival
celebrates the creative stories and visions of our
students and teachers. This year there are also
special prizes for the first ten entries. See website
for details.
For entry forms and guidelines, go to
www.mhznetworks.org/eat,
or email us at shortie@mhznetworks.org.
1
2005 ­ 2006
Educational Resource
Guides are here!
L
L

F
I
E
WELCOME BACK!