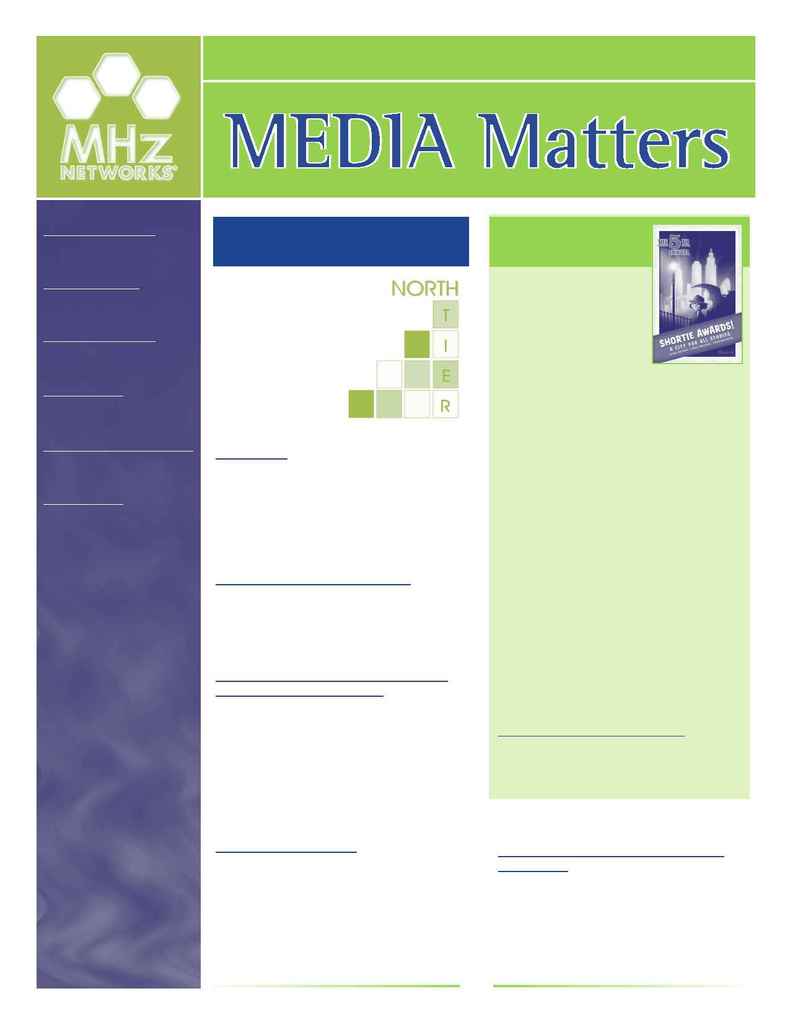 Education/EAT Director
Elizabeth Pringle
epringle@mhznetworks.org
Shortz Film Festival
Andrea Ellis
aellis@mhznetworks.org
Scheduling & DejaView
Katie Abell
kabell@mhznetworks.org
PBS TeacherLine
Maia Ermita
mermita@mhznetworks.org
General Manager/ Executive VP
Frederick Thomas
fthomas@mhznetworks.org
Station Manager
Ann Williams
awilliams@mhznetworks.org
MHz NETWORKS
www.mhznetworks.org
703.770.7100
Funds Provided by
Commonwealth of Virginia
Department of Education
Who will be the first student
host for the 5th Annual
MHz Shortz Student Film
Festival? We are searching for a student, age
12 ­ 18, who is outgoing, funny, confident,
fast on his or her feet, and can really "wow"
a crowd. Do you have or know of a student
who would be perfect to host the MHz Shortz
Student Film Festival Awards in May?
The competition is open to middle or high
school students in Virginia, Maryland, and
Washington, DC. The deadline is March 10,
2006 by 5PM. The awards ceremony will be
held in May 2006.
To be considered, students should submit
the following:
On DVD/R (variable rate 1x-8x) or mini-dv,
a two-minute maximum presentation on
why the MHz Shortz Awards are important.
Creativity is essential.
One-page description of why you would make
the perfect host for the festival.
A letter of reference from a teacher, principal,
parent, or other adult educator.
Mail the completed application to:
MHz NETWORKS
c/o MHz Shortz Awards Host
8101A Lee Highway
Falls Church, VA 22042
1
MHz Shortz
Student Film
Festival Seeks
Student Host
NORTHTIER PARTNERSHIP ANNOUNCES
FREE ONLINE COURSES!
Spring registration begins January
9 and runs through January 30.
Classes start February 7 and will last
6 weeks until April 4. Visit
http://www.mhznetworks.org/
northtier/courses for more
information and register online.
Feel free to contact your
NorthTIER representative
or Maia Ermita
(mermita@mhznetworks.org) for more information.
COUNT ON IT: NUMBER SENSE FOR GRADES
K-5 | MATH221 (Formerly MATH220) Learn
strategies to effectively assess and teach number
sense in your classroom. Examine and implement
lesson plans, Web resources, and NCTM standards
in order to help students gain a deeper underst-
anding of numbers. * This course requires access
to students.
CHILDREN'S AUTHORS ON THE WEB: ONLINE
SITES THAT MOTIVATE STUDENTS TO WRITE
FOR GRADES K-6 | RDLA125 Explore and develop
author studies using the Web that can be used to
motivate students in the classroom to read and
write as well as expand their use of technology.
INTEGRATING THE INTERNET INTO THE K-2
LANGUAGE ARTS CURRICULUM | RDLA120
Explore numerous Internet resources that can
enhance classroom learning and then learn how to
choose and successfully integrate such resources
into your existing curriculum. The National
Educational Technology Standards (NETS) serve
as a guide for selecting the most appropriate
resources. As a final task, develop a plan for
meaningfully integrating your chosen Internet
resources into your language arts curriculum.
PUBLISHING ON THE WEB | TECH335 Explore
the basic knowledge and skills needed for publishing
on the Web. Examine school-based websites and
other Web publishing projects to evaluate examples
of both effective and ineffective presentations.
Address key issues to help you understand basic
requirements before embarking on Web-publishing
activities in the classroom. An easy-to-use webpage
template and basic HTML prompts are provided to
help you complete your final task: creating one
strong webpage.
TEACHING AND LEARNING WITH GRAPHIC
ORGANIZERS: FEATURING PBS TEACHERLINE
INSPIRATION | TECH195 Learn to use electronic
graphic organizers to help organize ideas, convey
complex concepts, ease students through the
steps of the writing process, and develop their
mathematical and scientific thinking skills. Help
students deepen their understanding by presenting
Please see Northtier on Page 4