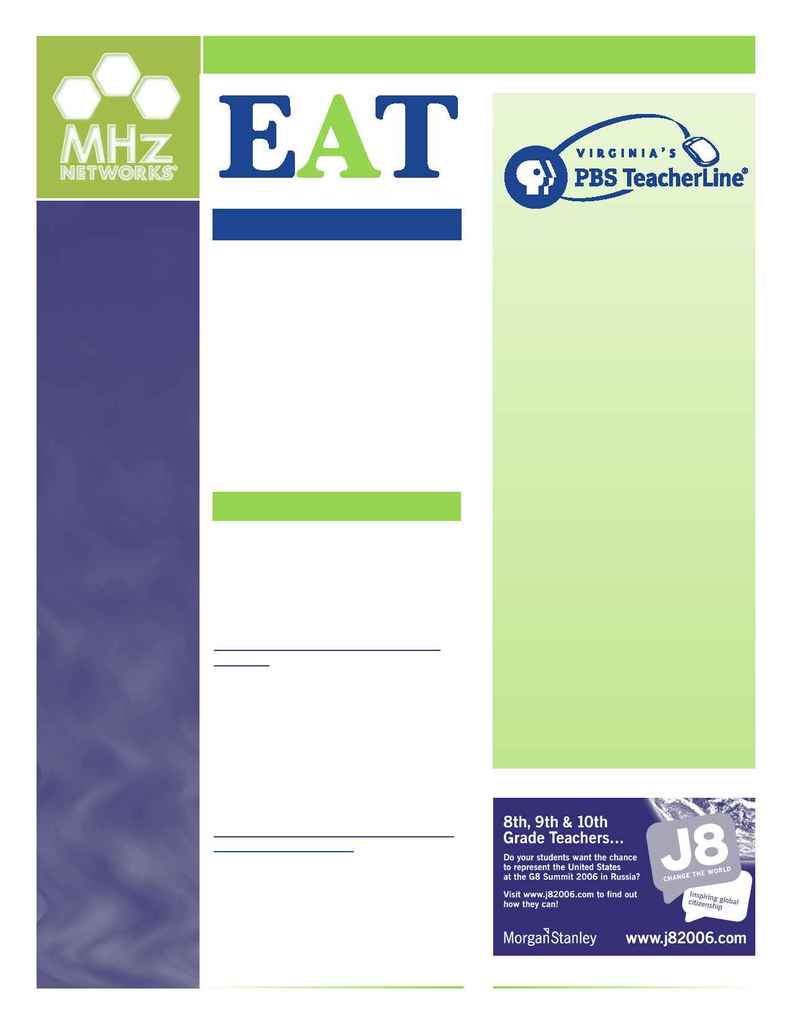 4
information and concepts in a visual format that
shows the connections among ideas. Learn to apply
such electronic graphic organizers as Inspirationİ
across the curriculum, throughout all grade levels,
in learning stations, and in labs. This course equips
you to expand and enhance student thinking and
learning for presentations and personal productivity.
USING MULTIMEDIA TO ENHANCE UNDER-
STANDING | TECH305 Explore Bloom's taxono-
my and consider ways to use a multimedia project
to promote higher-level thinking skills. This course
equips you to help students use multimedia tools
to convey their ideas and demonstrate their under-
standing of a subject, without confusing the medi-
um with the message. Learn to instill a strong
understanding of content while promoting their
critical-thinking skills. Develop a simple multime-
dia project and create a plan that integrates the
use of multimedia in student class assignments.
UTILIZING TECHNOLOGY IN CREATING PROB-
LEM BASED CURRICULUM | INST130 Use
technology to help students develop problem-solving
skills to gain the confidence, skills, and imagination
needed to expand their own learning experiences.
Visit http://www.mhznetworks.org/northtier/courses
for MORE PROFESSIONAL DEVELOPMENT
COURSES offered through the NorthTIER
Partnership!
Great professional development...in your pajamas?
Virginia's PBS TeacherLine and national PBS
TeacherLine offers high-quality online professional
development courses for educators that help meet
the requirements of NCLB.
Covering the areas of mathematics, reading,
instructional technology, science and instructional
strategies, most Virginia's PBS TeacherLine
courses last six weeks and provide Virginia
educators with the opportunity to earn 15-30
recertification hours with every course. One to
two graduate credits are also available per
course. Virginia's PBS TeacherLine courses
were developed in collaboration with top names
in education including Indiana University, Tom
Snyder Productions, McRel, and the National
Council of Teachers of Mathematics.
Each Virginia's PBS TeacherLine course is facili-
tated by a specially trained Virginia educator,
combining the best of face to face professional
development with the best of online instructional
design. These facilitators help course "learners"
complete weekly assignments, and interact with
one another in online discussion groups.
National PBS TeacherLine and Virginia's PBS
TeacherLine courses are available at every grade
level to Virginia educators throughout the year.
Check with your district's instructional technology
administrator or professional development
supervisor to see if these courses are available
to you free of charge. Please visit the website at
www.virginiateacherline.org, or call 757.889.9100
for complete enrollment and course information.
The New EAT website!
Be one of the first to register at the new EAT
(Education Arts Technology ) website. Go to
www.mhznetworks.org/eat and receive FREE
Shortz t-shirts for your entire class (while the
supplies last). EAT is the innovative program,
from MHz, that combines arts (story creation)
and media (filmmaking) in the classroom. The
EAT website offers information and training
opportunities for teachers and students.
In the EAT website you will find the latest
information on EAT workshops for teachers
and students; updates for the annual MHz
Shortz Student Film Festival; and the new,
interactive, 24/7, share your ideas, EAT blog!
The EAT website
blog is the place
for online dialogue
between K ­ 12
educators who
want to talk about
integrating arts
and media in the
classroom. What is
your experience?
What are the
challenges and
rewards? Share
your thoughts with
others. Let the
dialogue begin!
Northtier
(continued from page one)