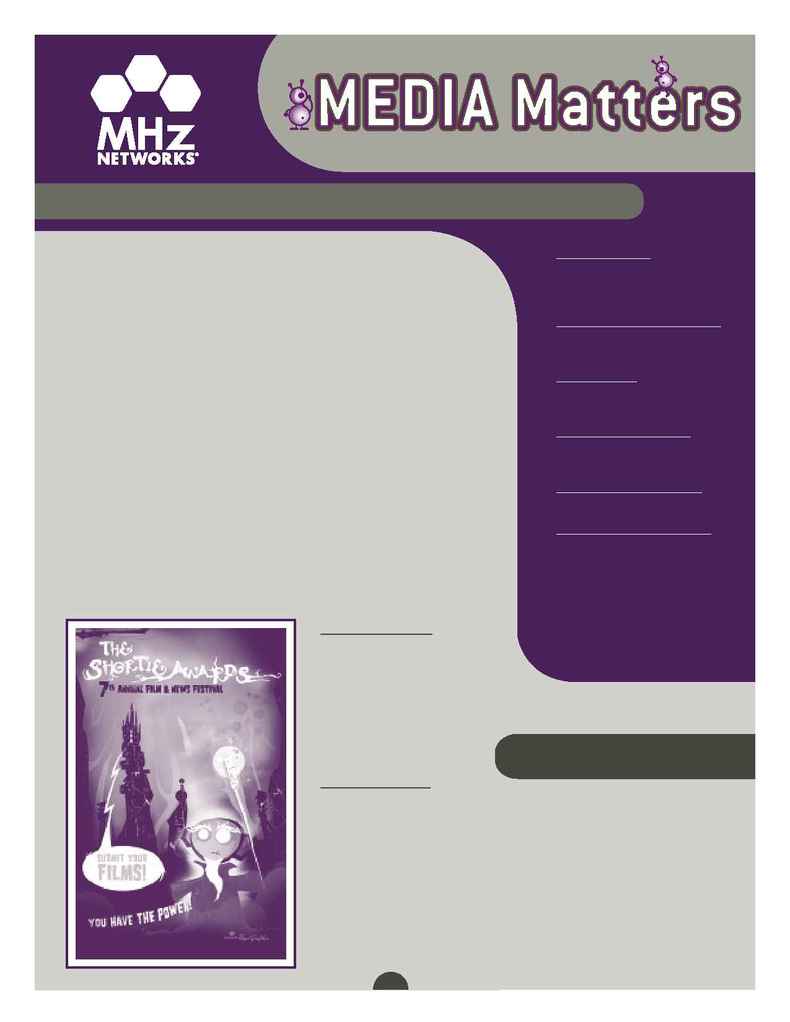 1
Education Director
Elizabeth Pringle
epringle@mhznetworks.org
Education Outreach Specialist/
PBS TeacherLine and North TIER
Agatha Jenkins
ajenkins@mhznetworks.org
ITV Coordinator
Chris Arth
carth@mhznetworks.org
Education Media Specialist
Alyssa Baer
abaer@mhznetworks.org
DejaView Schedule Requests:
General Manager/Executive VP
Frederick Thomas
fthomas@mhznetworks.org
MHz NETWORKS
www.mhznetworks.org
703.770.7100
Funds Provided by Commonwealth
of Virginia Department of Education
MHzNewsletter
Volume8 Issue2
November ­ December2007
The 7
th
Annual
Shortie Awards!
Student Film & News Festival
Brandish your camera and film now!
Cast your entry, make it WOW!
You Have the Power
!
Shortie is seeking imaginative student filmmakers and news broad-
casters for his 7th annual festival. Enter as a group, a whole class or
individually.
The submission due date is March 21, 2008. Submit now, the first ten
entries will receive a free t-shirt or poster.
The festival will be on Sunday, June 1, 2008 at The Documentary
Center at The George Washington University.
Grade Categories
(ages 7 ­ 18)
2nd - 5th
6th - 8th
9th - 12th
Teacher made films!
Entry Categories
Live Action/Narrative
Animation
Daily News Program
Films may be no longer than 10 minutes - fact or fiction.
Visit the website for complete rules, guidelines and to download
an application. Plus, see past winners in the screening room!
Mhznetworks.org/eat/filmfestival
SeePage4for"TheShortieAwards­