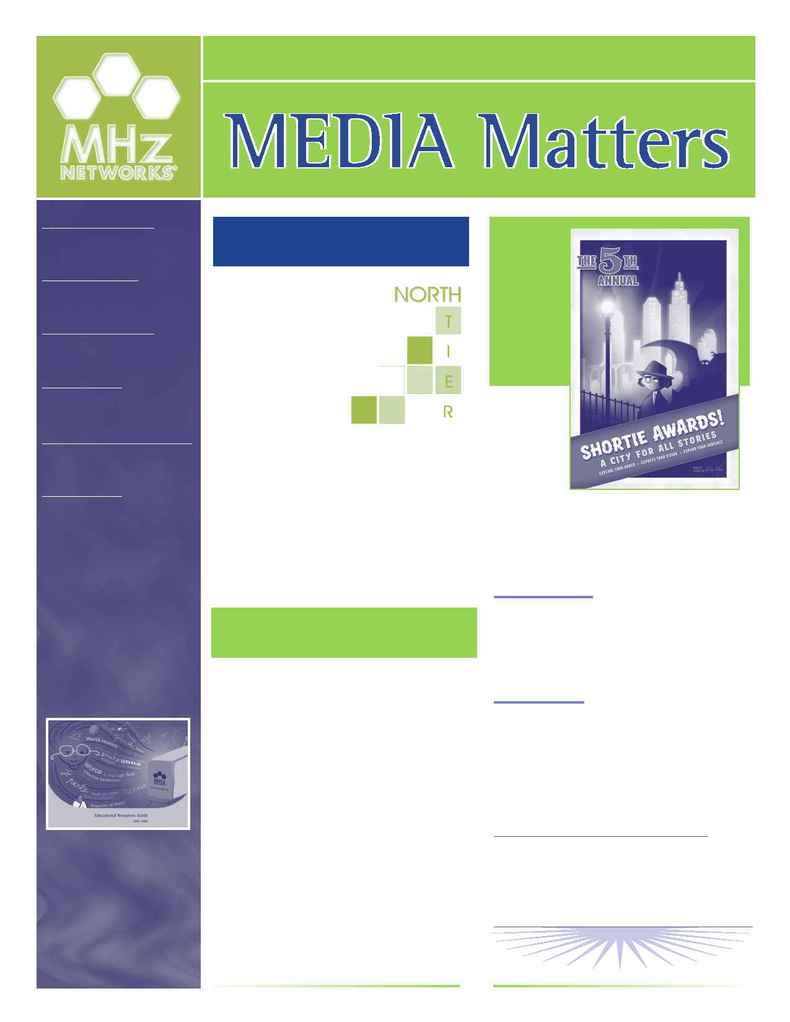 Education/EAT Director
Elizabeth Pringle
epringle@mhznetworks.org
Shortz Film Festival
Andrea Ellis
aellis@mhznetworks.org
Scheduling & DejaView
Katie Abell
kabell@mhznetworks.org
PBS TeacherLine
Maia Ermita
mermita@mhznetworks.org
General Manager/ Executive VP
Frederick Thomas
fthomas@mhznetworks.org
Station Manager
Ann Williams
awilliams@mhznetworks.org
MHz NETWORKS
www.mhznetworks.org
703.770.7100
Funds Provided by
Commonwealth of Virginia
Department of Education
Experience
the amazing
MHz Shortz Student Film Festival!
Enter as a group, whole class, or individually.
Films may be no longer than 10 minutes -
fact or fiction.
GRADE CATEGORIES
Teacher! (Yes, a category for teachers!)
FILM CATEGORIES
Live Action ­ Narrative short film. This
includes narrative, experimental and
documentary films, public service
announcements (PSA), and music videos.
Animation ­ This includes stop-motion
drawings, computer graphics and claymation
Submit your film by March 17, 2006
Awards celebration to be held in May, 2006.
Please visit our NEW website for information
and applications: www.mhznetworks.org/eat
Free T-Shirts or Posters for the first 10 entries.
1
2005 ­ 2006
Educational Resource
Guides are here!
The 5th
Annual
MHz
Shortz
Student
Film
Festival
Check out the teacher's blog on the new
EAT website. Share your stories, questions,
ideas! What's happening in your school?
How do you integrate media and educa-
tion? What positive outcomes have you
witnessed as a result of using media in
the classroom? Have you used media in
an unexpected way that you'd like to
share with your colleagues? Help get
the dialogue started!
Submission is easy!
Simply logon to www.mhznetworks.org/eat,
click on Teacher's Lounge, in the Toolbox,
click Think a blog, write a blog, read a blog!
NorthTIER
The NorthTIER Partnership is
a consortium of 13 school
divisions in Northern Virginia and
MHz. The partnership is the
recipient of a grant to provide
professional development to
teachers in the
successful integration
of technology into
instruction.
Online Professional Development.
Look out for the Spring 2005 course catalog.
Registration will run January 9-30, 2006.
Classes: February 7-April 4
Visit http://www.mhznetworks.org/northtier
for more information.