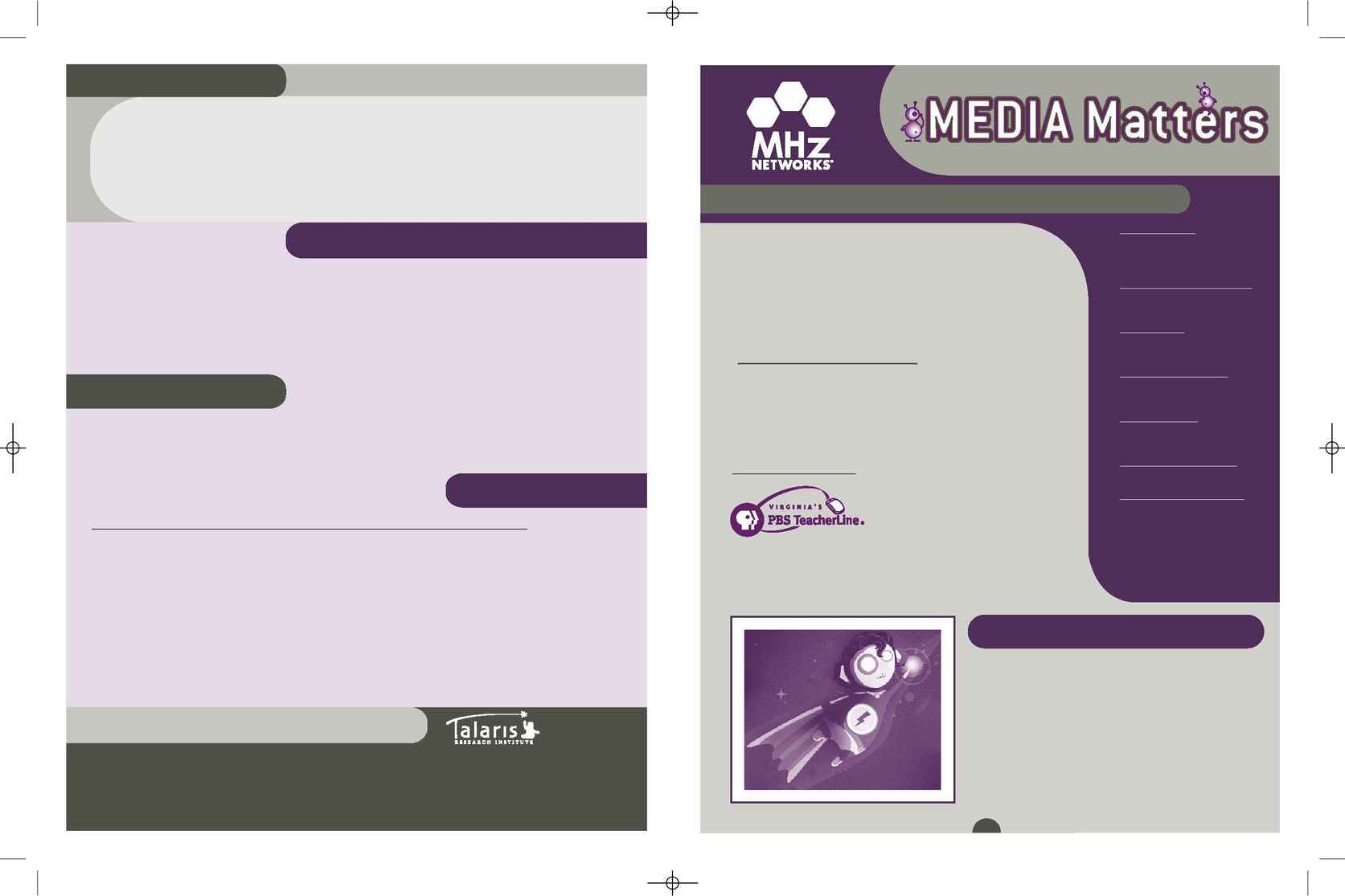 The Education Department at MHz welcomes its newest staff member Alyssa Baer.
Alyssa most recently completed a year of service as an AmeriCorps*VISTA member at
the Florida Literacy Coalition in Orlando. She is excited to combine her passion for
education, technology and arts in her new role as Education Media Specialist.
1
Education Director
Elizabeth Pringle
epringle@mhznetworks.org
Education Outreach Specialist/
PBS TeacherLine and North TIER
Agatha Jenkins
ajenkins@mhznetworks.org
ITV Coordinator
Chris Arth
carth@mhznetworks.org
Education Media Specialist
Alyssa Baer
abaer@mhznetworks.org
The Shortie Awards
Hotline 703.770.7137
shortie@mhznetworks.org
DejaView Schedule Requests:
dejaview@mhznetworks.org
General Manager/Executive VP
Frederick Thomas
fthomas@mhznetworks.org
MHz NETWORKS
www.mhznetworks.org
703.770.7100
Funds Provided by Commonwealth
of Virginia Department of Education
MHz N e w s l e t t e r
Volume 8 Issue 1
September ­ October 2007
Now in its 7th year, The Shortie Awards ­ Student Film & News
Festival (formerly known as the MHz Shortz Film Festival) offi-
cially announces its call for entries. Shortie is accepting
student & teacher animated and live action films from all genres--
comedy to documentary--and your best school news programs.
All submissions must be no longer than 10 minutes and must be
on mini-DV or DVD. The entry deadline for all films is March 21,
2008. See Shortie's website for more information, tips, and rules
and guidelines.
www.mhznetworks.org/eat/filmfestival
The biggest news is that we are launching two new
websites this year. Visit the new MHz Education site in October
(www.mhznetworks.org/education) and then check out the
new Shortie Awards (new name for the MHz Shortz Student
Film Festival) website (www.shortieawards.org) in December.
Read on to find out more about MHz Education and the re-
sources we have to offer you.
We Need Your Help!
If you have taken a PBS TeacherLine course and
used that knowledge in your classroom we'd
like to know about it. MHz Education
recently received a PBS TeacherLine
Local Innovation Fund Grant to
promote TeacherLine courses. We are shooting a series of interviews with
teachers talking about how they've used the learning from TeacherLine
courses in their classrooms. We'd love to talk to you. Please contact:
Agatha Jenkins ­ ajenkins@mhznetworks.org - and share your story.
4
Professional Development Workshops!
THE SHORTIE AWARDS CALL FOR ENTRIES
Improving Your Daily News Program ­ Take your school's daily news show to the next level.
Filmmaking in the Classroom ­ Looking for new ways to reinforce learning in the classroom, as well as enhance skills
such as reading, communication, technology, and teamwork?
Media Literacy 101 ­ What does it mean to be media literate? How can its principles be incorporated in the classroom?
Exploring the World through Media ­ Media is the fastest, easiest, and cheapest(!) way a student can take a field trip
in this technology-saturated world.
MHz Education offers a 15-session, curriculum-related and project-based workshop that takes students through the
entire video production process from Story Development to Editing and Marketing of their final film.
For information on any of these workshops or to schedule one in your area, please contact Agatha Jenkins ­
ajenkins@mhznetworks.org.
Five daily news tips from the high school winning news team teacher:
1. Say dog; see dog. ­ So often students will have a video of one thing will the voice over speaks of another. If you
are talking about it, I should see it.
2. Less is more. ­ Many students take fifteen minutes of video, and they can't stand the thought of not using
every second of it. Learn to cut.
3. Get to the point and get out
. ­ Keep it short and sweet; this probably is much like less is more, but often
students think that they have to explain everything. Don't. Just stick to one topic and get out.
4. Keep it clean and simple. ­ Many students feel the need to show everything they know in one package. For the
most part, clean and simple is much more powerful.
5. It's not about us. ­ Many students want to be the actor/director. Highlighting others actually highlights you
if you do it well. Make others shine, and then you will shine.
In January 2007, Talaris launched the 3rd year of Parenting
Counts: A Focus on Early Learning, a multimedia program that
uses a series of television spots, printed material and workshops
to make the research on best parenting practices part of every
day parenting decisions. MHz Education is partnering with
Talaris to distribute materials and make sure people in our area
are aware of this great resource. If you'd like more information
email Alyssa: abaer@mhznetworks.org or visit the Talaris website
for more information.
http://www.talaris.org/parentingcounts.htm.
Parenting Counts: A Focus on Early Learning
MHz Education Newsletter
of
2007 ­ 2008!
Welcome to the First
55714b_WNVT:Layout 1 8/27/07 1:18 PM Page 1