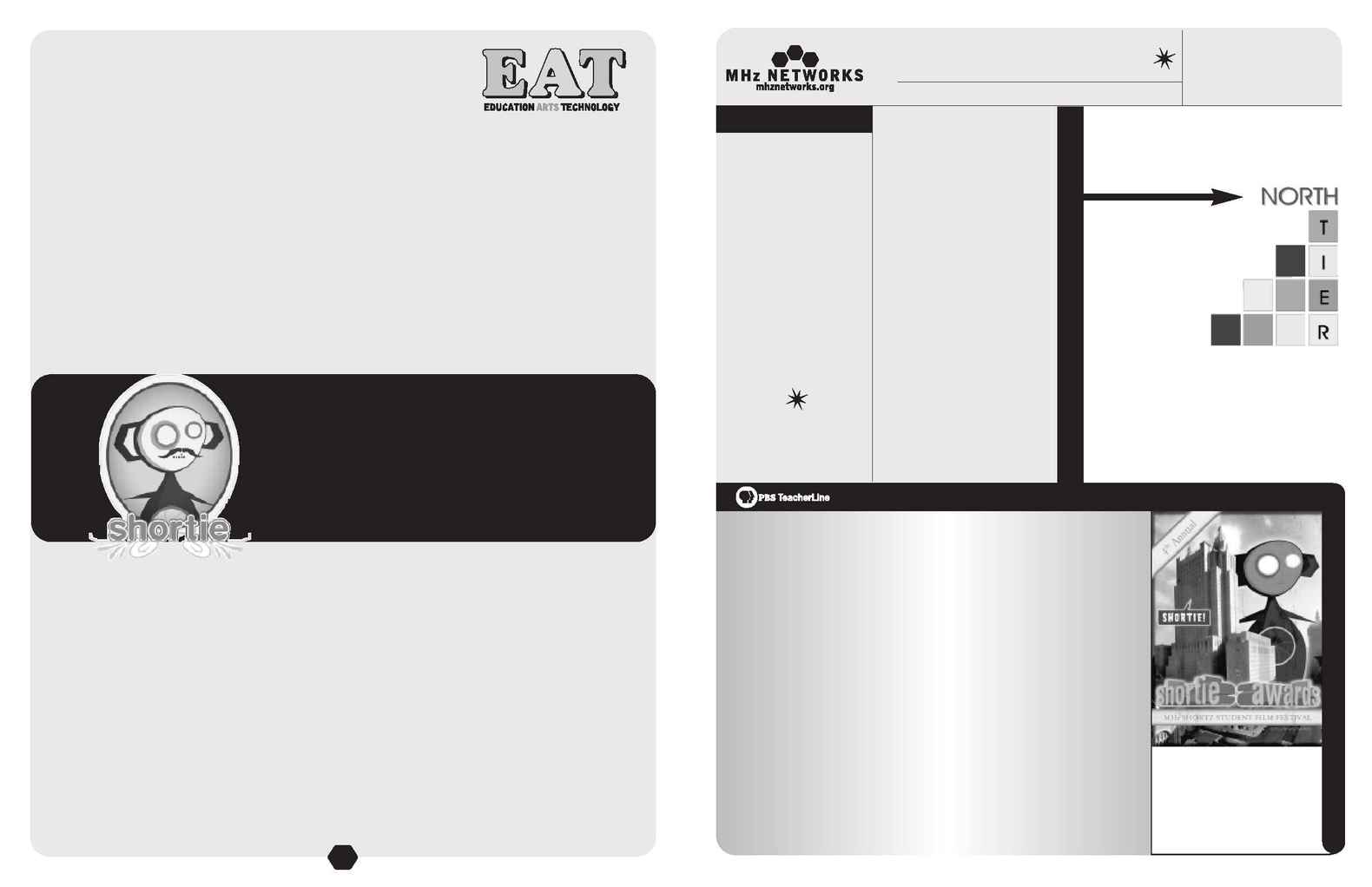 Volume 5 Issue 2 · November ­ December 2004
General Information
Ann Williams
awilliams@mhznetworks.org
EAT & Shortz Film Festival
Elizabeth Pringle
epringle@mhznetworks.org
DejaView & Schedule Questions
Katie Abell
kabell@mhznetworks.org
General Manager / Executive VP
Frederick Thomas
fthomas@mhznetworks.org
MHz NETWORKS
www.mhznetworks.org
703.770.7100
Funds Provided by
Commonwealth of Virginia
Department of Education
Don't forget about MHz's daytime
programming in your foreign
language and media literacy
classes!
MHz offers more than 100 hours
a week of international news
programming, representing 17
languages and 18 countries
including Bangladesh, China,
France, Germany, Greece,
Great Britain, India, Ireland,
Italy, Japan, Mexico, Nepal,
Pakistan, Poland, Russia, South
Africa, Taiwan and Vietnam.
Please note that MHz's news
programs are not edited for
content before broadcast As with
all instructional programming,
we recommend teachers preview
content beforehand.
The PBS TeacherLine fall professional development courses are
now open for enrollment.
PBS TeacherLine's expert-facilitated, six-week online courses help classroom teachers
improve their teaching skills in a supportive, collaborative environment. PBS TeacherLine
courses meet all published national teaching standards. Readings from the Standards
and Principles (i.e. NCTM 2000) are an integral part of every course and participants
create materials to support state and local standards. In addition, course participants
can receive graduate credit and Continuing Education Units (CEU's).
Visit www.mhznetworks.org/education today and learn how you and your colleagues can
enhance your skills without taking time away from key fall activities. We offer more than
80 online professional development courses including more than 30 that are scheduled
to start this fall. Facilitation by highly experienced and PBS-trained classroom educators
helps ensure that teachers get the most out of their online learning experience.
Courses are intended for pre-K through 12 classroom teachers in several critical areas:
Each course taken by a teacher in Northern Virginia through www.mhznetworks.org/education
returns funds to MHz NETWORKS.
Excellent questions!
The EAT program (Education Arts Technology) provides
long-form classroom workshops where teachers and students
work together to produce short films. EAT conducts theatre
and filmmaking workshops that teach everything from how
to put together a story to how to edit a film. Students
learn critical thinking and media literacy skills and how to
work collaboratively on projects. Teachers learn how to
integrate arts learning and technology into their lessons
and how to HAVE FUN DOING IT!
EAT is a useful resource for ANY classroom. All you
need is your imagination, we'll take care of the rest.
Once the short films are created, they are submitted
into our annual MHz Shortz Student Film Festival.
Last year, we had entries from all over the country!
Over 700 students and teachers working together to
make the 2004 Shortie Awards a smashing success!
To check out the project online or see a preview of the
upcoming instructional film, check out www.mhznetworks.org/eat.
The 2005 MHz Shortz Student Film Festival will be held
in May;
entries are due March 18th. If you'd
like to learn more about making films with your students,
call us! You could win a coveted Shortie award!
Elizabeth Pringle - epringle@mznetworks.org
Andrea Ellis - aellis@mhznetworks.org
What's EAT? Who's Shortie?
What does it have to do with
North TIER Symposium Announced
The North TIER Partnership is a
consortium of 13 school divisions
in Northern Virginia and MHz.
The Partnership is the recipient
of a grant to provide
professional development
to teachers in the
successful integration
of technology into
instruction.
The symposium will be held on Saturday,
November 6 at Battlefield High School in
Haymarket.
For more information, please visit
www.mhznetworks.org/education/northtier.
U
P
C
O
N
G
T
S
Brave ideas!
Bold visions!
Brilliant films!
The 4th Annual MHz Shortz
Student Film Festival
Enter as a group or individually. All films must be teacher-sponsored and cannot exceed 10 minutes in length.
Entries due by March 18, 2005
Celebration and awards ceremony will be held in May 2005!
For more information visit: www.mhznetworks.org/eat
· 7 ­ 10 (2nd ­ 5th Grades)
· 11 - 14 (6th ­ 8th Grades) NEW CATEGORY!
· 15 ­ 18 (9th ­ 12th Grades)
· Live Action - This includes narrative, experimental and documentary films, public service
announcements (PSAs), and music videos.
· Animation - This includes stop-motion drawings and claymation.
C
A
L
L
F
O
R
E
N
T
R
I
E
S
The 4th Annual
MHz Shortz
Student Film Festival
Entries due by March 18, 2005