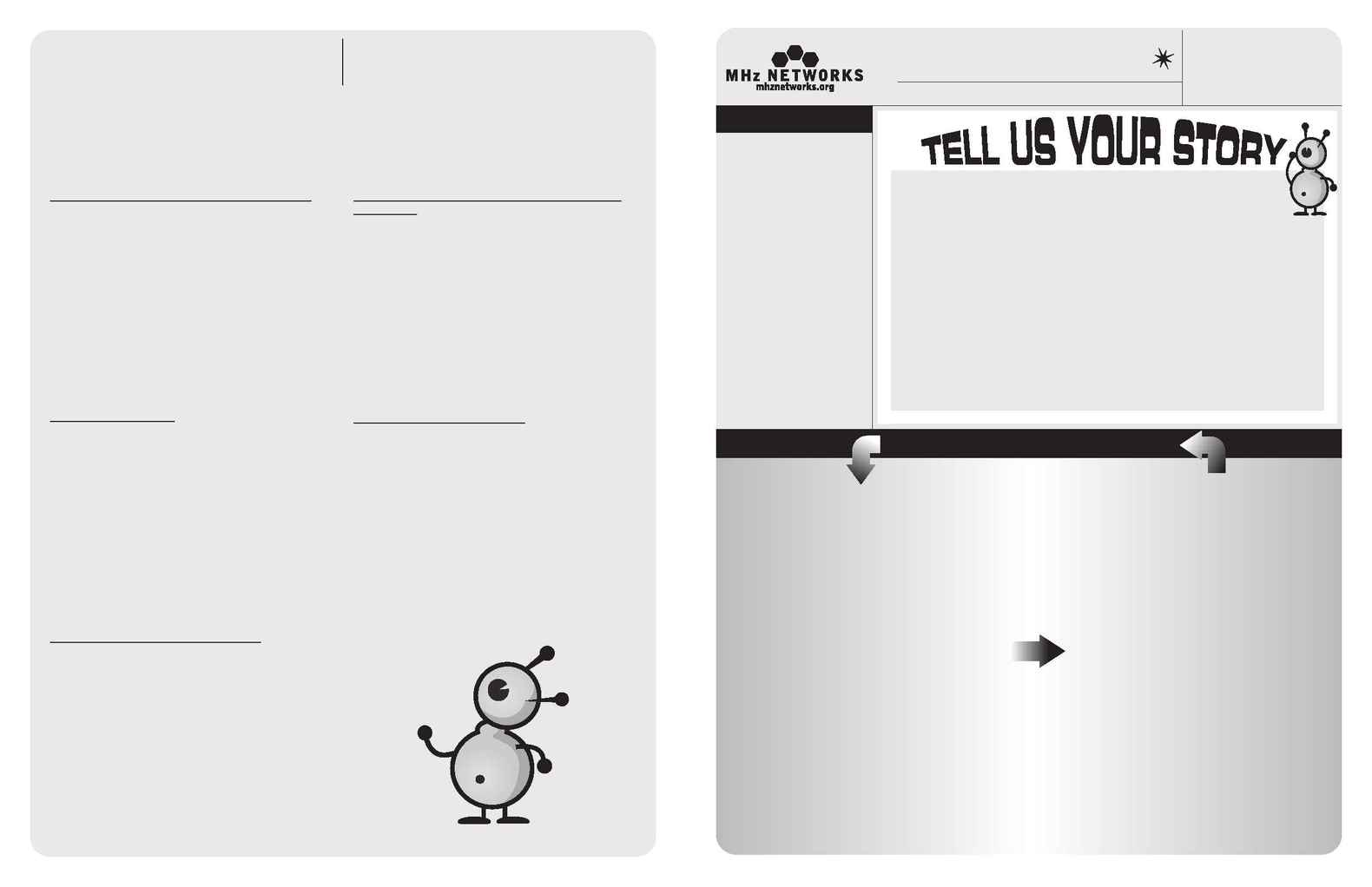 Volume 5 Issue 1 · September ­ October 2004
General Information
Ann Williams
awilliams@mhznetworks.org
EAT & Shortz Film Festival
Elizabeth Pringle
epringle@mhznetworks.org
DejaView & Schedule Questions
Katie Abell
kabell@mhznetworks.org
General Manager / Executive VP
Frederick Thomas
fthomas@mhznetworks.org
MHz NETWORKS
www.mhznetworks.org
703.770.7100
Funds Provided by
Commonwealth of Virginia
Department of Education
The North TIER Partnership is a consortium of 13 school
divisions in Northern Virginia and MHz NETWORKS.
The Partnership is the recipient of a grant to provide
professional development to teachers in the successful
integration of technology into instruction.
· Children's Authors on the Web: Online Sites that
Motivate Students to Write
· Teaching and Learning with Graphic Organizers:
Featuring Inspiration
· Teaching Reading in the Content Areas
· Teaching with WebQuests
· Classroom Assessment Enhanced by Technology
· Finding the Best Educational Resources on the Web
· Using Technology in the Social Studies Classroom
Participants have the option of earning recertification
points as well as graduate credit upon successful
Keep an eye out for future classes to be offered
throughout the school year. For more information,
visit www.mhznetworks.org/education.
MHz Offering Online Professional
Development With PBS TeacherLine!
PBS TeacherLine's facilitated multi-media enhanced
online courses are available to educators who
seek professional development credit. Visit
www.mhznetworks.org/education for course
schedules and registration information. You can
also contact your district's North TIER representative
(same link) for more information.
PBS TeacherLine, funded by a grant from the U.S.
Department of Education, is committed to helping
educators acquire the skills they need to prepare
students for a successful future. PBS TeacherLine
offers online professional development through
facilitated courses that meet state and local
standards, providing supportive and collaborative
learning communities and exemplary Internet-
based resources.
Each of us has a unique story--our own worldview.
MHz invites viewers of all ages to share your unique personal experiences
with our audience. We are looking for stories with an international flavor
that will connect with and inspire other MHz viewers.
The stories can be about many things, for example:
· your time living in a foreign country and how it changed you
· how you left your homeland and adapted to living in the United States
· a new and interesting community project you are working on
· a unique aspect about you and your culture
· your take on a cultural holiday
Please visit www.mhznetworks.org and click the MHz Worldview link.
Questions? Contact us at stories@mhznetworks.org or 703.770.7159.
CHARACTER ED./BULLYING MIDDLE SCHOOL
Curriculum Area: Guidance
This series focuses on the number one problem for middle
schoolers: bullying and harassment. The programs help
students develop the traits of good character that enable
them to stand up for themselves and build healthy, successful
relationships. Young teens are encouraged to make positive
choices about alcohol, their friendships and how they deal
with the stress they face every day.
Programs 1 ­ 2: Thursday, Oct. 21 @ 4:30 am (60 min)
Programs 3 ­ 6: Friday, Oct. 22 @ 4:00 am (120 min)
Curriculum Area: Guidance/Health
This series is an all-inclusive drug education curriculum
library. Packed with the latest on tobacco, alcohol, steroids
and other drugs, Substance Abuse Series is as teacher-
friendly as we could make it! This series contains compelling,
documentary-style videos--a comprehensive collection of
programs on topics vital to all drug educators and health
professionals.
Programs 1 ­ 4: Thursday, Oct. 21 @ 1:00 am (105 min)
Programs 5 ­ 9: Friday, Oct. 22 @ 1:00 am (95 min)
FOOD, NUTRITION AND EXERCISE
This series addresses several important health issues for
adolescents including overweight and underexercised
teenagers, serious eating disorders such as Anorexia
Nervosa and Bulimia, and important information regarding
exercise, proper nutrition, food labeling, the food pyramid
and solid advice for maintaining a healthy weight.
Broadcast Schedule:
Programs 1 ­ 4: Thursday, Oct. 21 @ 2:45 am (112 min)
Programs 5 ­ 7: Friday, October 22 @ 2:35 am (84 min)
VIRGINIA'S LEWIS AND CLARK: ROOTS OF
A LEGACY
Curriculum Area: History/Social Studies
Virginia's Lewis & Clark: Roots of a Legacy explores how
the families and contemporaries of Meriwether Lewis and
William Clark prepared them for their extraordinary west-
ward voyage. Through interviews with descendants of
Lewis and Clark, historians, and owners of historic homes,
this 30-minute program examines the local history of
Lewis and Clark and their impact on the region.
Thursday, September 16 @ 6:00 am (30 min)
Curriculum Area: Social Studies/Current Events
This long-running weekly news series reports current
world and national events and explains to students why
they matter. The approach is mature: the programs do not
talk down to viewers. In addition to covering the week's top
news stories, the series also includes program segments
designed to involve students actively. On-screen quizzes
reinforce content; clues to upcoming stories heighten
interest and foster investigation; opposing points of view
stimulate discussion; the mail bag of students' responses
gives them incentive to think and write about the issues in
the news.
N E W Y E A R NEW SERIES
MHz is proud to announce these new additions to our overnight,
instructional lineup! For individual program and SOL information,
visit http://www.mhznetworks.org/education/search.php and click
SOL Search.