MHz Networks Newsletter 10.03 Page 1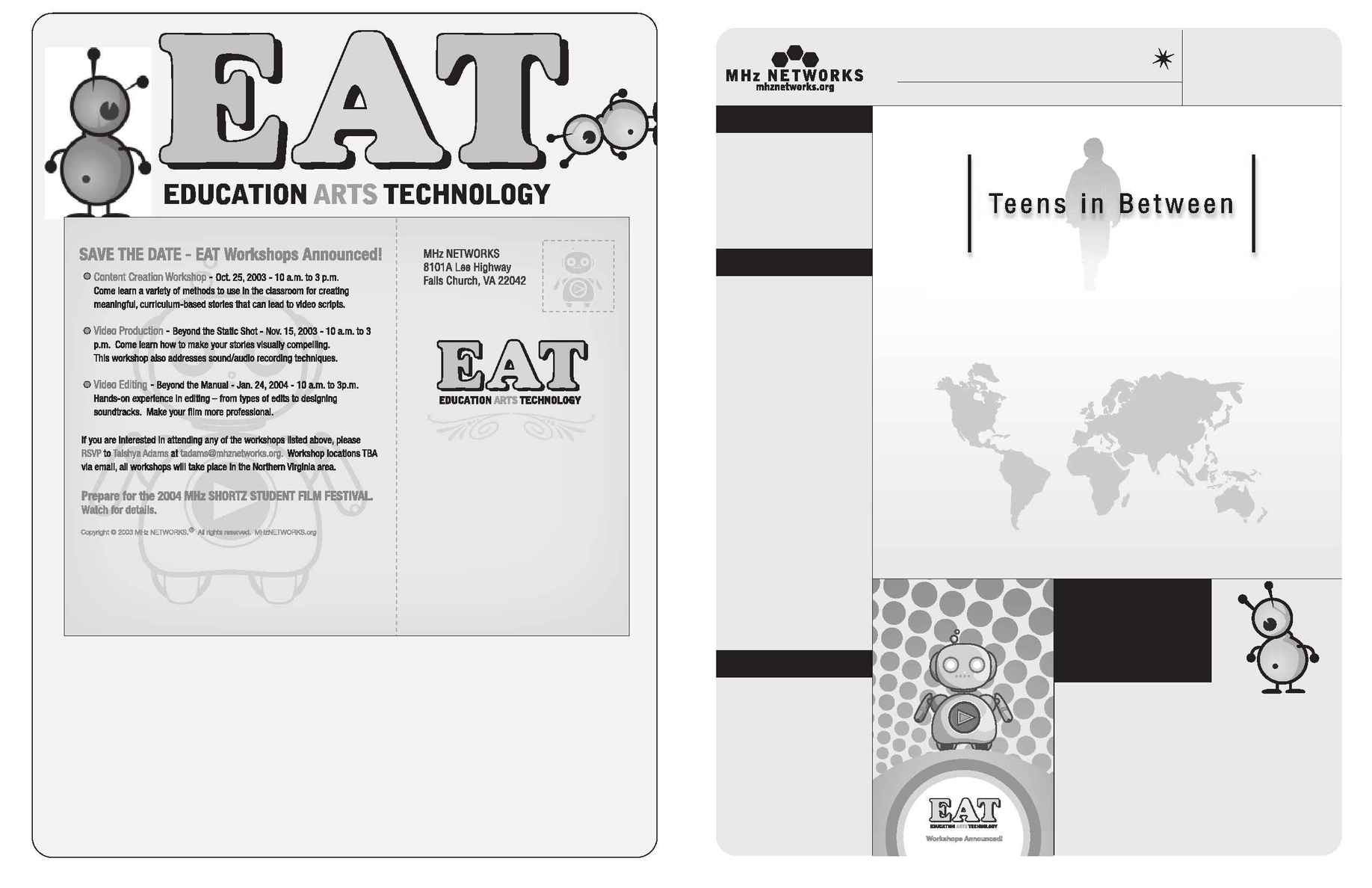 Volume 4 Issue 2 · November ­ December 2003
2003-2004 RSCPC Meetings
General Information
agenetski@mhznetworks.org
open.tv
mkhatcheressian@mhznetworks.org
Outreach
Project EAT
(Education, Arts, Technology)
MHz NETWORKS
Frederick Thomas
Executive Vice President/General Manager
Funds Provided by Commonwealth of
Virginia Department of Education
Electronic Field Trips from
November 6
December 4
The U.S. Department of Education presents
Education News Parents Can Use--a television
series about ways to ensure children's educational
success. Getting Ready for College--Academic
and Financial Preparedness will air Thursday,
November 27 at 2 p.m. on MHz. Look inside
for cable listings in your area.
Crossroads Café
Crossroads Café
does not carry standard 1-year classroom rights. Therefore, a regular block schedule
may not be as useful to you since, according to Fair Use Guidelines, the series must be erased 45 days after it is taped. At your
request, we have altered the schedule to feed this series in smaller "chunks" in an effort to make it more usable.
Episodes
Date @ Time
Episodes
Date @ Time
The cultural landscape of our nation's schools is rapidly changing. Immigrant students now
make up 16% of the school-aged population. As that number continues to grow, are we ready
to embrace the different languages, cultures, and religions that fill the hallways of our schools?
Teens in Between is a 90-minute documentary that takes a rare and intimate look at
five recent immigrant teens as they try to make it through a year of high school in
America. The film was shot entirely on location in and around Annandale High School in
Fairfax County, Virginia.
Created so teachers and students could better understand the struggles and challenges
that immigrant teens face, this video has created quite a buzz in Northern Virginia. The film
offers a variety of learning opportunities, including activity and discussion guides for
English and Social Studies classes (grades 7-Adult), ESOL classes (grades 9-Adult), and
Staff Training & Development, all with cue times for viewing shorter segments.
This video is now available for use in the classroom and beyond. To order your copy, call
1-800-343-5540, or fax purchase orders to 845-774-2945. For more information or to
access the accompanying activity and discussion guides, please visit our website at
www.mhznetworks.org/teensinbetween. Teacher guides will be available on our website