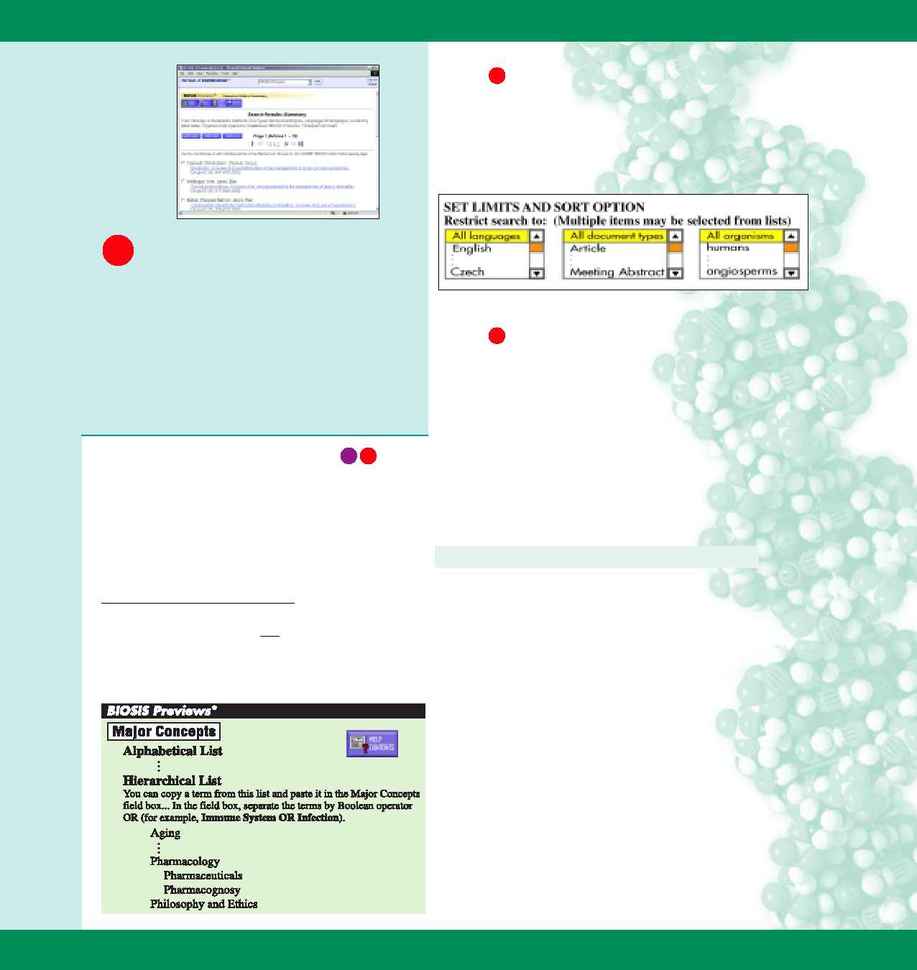 Prior to searching, you can sort your results to create
a more focused list. There are five options available for sorting
retrieved records.
Latest Date
Chronological order, according to when the source
documents were received by BIOSIS.
Relevance
­ A ranking system that considers how many of
the search terms are found in each record, how frequently
the search terms appear, and how close together the search
terms are. Records with the highest ranking appear at the
top of the list.
First Author
­ Alphabetical order, based on the name of the
Source Title
­ Alphabetical order, based on the source
Conference Title
­ Alphabetical order, based on the title
SEARCHING/IMPROVING PRECISION
You can pinpoint a search even further by searching within a
specific field using the SAME operator to retrieve any modifiers or
other information that may have been added to enhance a keyterm's
meaning. This can help to locate information on specific roles,
contexts, meanings, genders, etc., such as:
predator/prey relationships
Aspirin, for example, can be an antipyretic drug, anticoagulant
drug, analgesic drug, etc. To find studies where aspirin is being
used as an antipyretic drug, use the following strategy:
Example
aspirin SAME antipyretic*
5
Use "Limits" to refine a search. Three drop-down lists allow you
to limit retrieval by:
Language
Document Type
Organism
5
Controlled Term Searching
The BIOSIS Previews controlled terminology list
(Authority File) is a valuable search aid that assists in
selecting appropriate controlled terms, ensuring the most
comprehensive retrieval. It is divided into ten main
branches that correspond to various subject fields, and
consists of a list of terms used in those fields.
To access the branches of the Authority File, type
www.biosis.org/authorityfile.html in your Web
browser. Two of the branches can be viewed on the
Search page by clicking on list. Below
is an example of the Major Concepts branch:
www.biosis.org/authorityfile.html
Example:
Review Results and Modify/Refine
If Necessary
If your results contain irrelevancies, consider
limiting the search to a particular field or link
terms using the appropriate operator. Additional
options to increase retrieval include:
Select a broader term using the controlled ter-
minology hierarchy (Authority File)
Include synonyms and spelling variants
(e.g., singular/plural)
5
info@biosis.org · www.biosis.org
5
3