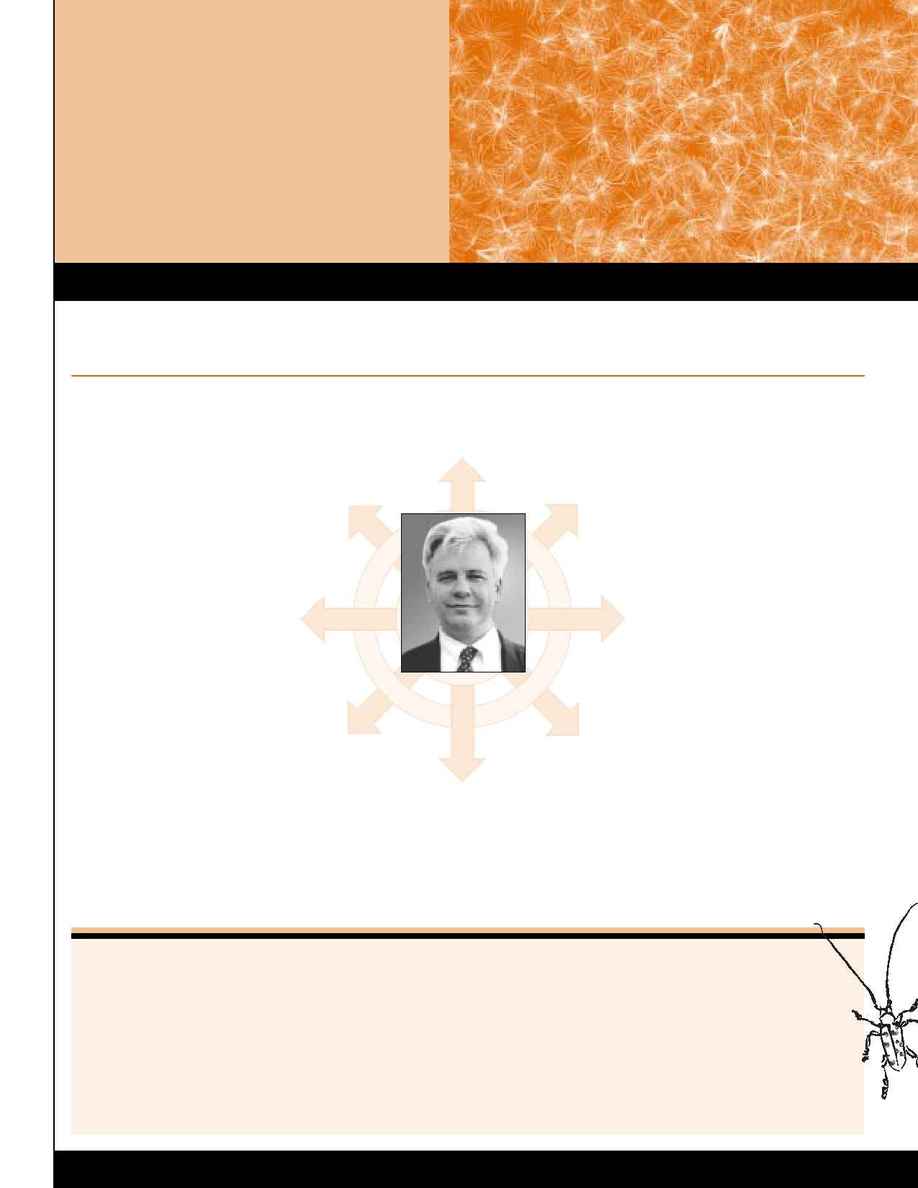 BIOSIS has recently appointed Dr. James Beach as the new
Chairman of the Board of Trustees. Dr. Beach, who currently
holds the post of Assistant Director for Informatics at
the University of Kansas Natural History
Museum and Biodiversity Research Center,
brings more than 20 years of experience
in the fields of bioinformatics and
biodiversity, including work at the
University of Michigan, Harvard
University, and the National Science
Foundation.
Recently, Dr. Beach took a few
minutes to speak with BIOSIS
Evolutions concerning his role with
BIOSIS and the current state of life
sciences research, information technology,
and the growing impact of biodiversity.
Your background in biodiversity and bioinformatics
is extremely relevant to BIOSIS' mission. How did you
become involved in these fields?
I went to graduate school in biology, in tropical field biology,
and became more interested over time in analyzing and
integrating data than in collecting them. From that interest,
I started doing research and development on biodiversity
software infrastructure that would enable new kinds of
environmental research. So, it was a gradual
transition over several years from being a
tropical field biologist to being someone
who mostly works on data and on
What about BIOSIS made the
company attractive to you?
BIOSIS is a unique organization in
a unique situation. From the
perspective of the academic
community, it is doing what I think a
lot of university labs and national and
international initiatives are trying to do in
the biodiversity field, and that is to create
and sustain a broadly integrative knowledge
infrastructure. We have numerous projects that are trying to
get off the ground on a national and international scope in
biodiversity and informatics. [Many of these initiatives] are
at the point now where BIOSIS was [in 1962] when the
company started.
www.biosis.org
Vol. 9 Issue 3 2002
In this issue
1 Delighting in Diversity: New Chairman of the Board Points
to New Direction in Publishing, Life Sciences
1 Evolutions Update: More Beetle Outbreaks
3 Soccer Looks Like Artistry, But There's More Science Than
4 Looking for Alternatives to Animal Research? The USDA
5 Search Tip ­ Looking for Animal Alternatives?
Use Concept Codes to Shorten Your Search Times
BIOSIS Previews · Biological Abstracts · Zoological Record · BasicBIOSIS · BIOSIS Previews · Biological Abstracts · Zoologica
l Record · BasicBIOSIS · BIOSIS Previews · BIOSIS Previews ·
BIOSIS
E
VOLUTIONS
e
-volutions?
Prefer to receive Evolutions electronically? Send your e-mail address to
info@biosis.org
In the last issue of Evolutions, we reported on infestations
of Asian Longhorn Beetles in New York and Chicago,
which were a serious threat to the health of these cities'
ecosystems. Since that time, the Asian Longhorn ­ which
was accidentally introduced from China ­ has been nearly
eradicated from the Chicago area, and the New York Asian
Longhorn situation has stabilized though not been entirely
resolved.
Meanwhile, Dennis Haugen, a researcher with the USDA
Forest Service, tells us that a new outbreak has occurred.
Now, the closely related Citrus Longhorn Beetle
Evolutions Update: More Beetle Outbreaks
Continued on page 2
Continued on page 4
Dr. James Beach
University of Kansas
Natural History Museum and
Biodiversity Research Center
Delighting in Diversity: New Chairman of the Board Points to
New Direction in Publishing, Life Sciences