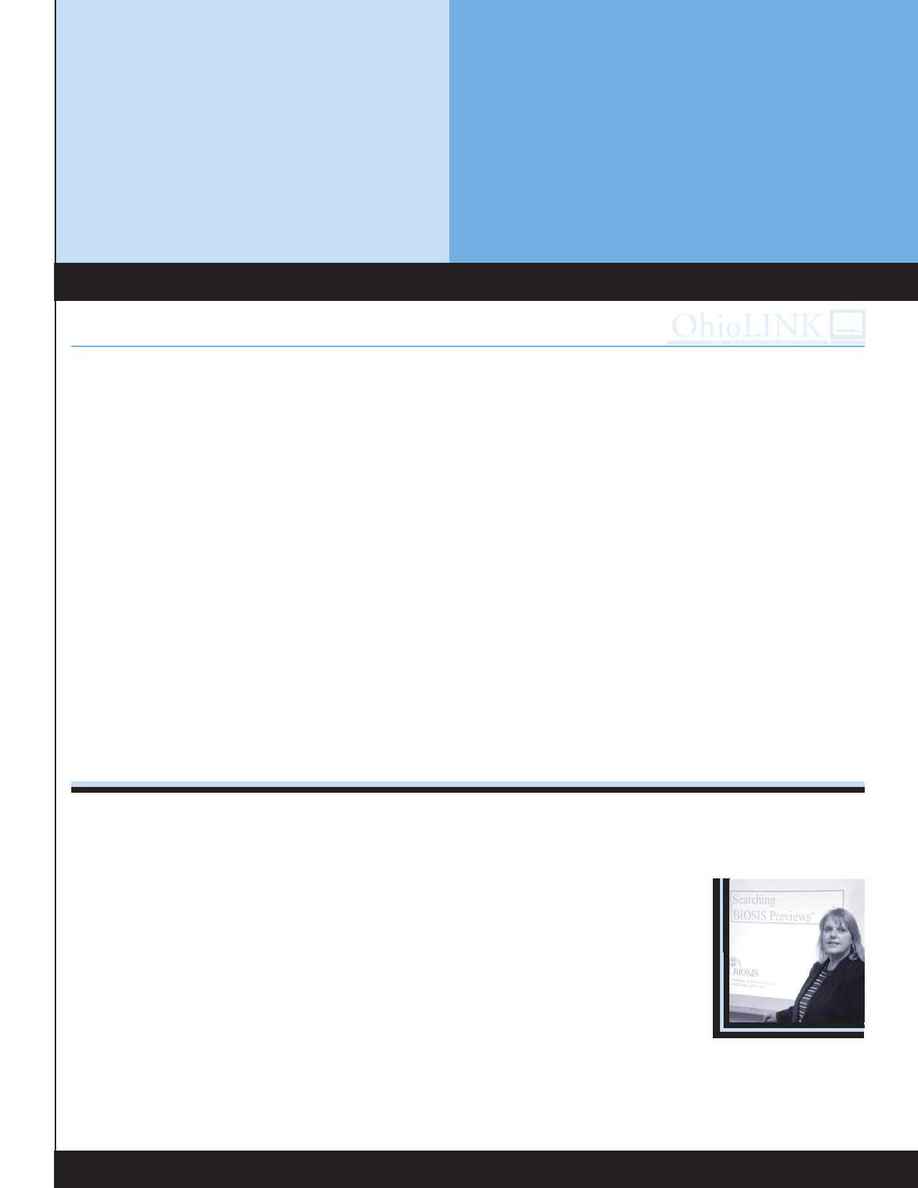 BIOSIS databases and publications offer unmatched resources
for finding life sciences research from all around the world.
Whether information appears in a journal, at a meeting, or in
any other number of places, if it's important life sciences data,
then BIOSIS will have it covered.
Excellent products, however, are only part of the benefit of
using BIOSIS. Additionally, BIOSIS supports these products
with free materials and services that ensure users get the full
value from BIOSIS Previews
®
, Zoological Record, Biological
Abstracts, or any of our other databases. A range of helpful
materials ­ including Quick Reference Cards (QRCs), Workbooks,
and training presentations ­ aid BIOSIS users, of every exper-
tise level, in their searching. These materials are available
free of charge by request or via the BIOSIS Web site at
www.biosis.org/training_support/training.html
These supplementary materials are
just part of our customer support
strategy. In addition, BIOSIS offers
personalized search assistance from
our trainers during customer visits.
These expert searchers visit our
customers offering free instruction.
Even experienced librarians benefit
from the assistance of these BIOSIS
search professionals.
"Any tool, no matter how powerful, can be used best with
expert help," says Nigel Robinson, Manager of Customer
S
EARCHING THE
W
ORLD
O
VER
: BIOSIS T
RAINERS
O
FFER
S
UPPORT TO
U
SERS
Starting from scratch is a hard way to put together a statewide
library consortium involving more than 70 institutions,
500,000 end-users, and 31 million library items. The Ohio
Library and Information Network, OhioLINK, successfully met
this challenge when it started to plan its statewide electronic
catalog and resource-sharing network back in 1987. Access to
premier databases like Biological Abstracts
(BA) was once
beyond the reach of many of these institutions, but by combin-
ing their resources, they have increased their individual
purchasing power and provided their users with immediate
access to BA and a wealth of other material.
For OhioLINK, the road to the present day was a long one,
though, and cost was not the only concern. "The biggest
problems," said Tom Sanville, Executive Director of OhioLINK,
"were preconceptions about what it meant to operate together
in a single system." The usual resistance to a new system
grew even more with concerns about some institutions
benefiting at the expense of others, and questions about which
institutions would shoulder most of the workload.
The rise in user activity in the new system, however, quickly
erased any doubts. Before OhioLINK, Ohio libraries made
roughly 50,000 interlibrary book loans per year. They now
make more than half a million per year.
Electronic journals and research databases also made a huge
impact. Users can search for literature on a database like BA,
then link to the full-text article through OhioLINK's holdings.
There's no question that the end-users have benefited. "We've
changed the landscape of what we do so dramatically that a lot
of those preconceptions have been left in the dust," said Sanville.
"When you change the level of use that dramatically, your
whole perspective on things changes. Everybody wins now.
Everybody is borrowing more, everybody is lending more, and
everybody is benefiting greatly. It's not as if it's only the big
libraries lending books to the smaller libraries ­ [because of
the increased availability of resources] the big libraries are bor-
rowing from everybody, too."
That OhioLINK was able to accomplish this with a plan that
www.biosis.org
Vol. 8 Issue 4 2001
In this issue
1 Greater Than the Sum of Its Parts ­ The Success of OhioLINK
1 Searching the World Over: BIOSIS Trainers Offer Support
3 Ask Our Trainers ­ Some Dand-er Search Experts
4 Search Tips ­ 2 For 1 ­ Cross-File Searching Saves Time,
4 Non-Profits Join Up: The Nature Conservancy Signs on
BIOSIS Previews · Biological Abstracts · MethodsFinder · Zoological Record · BasicBIOSIS · BIOSIS Previews · Biological Abstrac
ts · MethodsFinder · Zoological Record · BasicBIOSIS · BIOSIS Previews
BIOSIS
E
VOLUTIONS
e
-volutions?
Prefer to receive Evolutions electronically? Send your e-mail address to
info@biosis.org
continued on page 2
G
REATER THAN THE
S
UM OF ITS
P
ARTS
­
T
HE
S
UCCESS OF
O
HIO
LINK
continued on page 3
BIOSIS trainer Myra Shields