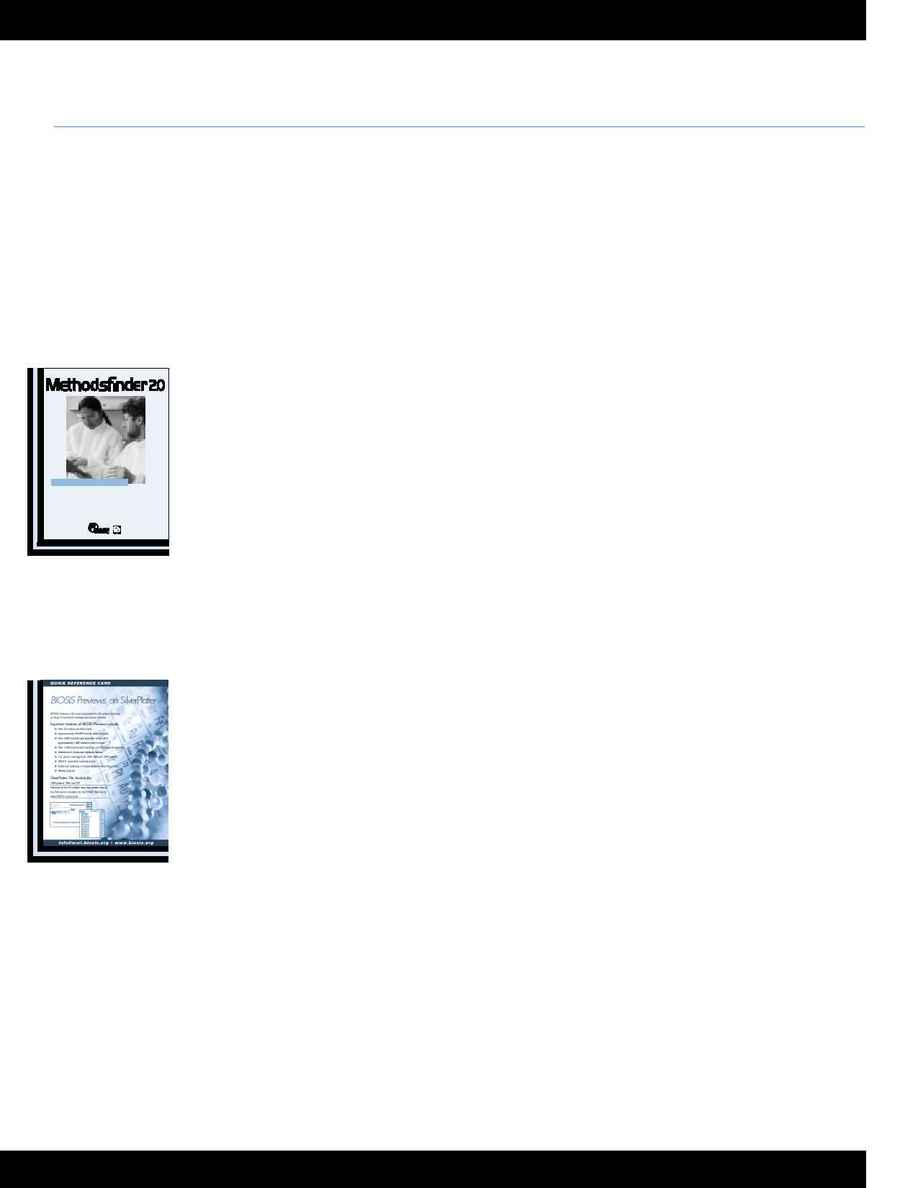 2
Vol. 8 Issue 1 2001
BIOSIS Evolutions
now is to position BIOSIS to be central to information
on the Internet, just as it was the trick to position
NLM with a product in the forefront of personal
computing 15 years ago. Exactly the same game,
but on a bigger scale, with more at risk.
For BIOSIS to be best positioned to make use of the
Internet, we have to change the behavior of half a
million scientists and their use of information over
the Internet. You can't change five hundred thousand
people's behavior passively or reactively. You have to
get out in front.
Is MethodsFinder
®
an example of this? Harnessing the
power of the Internet to our own ends?
Yes, it's a beginning. Overall, though, it's only a
baby step to where we've got to go.
How will BIOSIS products and services be different in
the future?
I see the products of the future under a service that
we're considering right now ­ BIOSIS Central,
which organizes information on the Internet.
BIOSIS Central
will have a much stronger service
component in addition to content. MethodsFinder
was the first time that we began to host a service
with content, as opposed to BIOSIS Previews
where we distribute content through our vendor
partners. It was imperative to change the orientation
of the company, the workforce, the culture, from
product and production to market and customer. In
so doing, you come to focus on service as well as
content. Up until the past five years or so, the company
was internally focused because it felt comfortable;
sometimes, it's easier to polish what you've been
doing for decades.
Will BIOSIS Central include all products?
Eventually, yes. It's an umbrella under which
everything will live, including at some point BIOSIS
Previews
. But, because the Internet demands service
as well as content, under that umbrella will be
software for use by consumers and scientists in a
more traditional sense than you see in MethodsFinder,
where the application executes on behalf of the user.
Rather, I see us providing software packages for use
by scientists specific to life sciences.
What resources will BIOSIS use to accomplish this?
The indexing process is our core competence. It's
a combination of the skills of the indexers and
computerization, and that's what we have to capitalize
on. And it's a small leap in concept to go from processing
previously published information in journals, the
way we do, to organizing Internet information the
way we've begun to do with MethodsFinder.
So the machinery is already in place?
Yes, by virtue of MethodsFinder. We built the
product and we built the machinery for it at the
same time; and now that we've got that first product
out the door, we've got the machinery. We've got
staff, we've got talent, and we've got an infinitely
improved working relationship between marketing
and the technology departments.
What will we do to protect our own interests in
this process?
Just as was the case with Relational Indexing,
I, as a manager, have never been a proponent of
protectionism. You'll notice we didn't patent or
copyright Relational Indexing. That's freely available
yet today. In fact, I think our interests would be best
served if other information organizers and secondary
publishers would adopt it. Our strength is in
momentum: what are we doing now, and tomorrow,
not what we were doing yesterday.
What do you consider the main achievement of your
tenure here?
I suppose it's easier and more comforting to hang
your hat on something concrete such as Relational
Indexing. But things such as Relational Indexing,
Grateful Med, and BIOSIS Central are always the
result of something else. In this case, it's the result
of changing a corporate culture and gathering
together people who drive change by default.
The default now at BIOSIS is change, progress, and
development, as opposed to staus quo.
J
OHN
A
NDERSON
I
NTERVIEW
continued from page 1
+1-800-523-4806 (USA and Canada); +1-215-587-4800 (Worldwide); fax +1-215-587-2016; e-mail info@mail.biosis.org
L
OOKING FOR THE SHORTEST ROUTE FROM
P
OINT
A
TO
P
OINT
B?
is the quickest way to search for protocols. Save time in the
library and spend it in the lab.
can connect you with the full-text protocols you need. Culling
protocols from grey literature, commercial and academic Web sites, meetings,
and conferences, MethodsFinder should be your definitive resource for finding
relevant protocols.
Visit the MethodsFinder Web site at www.methodsfinder.com to learn
more about the product, or to sign up for a free trial. You can also call us
at 1.800.523.4806 (USA and Canada) or +1.215.587.4800 (Worldwide).